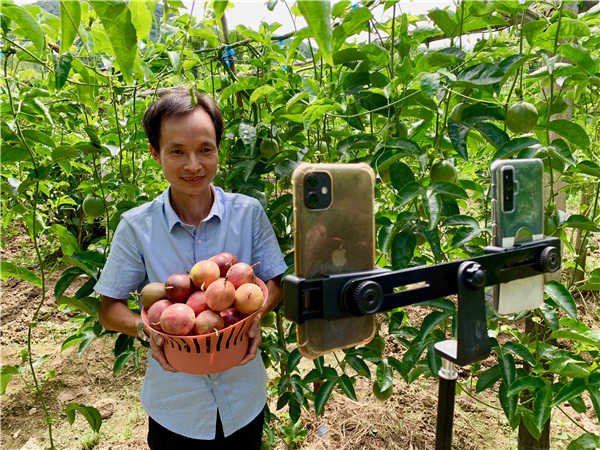 Ganzhou is adopting a grab bag of innovative strategies, often integrating the most ancient and advanced technologies, to enable rural residents to overcome poverty.
Salted duck eggs. Ethnic She culture. Livestreaming farmers. E-commerce. Red tourism. And much more.
Jiangxi province's Ganzhou has adopted a myriad of innovative methods to lift its people out of poverty.
Take "Sister Passion Fruit", for instance.
Her "office" is a desk set up in front of a camera in an orchard, where she promotes and sells the produce from which she takes her nickname.
And the web celebrity's passion for passion fruit has born fruit in every sense of the term for Xunwu county's farmers. Her sales via livestreams have helped over 2,400 households in 30 villages climb above the poverty line.
"Many of the farmers are elderly. The internet isn't their thing," she explains.
That's where she comes in.
"I can sell as many as you give me," she says.
"If you have 1,500 kilograms today, I'll make sure they're sold out by the end of the day. Sometimes, I have to ask customers to wait a day or two for more fruit to ripen."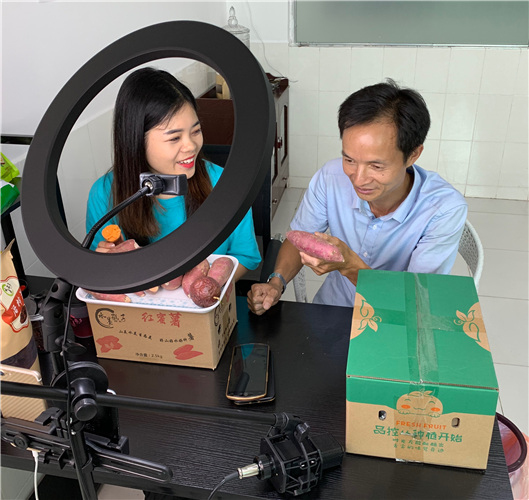 Fields of streams
The local government also provides free seedlings and guidance for farmers.
And it opened a 5G-livestreaming training center and studio in Anyuan's Hezi township in 2017 to help around 380 mostly young villagers learn how to use the new technology to sell passion fruit, sweet potatoes and tangerines.
The writing is literally on the wall of the training center. Its exterior is emblazoned with the slogans: "Let mobile phones become the new farm tools. Let livestreams become the new farm work. The internet reaches everywhere under heaven."
Mobile-internet technologies are indeed becoming just as important to food producers as the tools used to cultivate the earth in places like Ganzhou.
Agriculture is as old as civilization itself. But new technologies are enabling farmers - who've traditionally been some of the planet's poorest people, and still are in much of the world - to harvest new prosperity.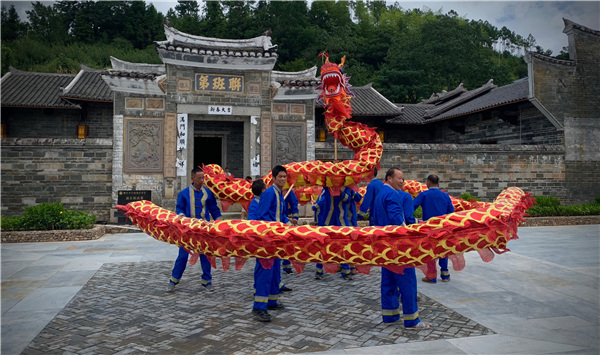 And the COVID-19 outbreak accelerated this trend by boosting sales, since more people began to eat at home during lockdowns.
Livestreams also enable potential buyers to see where their food comes from, demystifying the journey from farm to table in ways that both inform and entertain.
Anyuan county passion fruit farmer Wei Shaozhen says his monthly income has multiplied from a few hundred yuan to between 10,000 and 20,000($1,520-$3,040) since he started livestreaming last year.
"I can easily receive several hundred orders a day during a two-hour livestream," he says.
The opportunities emerging from livestreams and e-commerce have coaxed some educated young people to return to their villages in Ganzhou rather than seek jobs in big cities.
Kuang Xiaomi moved back to Xunwu after graduating from a university in Guangdong's provincial capital, Guangzhou, to found Manshanhong Ecological Agriculture Co.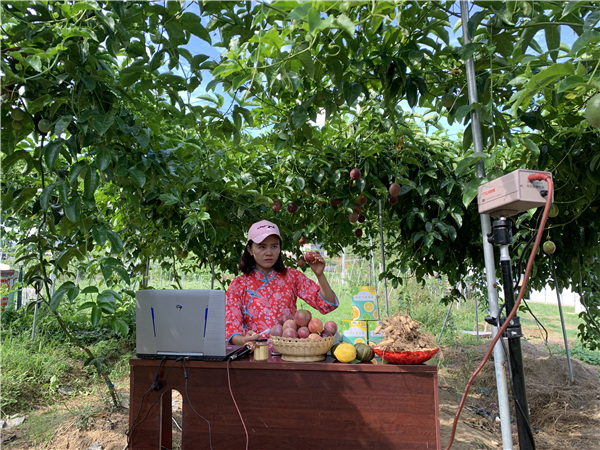 Nearly 95 percent of the 6.7 million kilograms of passion fruit the enterprise sold last year came from households registered as living below the poverty line.
"We give free seedlings to poor families and prioritize buying their harvests," he says.
About 60 regular employees, and around 40 more during peak season, package the fruit in the company's 12,000-square-meter warehouse.
Incubating innovation
E-commerce is also helping farmers in Fenggang village in Ruijin city's Rentian township to preserve tradition and incubate innovation to produce prosperity through selling salted duck eggs.
Locals sell their eggs to the cooperative, Granny Liao's Salted Duck Eggs, founded by 90-year-old Liao Xiuying.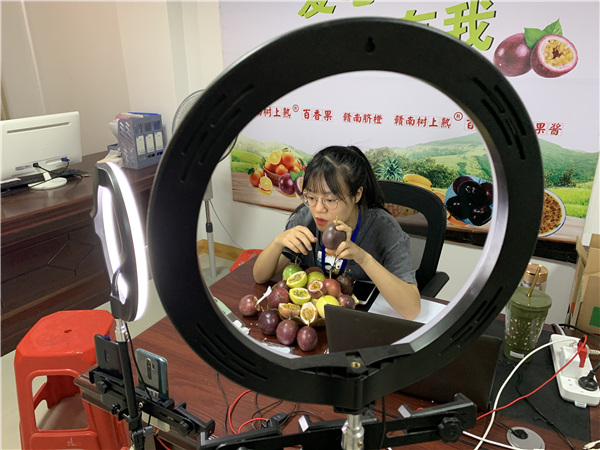 Her grandson, Zhang Yang, who serves as the co-op's chief, says Liao has salted duck eggs for the family since she married his grandfather at age 16.
"We'd be soaked with sweat and have lost a lot of salt while working in the fields," he recalls.
"Grandma would make salted eggs and share them to make sure we had enough (electrolytes) and didn't faint."
The family opened a small shop selling necessities in the 1970s.
"But sales were poor. Sometimes, if it rained, we wouldn't get a single customer all day," Zhang recalls.
"While we were trying to keep our shop afloat, we started improving the taste of our eggs. We later standardized the entire process and designated a specific ratio of mud and salt to achieve the best flavor."
They set up the cooperative with 28 households and started selling the eggs online when the local government began to vigorously promote e-commerce in 2015.
They initially used a dozen clay jars to preserve eggs in their yard. Sales picked up, so they emptied half a house and filled it with hundreds of urns that could ferment 50,000 eggs at a time.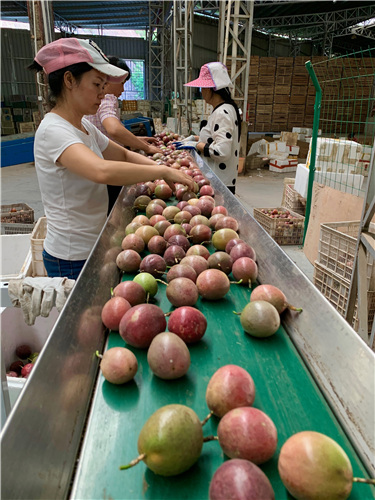 The cooperative built a base that could process 400,000 eggs after the government started promoting their product in 2018. It sold 1 million in the first half of this year, Zhang says.
Selling eggs to the co-op helped lift 57-year-old Wang Kefu out of poverty.
His family of 10 had fallen into debt after he paid tens of thousands of yuan to treat his lung cancer in 2015, he explains, lifting his shirt to reveal a lightening bolt of a scar on his chest.
"I could only earn a few thousand yuan a year back then. And I was our breadwinner," he says.
"Now, I have over 1,000 ducks in my backyard. I don't have to worry about how to make ends meet anymore. Life is getting better."
Tapping tourism
Life has likewise improved for Liu Linzhao, a server at an agritainment restaurant in Huichang county's Dongtou village, since the settlement developed tourism based on ethnic She culture and primitive wilderness.
The 44-year-old worked in Guangdong before returning in 2016 to take her job at the eatery and care for her three children.
"I got paid more outside, but I also had to spend a lot," she says.
"Now that I'm working in my hometown, I can also take care of my family and live around my friends."
Travelers visit Dongtou to hike through its national forest park, which hosts hundreds of centuries-old trees, including 50 that are over 500 years old.
They also feast on traditional She cuisine at "long-table" banquets with over 100 diners bellied up to dozens of tables placed end to end. And they visit a She cultural showroom, pick plums and explore buildings that date back as far as three centuries.
Dongtou's Party secretary Ou Xiaohua says tourism recently pulled the final 68 households, comprising 310 people, above the poverty line.
Red tourism has likewise brought prosperity to Ruijin's Huawu village.
People come to see dozens of trees ceremoniously planted by young men from the village before they joined the Red Army's Long March in 1934. Seventeen of them never came home.
"Their belongings were never found," says Huawu's Party secretary Huang Risheng.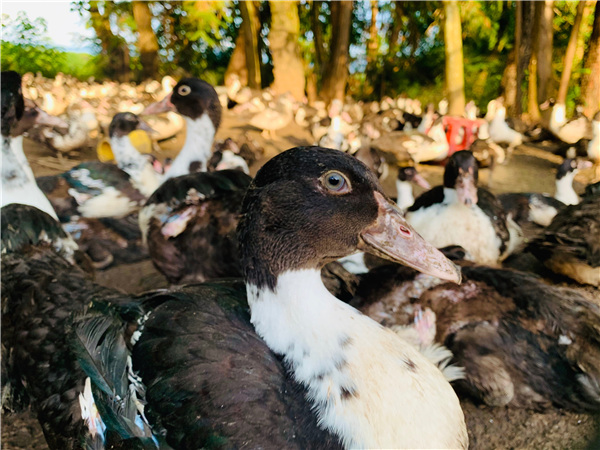 His grandfather was among them.
"So, these pines are all that's left of them," he says, waving his hand toward the trees.
These soldiers no longer live there. But their stories do. And they draw travelers interested in China's revolutionary history.
Hua Shuilin, whose grandfather also joined the Red Army, says the development of tourism and industrialized agriculture generated enabled his family and neighbors to relocate from overcrowded, rustic and dilapidated residential compounds into modern three-story homes in 2015.
"There was barely enough food when I was growing up," the farmer says.
"If there was a little bit of rice, the adults would leave it for us. Otherwise, we ate course grain. We only ate meat during festivals, when the whole village would share one pig."
The ramshackle earthen compound he moved out of has been preserved for education and tourism. Internet celebrities visit the site to shoot livestreams and short videos.
Huawu totally eradicated extreme poverty in 2018, Huang says.
Villagers agree this is, ultimately, a living legacy of the 17 young men who died more than eight decades ago.
"Our forefathers joined the army to fight for a better life for future generations," he says.
"Without their blood and sacrifice, we wouldn't be where we are now. Life, for us, is getting better every day."
Zuo Zhuo contributed to the story.