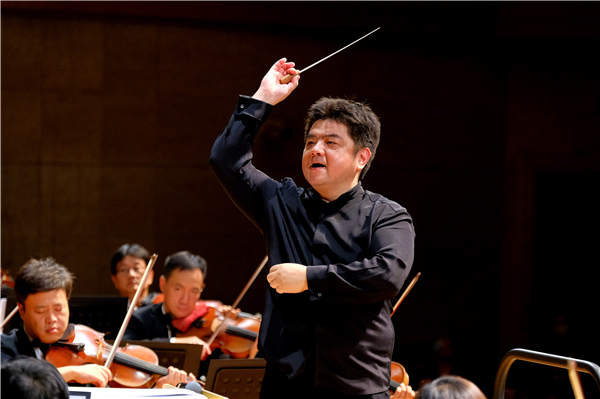 In the year of the pandemic, a grand anniversary has delivered much needed musical solace in an event that will reach its climax next month.
What on earth do you give someone for their 250th birthday?
Ludwig van Beethoven's gift to the world was his magnificent music, so what better way to return the compliment when that special day arrives in December than to play the full repertoire of his symphonies and concertos?
Trouble is that there are not enough hours in a day, let alone days in a week, to achieve that task, so the man who has given himself the mission of completing it, the conductor Li Biao, decided to get in early with a string of concerts.
It began on Sept 2 and stretched over a number of performances until Sept 20, during which he conducted the Beijing Symphony Orchestra Forbidden City Concert Hall as it played: Symphony No 7 in A major Op 92; Symphony No 5 in C minor Op 67, also often known as The Destiny; Symphony No 2 in D major Op 36; Piano Concerto No 5 in E flat Op 73, also known as Emperor; and Piano Concerto No 2 in B Flat Major Op 19.
That in a sense was just the first movement, and the series will reach its grand finale at the same venue when the orchestra plays a 12-hour performance called the Beethoven Marathon in the Forbidden City Concert Hall.
The history books are silent on when Beethoven was born, but we do know he was baptized on Dec 17, 1770, in Bonn, Germany, so in fixing Dec 12 for that anniversary finale, the organizers may not be that wide of the mark in relation to the maestro's birth date, in all likelihood the day before he was baptized.
On the morning of Dec 12 four solo pianists, Xu Hong, Huang Yameng, Sheng Yuan and Zou Xiang, will perform: Piano Sonata No 6, Op 10 No 2; Turkish March Op 76; Fantasia for Piano, Op 77; Six Bagatelles, Op 126; and Piano Sonata No 32, Op 111.
In the afternoon, chamber music concerts will be performed by more than 10 musicians, including the pianist Tan Xiaotang, the violinist Huang Bin, and the violist Liu Zizheng, performing repertoires such as sonata for violin and piano No 8 in G major, Op 30, No 3; sonata for cello and piano No 4 in C major, Op 102 No 1; and sonata for violin and piano No 5 in F major, op 24, also known as Spring Sonata.
In the afternoon a concert for children will be held with musicians performing music pieces by Beethoven for beginners, such as Bagatelle No 25 in A minor, better known as To Elise.
In the evening the audience will be treated to a performance by the Beijing Symphony Orchestra and a chorus of the Beijing Musician's Association, including: Triple Concerto in C major, Op 56; Fantasia for Piano, Chorus and Orchestra in C minor, Op 80.
The event will be crowned with the timeless fourth movement of Symphony No 9 in D minor, Op 125, Ode to Joy.
"When we gave the first concert of the series on Sept 2 only 50 percent of the seats were available to the audiences, because of COVID-19 control measures," Li says.
"Though the concert hall was not full, the reception from the audiences was overwhelming."
Since Sept 25 the seating capacity in movie theaters, theaters and concert halls has been raised to 75 percent, further generating interest in the performing arts.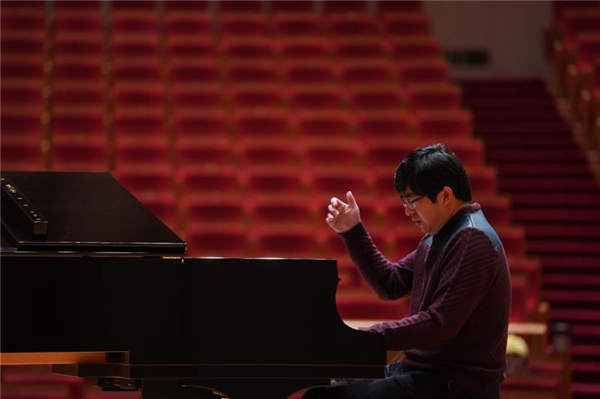 After the Sept 2 concert Li decided to perform more of the composer's works with a marathon-like concert. He called Xu Jian, general manager of the Forbidden City Concert Hall, right after he performed with the Beijing Symphony Orchestra at the venue on Sept 6.
That night, Li led the Beijing Symphony Orchestra as it performed Symphony No 5 in C minor Op 67. With audiences' raucous cheers and applause, the musicians' performed the fourth and final movement of the piece again.
"When Li told me about his ideas I was very excited," Xu says."I could imagine the moment when the marathon concert ends with musicians and audiences singing Ode to Joy together."
Xu's team soon started to get in touch with musicians and prepare programs for the 12-hour-long event. The veteran music critic Wang Jiyan has been invited to talk about Beethoven's music works between each concert.
"Chinese classical music lovers are very familiar with Beethoven," says Wang, who has worked with Chinese symphony orchestras such as the China National Symphony Orchestra and the China Philharmonic Orchestra.
"His nine symphonies cover pretty much every facet of human existence in one way or another."
The pandemic has made 2020 a very different and unforgettable year, he says. People's lives have been heavily affected, with social distancing changing the way people interact.
"We go through similar emotions, such as fear, anxiety and depression, because of the viral outbreak. When you listen to Beethoven's music again under such circumstances his music brings you strength and comfort more than ever before."
One of the musicians who will play in the marathon concert is the pianist Zou Xiang, who teaches at the Central Conservatory of Music in Beijing. Zou, 40, chose to play Piano Sonata No 32, Op 111, the last of the composer's piano sonatas, written between 1821 and 1822. It was dedicated to his friend, pupil and patron Archduke Rudolf of Austria.
"The piece means a lot to me," says Zou, who started learning to play when he was 5 and gave his first solo recital when he was 13.
"I've played the piece over the past 20 years of my career, including the entrance examination when I applied to the Juilliard School in New York in 1999."
He studied at the school on a full scholarship.
"Even today when I play the same piece I derive different kinds of strength from it,"Zou says.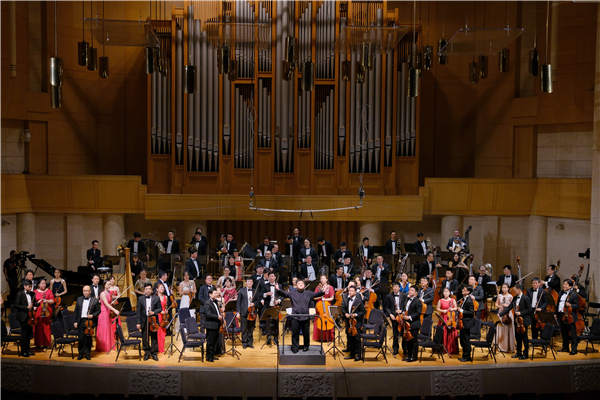 Li says: "Beethoven's music works stand tall at the center of musical history. His music keeps on inspiring and challenging musicians of different generations. Today we celebrate not only the great composer but also the humanity and emotion embedded in his harmonic impulses."
Li, born in Nanjing, Jiangsu province, started out as a xylophone player when he was 5. When he was 12 his talent and sense of rhythm convinced his teachers and parents to send him to the middle school affiliated to the Central Conservatory of Music in Beijing. In 1988 he became the first Chinese student of percussion instruments to study abroad on a government scholarship. He spent seven years at the Tchaikovsky Conservatory in Moscow, and when he graduated entered a music competition in Hungary, but by then he had already exhausted his funds.
So, he sought an advance on his scholarship and left for that country. Li won the competition's silver award and $10,000 in cash. The competition also led him to win a three-year fellowship to the University of Music and Performing Arts in Munich.
Li immersed himself in Europe's rich musical history and culture, learning Western classical percussion instruments and modern music with jazz musicians and symphony orchestras.
In 2003 he became a member of the faculty of Hanns Eisler College or Academy of Music in Berlin, and two years later returned to Beijing to establish a percussion department at the Central Conservatory of Music and launched his band.
When he was in Germany he visited Bonn, where Beethoven had first displayed his prodigious talent, he says.
"I tried to capture something that could help me better understand Beethoven. He was a man who created such wonderful music when he could barely hear. He approved of making the best of that situation."
As bad situations go, the Forbidden City Concert Hall general manager Xu sees the 250th birthday celebrations as somewhat of a godsend.
"If there is one good thing that has come of this pandemic it's that people are desperately longing to hear Beethoven performed live again. It is as though many only now fully appreciate just how much of a gift his music is."