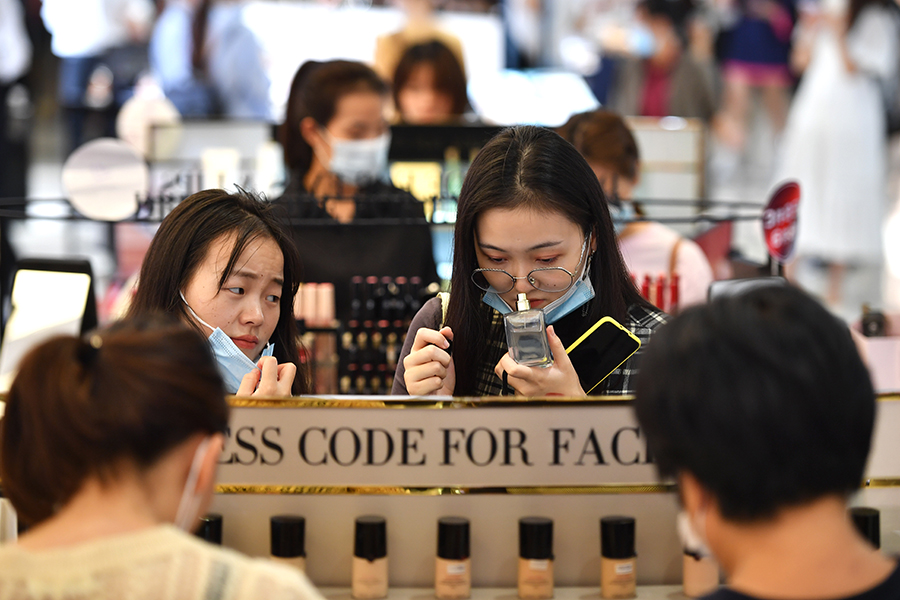 China will become the world's biggest luxury goods market by 2025, with Chinese consumers set to account for nearly half of the global spending in the sector in the same period, a new report said.
In addition, the Chinese mainland will be the only region in the world to see a growth in luxury goods sales this year, said the report released by consultancy firm Bain & Co on Wednesday.
Chinese consumers continued to buy high-end luxury bags, clothes, jewelry and wines in China due to international travel curbs. Total sales of luxury goods are set to rise by 45 percent on a yearly basis to 44 billion euros ($52 billion) this year.
Globally, sales of luxury goods are set to fall by 23 percent to 217 billion euros ($258 billion) this year, recording the largest drop and first since 2009, as the pandemic has dampened the spending.
The luxury goods market worldwide is likely to rebound to the 2019 level by the end of 2022 or early 2023, boosted by strong sales growth in China and via online shopping channels, Bain said.
In China, the luxury market is expected to rebound at full speed, as the contagion increasingly comes under better control, and businesses have resumed regular operations. Asia is still in recovery mode, while the Americas are expected to remain sluggish. Europe is struggling with new restrictions due to the resurgence of the pandemic, where confirmed cases are continuously on the rise, Bain said.
Before the pandemic, international travelers, especially Chinese tourists, had largely fueled luxury markets in Europe and the United States, Bain said.
"In China, the number of people who buy luxury goods is probably growing stronger than ever before, as not traveling abroad prevents them from buying overseas. There is no fatigue of luxury spending in the China market," said Daniel Zipser, a Shenzhen-based senior partner of consulting firm McKinsey& Co.
The pandemic has further shifted the shopping of luxury goods online. So far this year, the luxury purchases made online accounted for 23 percent of the total, which is almost double the 12 percent seen last year. Bain expects online shopping to be the mainstay of luxury spending globally by 2025.
"Besides shopping at stores, consumers hope luxury brands can embrace digital channels as well for easier access, since their time is highly fragmented. For example, they would like to see recommendations on social commerce platform Little Red Book (Xiaohongshu), and video clips on video-sharing platform Douyin, instead of offline advertising posters," said Jocelyn Dong, a fashion and luxury analyst at research firm Mintel.
French luxury brand Cartier has already launched an online flagship store on Alibaba's Tmall luxury pavilion and started seeing brisk sales since January this year, said company officials.