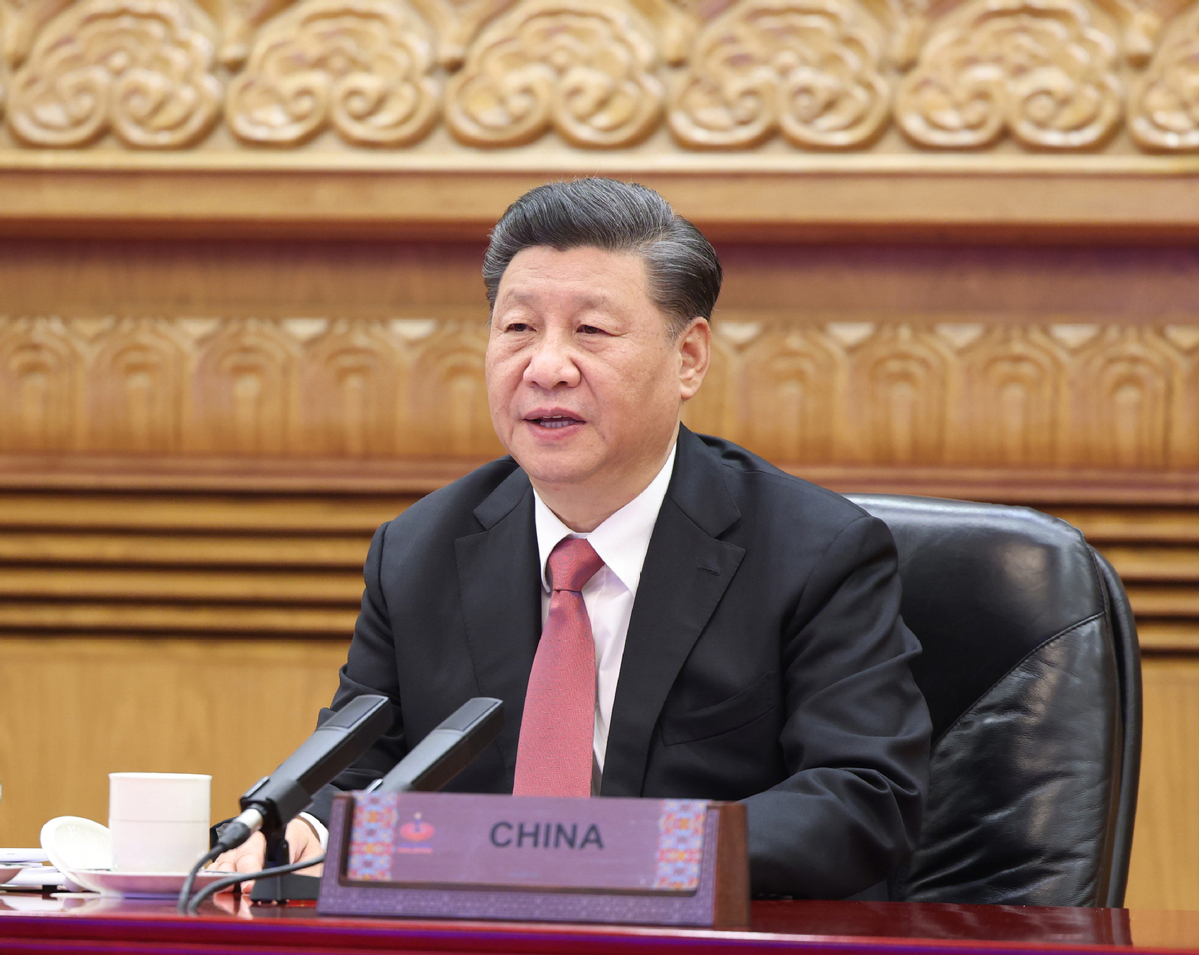 Asia-Pacific community with a shared future seen as beneficial for all members
President Xi Jinping called on Friday for building an Asia-Pacific community with a shared future featuring openness and inclusiveness, innovation-driven growth, greater connectivity and mutually beneficial cooperation.
In the speech delivered at the 27th Asia-Pacific Economic Cooperation Economic Leaders' Meeting via video link from Beijing, Xi also said China will give favorable consideration to joining the Comprehensive and Progressive Agreement for Trans-Pacific Partnership while welcoming the signing of the Regional Comprehensive Economic Partnership.
He underlined the need for APEC members to press ahead with regional economic integration for the early realization of a Free Trade Area of the Asia-Pacific, and said the Asia-Pacific should remain the bellwether in safeguarding peace and stability, upholding multilateralism and fostering an open world economy.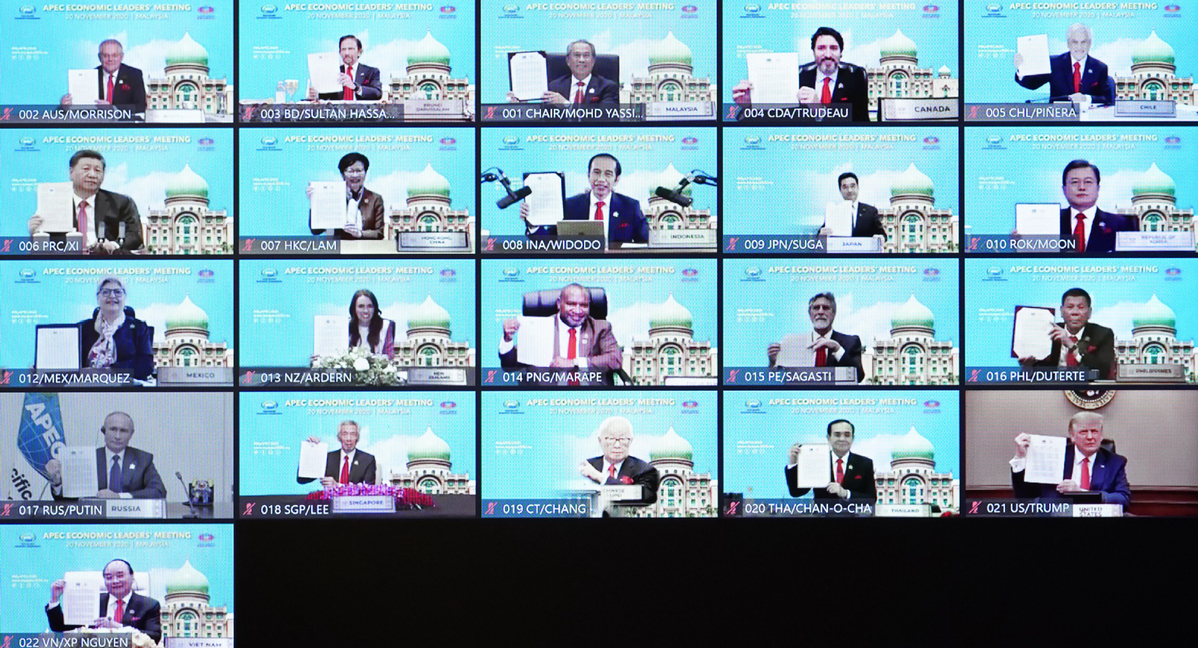 "We must stay as determined as ever to support the multilateral trading system with the World Trade Organization at its core, promote free and open trade and investment, and make economic globalization more open, inclusive, balanced and beneficial to all," Xi said.
While stressing the need to pursue innovation-driven growth in the region, Xi called for strengthening digital infrastructure and closing the digital divide. China will host a workshop on digital technology-enabled poverty alleviation in 2021 in a bid to unleash the role of digital technologies in eradicating poverty in the region, he said.
"We need to improve economic governance and foster an open, fair, equitable and nondiscriminatory environment for businesses," Xi added.
Saying connectivity is a vital basis of regional economic integration and an essential underpinning for interconnected development of the world, Xi underscored the need to continue to implement the APEC Connectivity Blueprint to facilitate the smooth, safe and orderly flow of people, goods, capital and data and achieve a seamlessly connected Asia-Pacific.
Noting the importance of promoting mutual recognition of the COVID-related health information of international travelers, he said China is ready to take well-thought-out steps with all other parties to set up "green lanes", which will help make customs clearance more efficient, unclog bottlenecks and reconnect disrupted links.
"We may also promote the creation of international cooperation platforms for industrial and supply chains to ensure the safe and smooth operation of industrial and supply chains in our region and beyond," Xi said.
Calling for pursuing greater complementarity among development plans and connectivity initiatives of different parties to forge more synergy, Xi said China wants to work with all partners in high-quality Belt and Road cooperation, which will set up a bigger platform for connectivity in the Asia-Pacific and inject a stronger impetus into the economy of our region and the wider world.
Xi also called for promoting mutually beneficial cooperation, saying, "Our economic cooperation has never been a zero-sum political game in which one gains at the expense of the other".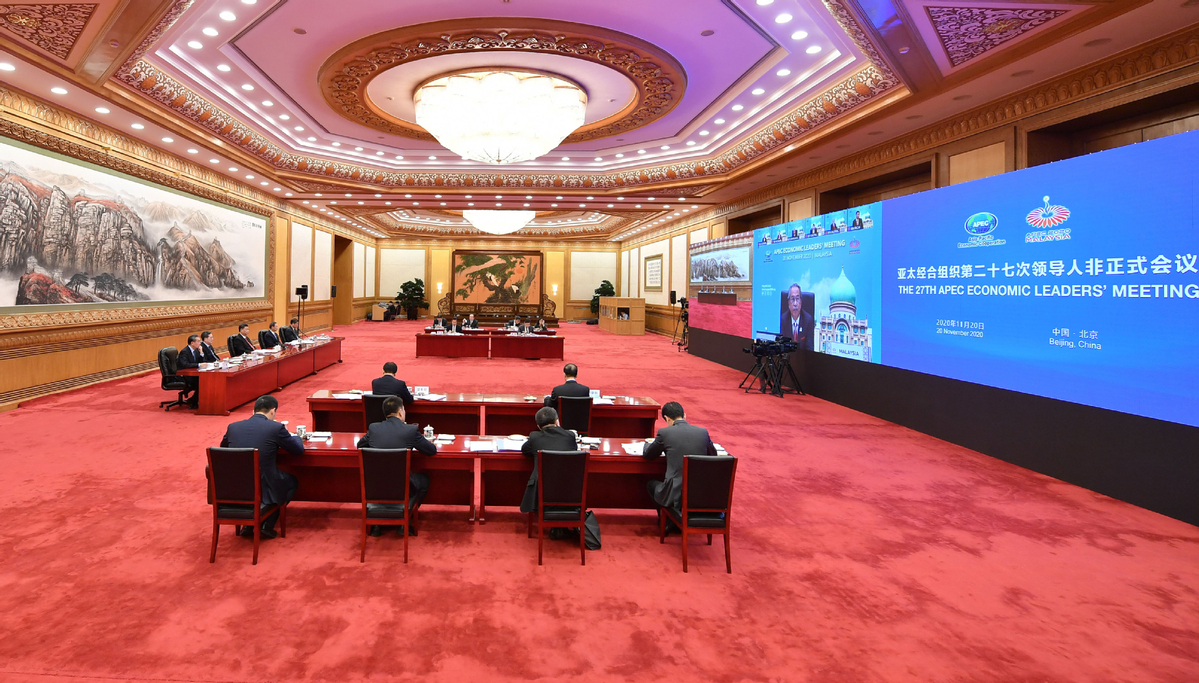 Saying that fighting COVID-19 is currently the most pressing task for all, Xi called for stepping up vaccine research and development and related exchanges, and working harder to make the vaccines a global public good to improve their accessibility and affordability in developing countries.
He said COVID-19 is another reminder that solidarity and cooperation are needed to prevail over challenges. "We need to deepen the Asia-Pacific partnership featuring mutual trust, inclusiveness and mutually beneficial cooperation and follow the approach of extensive consultation, joint contribution and shared benefits."
It is important that we advance practical cooperation on the basis of consensus, properly manage differences and disagreements, and keep Asia-Pacific cooperation in the right direction to ensure APEC's sound development in the long run, he added.