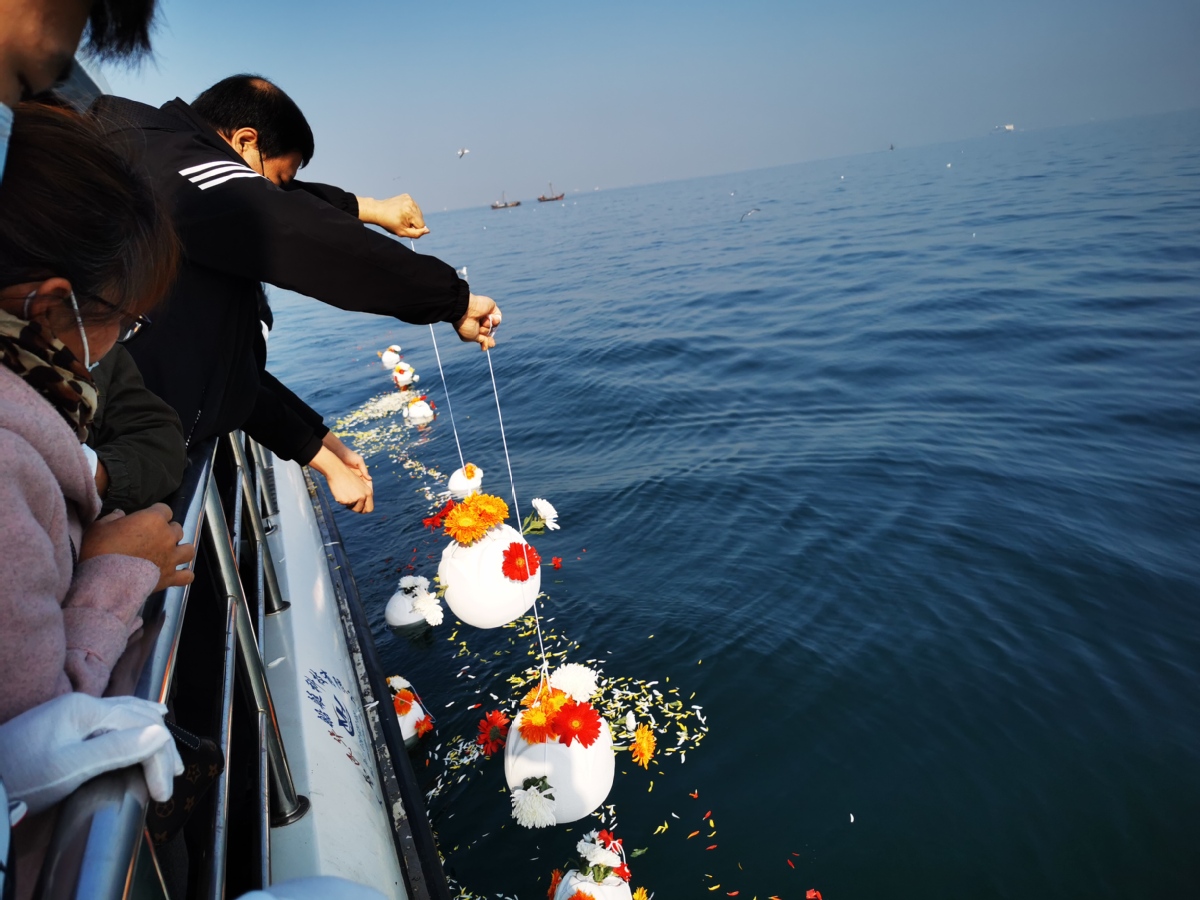 Ceremonial touches provided for solemn business
When Chen Qi, 64, completed a mass sea burial on the morning of Oct 30 and steered his 33-meter-long yacht back to its berth in Dalian, Liaoning province, he found another group of people waiting for him.
They had hired a 17-meter vessel owned by Chen for a private sea funeral.
"As you can see, I ferry one group after another-until one day I will be the one being buried at sea," Chen said calmly at the wheel of his tailor-made craft.
He has run one of the biggest sea burial service centers in China for 23 years, but has never kept count of the number of people's ashes that have been spread across the sea from his four boats. However, he estimates that last year alone, the figure was more than 7,000.
There are mainly three types of people who choose sea burials, according to Chen.
Some have special feelings about the ocean, while others cannot be buried in family graves due to local customs or traditions, especially those relating to cases of suicide or accidental death. Finally, there are families who cannot afford a traditional land burial.
For the mass sea burial on Oct 30, the Civil Affairs Department in Tieling, Liaoning, provided a subsidy of 1,502 yuan ($225) for each family of the deceased.
In addition, the department covered all expenses, including paying for up to three relatives to travel to Dalian, a one-night hotel stay and two meals, all of which were arranged by Chen's company.
However, such subsidies vary from city to city, and private sea burials are not subsidized, Chen said.
"Last year, we carried out more than 600 sea burials, about 80 percent of which were private," he said.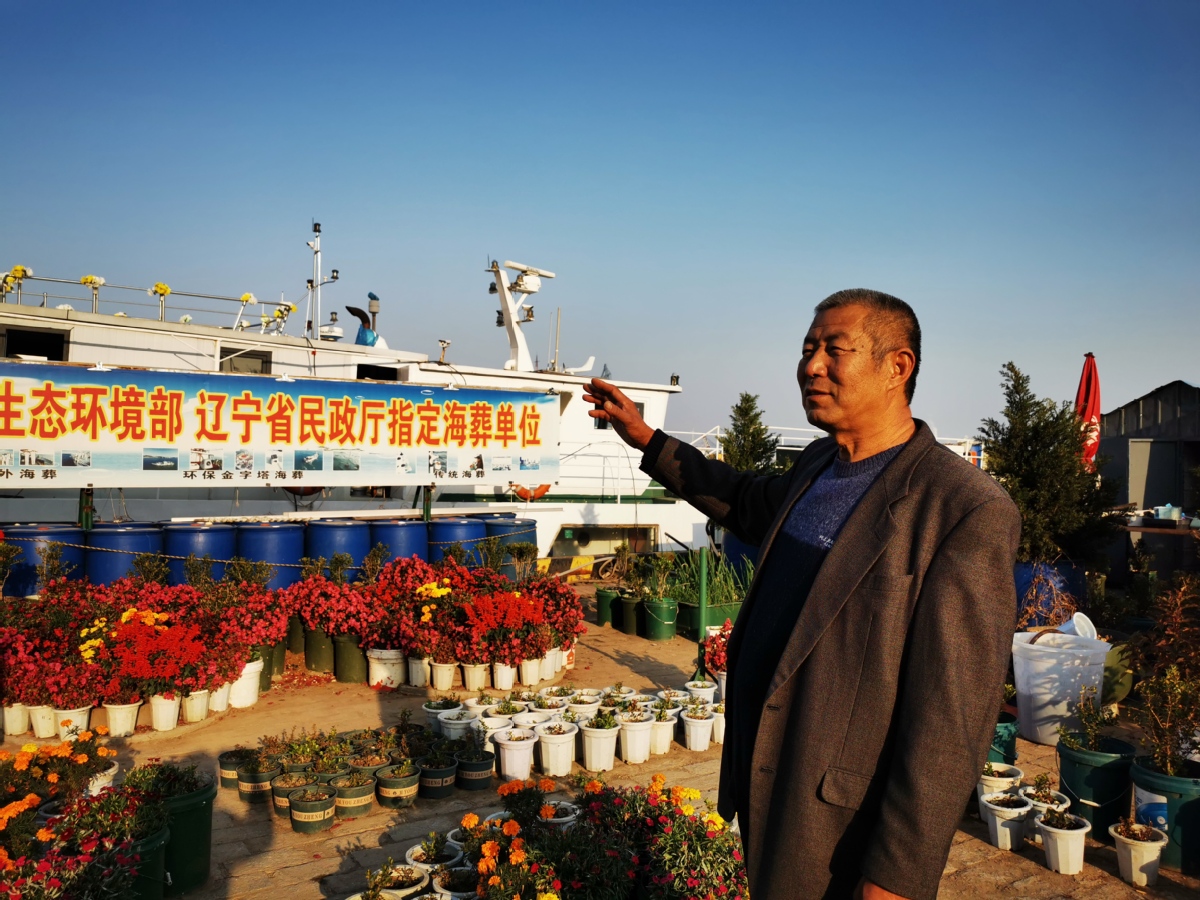 The smallest of Chen's four vessels can carry a maximum of five people, while the largest, which was bought for 4 million yuan in 2018, can accommodate 99 passengers.
The cost of a private sea burial ranges from 800 yuan to more than 10,000 yuan, but is much lower than a normal land burial, Chen said.
"Traditionally, people believe that earth provides the best shelter. Chinese view the act of burying the deceased in the ground as a way to show filial piety," he said.
Several years ago, Chen's father died. Even though Chen had been conducting sea burials for many years, his father still chose interment on land. Chen, his wife and son, who also work with him, respected his choice.
"However, for us, it's definitely the sea. We may meet many old friends down there," Chen said.
Born and raised in Dalian, Chen quit his job as director of a mechanical workshop at a mining company in the early 1980s and rented a boat for tourist excursions.
Sometimes, he took visitors fishing or sightseeing, charging several thousand yuan per person.
"It was the good old days, as the clients were all rich," he said.
Assistance sought
Sea burials have been sponsored and promoted by the Liaoning government since 1997.
Initially, amid reluctance to take orders for such ceremonies, a friend asked Chen for help.
"At the time, the tourism business was good, and I felt it was no big deal to conduct sea burials," Chen said. "But I could not return to tourism, as visitors no longer wanted to take our boat."
He added that with hindsight, he would not have chosen to enter the sea burial business.
"The funeral industry is taboo for Chinese people. One friend asked me 'Why are you doing this? It has too much yinqi (breaking the balance of yin and yang)'," he said.
Chen first used a coastal park as a berth, but local residents doing morning exercises complained that he would bring them bad luck, forcing him to find other locations.
In 2012, the Liaoning government stepped up efforts to encourage sea burials. With help from the provincial Civil Affairs Department, Chen was given a designated berth at Dalian Port.
"As far as I know, it is the only designated berth for sea burials in China," he said.
Encouraged by the substantial subsidies provided, and deterred by rocketing prices for grave sites, more Chinese are forsaking tradition and opting for change when family members die.
Chen and his family have witnessed the rapid rise in the number of sea burials, and his team has also grown to more than 20 employees.
However, the developer of a nearby coastal estate recently, complained again to Chen that his marine burial business could affect property sales.
"The truth is that we came here earlier than the developer," Chen said.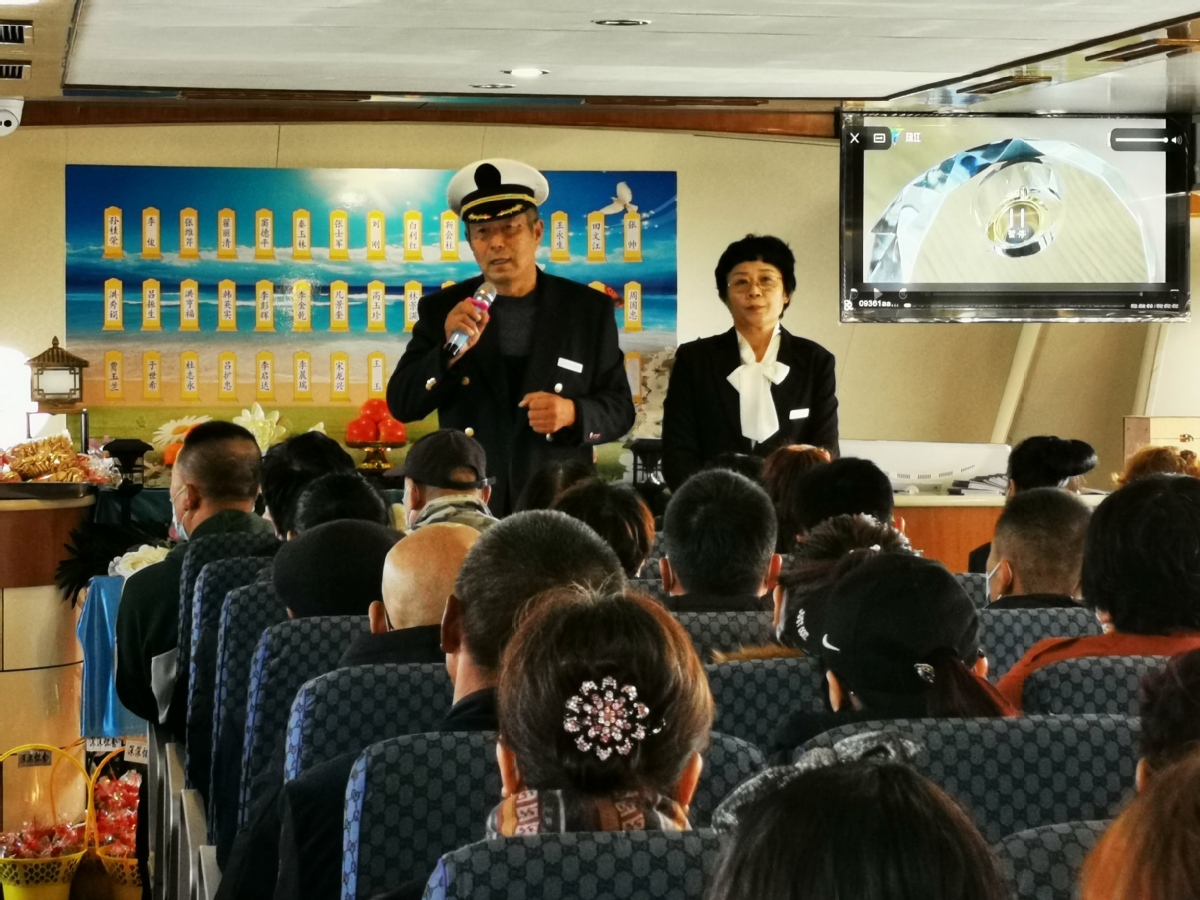 Better service
Chen tends to work all year round, except for Lunar New Year's Day.
It takes about 30 minutes to sail from the berth in Dalian to reach the 1.86-square-kilometer site designated for sea burials. There, marine clay urns containing the ashes of the deceased are ceremonially lowered into the ocean.
"The urns sink to the bottom. Within three days, they disintegrate in the water, while the ashes sometimes mix with the marine clay. It brings another kind of peace to the deceased," Chen said.
The urns are made from biodegradable material, including pottery clay, marine clay and kaolin, which is used to make porcelain.
Chen owns a factory that produces the urns.
"At the start, when we had no containers, people just spilled the ashes into the sea. The urns are environmentally friendly, add a ceremonial touch to the funerals and prevent the ashes being scattered all over the deck," Chen said.
This year, due to the coronavirus pandemic, relatives were unable to travel to Dalian at the start of April to pay their respects to the dead during Qingming Festival, or Tomb Sweeping Day.
Chen and his team aired a 10-hour livestream broadcast of the memorial they produced for the relatives. They read elegies, bought gifts, scattered ashes in the sea, and shot videos for clients.
He said he wants to visit countries such as Singapore and the Netherlands to learn more from insiders about sea burials and provide a better service.
He has been thinking of ways to make such burials more acceptable in China.
"They should be more ceremonial. People need to express their love and gratitude to the deceased for the last time and allow them to leave the world in a dignified way," he said.
He has persuaded his wife Li Donglan, to speak at the burials. "She is approachable and can counsel the bereaved in a good way," he said.
Chen only told his family after several years that he was involved in sea burials.
To his surprise, there was no particularly strong reaction, but his wife did ask, "Why are you doing this?"
As Chen's business expanded, Li joined him at sea, followed later by their son, Chen Jin.
Unlike Chen, Li was reluctant to clear rubbish left by bereaved families, let alone any ashes that leaked from urns.
But when everyone else on board was busy, she had to perform such tasks.
Now, such duties come naturally to her.
A long table aboard one of the vessels, from which the Chen family and employees have meals every day, is also used by bereaved families to place ashes in the ceremonial marine clay urns.
Li said: "Leaks happen all the time. We just clear them away."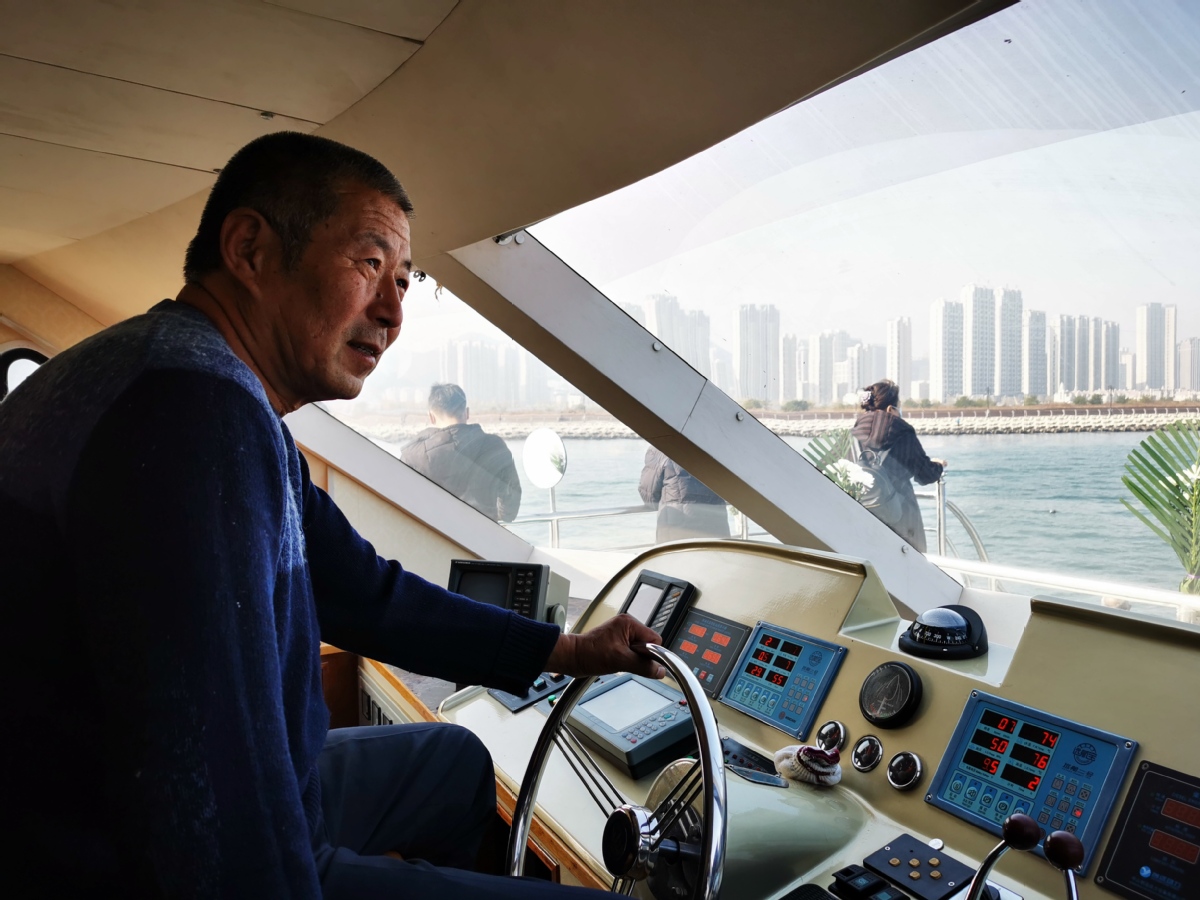 Tearful times
Sometimes, when Li consoles bereaved families, she finds it difficult to control her emotions. When they cry, she cannot help weeping with them.
Chen said he has never cried with the families, but in the early days, he was often moved by such scenes. However, over time, he has become used to them.
Sometimes, when people return to Chen's vessels to pay tribute to the dead, they bring Li fruit or special gifts from their hometown.
Chen said: "She may just talk to them for a while, or offer them a bottle of water. At such times, a little solace can leave a deep impression."
Li now has more than 3,500 followers on her WeChat account, but fewer than 10 are close friends or relatives-the majority being clients.
When she is not working on burials, she replies to messages from people wanting a consultation, arranges special memorials for the deceased and talks to relatives about their loss.
Over the years, Li has gradually learned to help the bereaved vent their feelings.
Chen said: "Some people cannot shake off the pain of losing a loved one. They do not want to talk about it with their family, fearing that it might worry them. However, they readily open up to my wife."
One mother who lost her only child sent Li long voice messages when she was unable to control her emotions, talking about her heartbreak and her daughter's past.
Most of the time, Li just listened and seldom interrupted her. Later, she encouraged the woman to travel and relax in new surroundings.
She now receives pictures of the woman's travels from time to time, along with greetings of "good morning" and "good night".
After witnessing so much death and sorrow, Chen said he and his family are no longer troubled by such scenes.
"Enjoy life, as it is short and fragile," he said. "No matter what happens, we have to move on. Life can't be plain sailing, right?"
Lin Shu'ao contributed to this story.