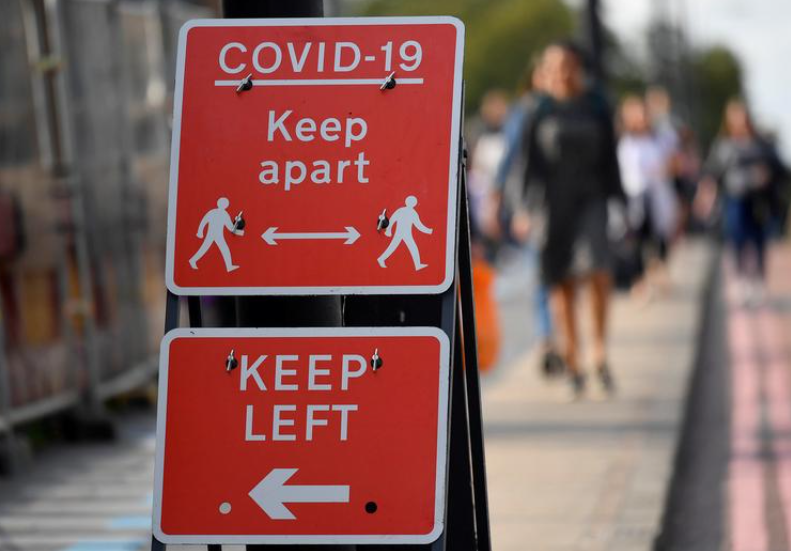 United Kingdom residents are bracing for a less social Christmas this year as reports claim COVID-19 restrictions will remain in place through next month and well into the new year.
Households will not be allowed to mix when the national lockdown ends in England on Dec 2, with all parts of the country under at least Tier 2 restrictions, according to The Daily Telegraph.
However, the government is said to be preparing a package of plans that aims to allow some loosening of the rules for five days around Dec 24, according to The Sun newspaper.
It said the governments of England, Scotland, Wales, and Northern Ireland are planning a common approach that might enable families across the UK to gather for Christmas.
Business Secretary Alok Sharma refused to be drawn on the rules for the festive season when asked about it on the BBC's Breakfast on Wednesday.
Sharma said: "We just have to see where we get to. I certainly would like to have as normal a Christmas as possible."
A Downing Street source told Sky News that "no decisions have been made".
The government is expected to announce an "end of lockdown package" next week, which, the Telegraph reported, will include a timetable for the rollout of the UK's vaccination program and an expansion of mass-testing.
Housing Secretary Robert Jenrick told Sky News on Tuesday that it is his "hope and expectation" that England will "move back into the tiered system" after Dec 2, but he did not reveal any plans for Christmas.
British medical experts have repeated their concerns that the tiered system of restrictions is "inadequate" and must be revised before England leaves lockdown.
The British Medical Association said the system was "inconsistent" and did not contain the spread of the virus, backing up comments made previously by government adviser Susan Hopkins, who suggested it "had very little effect" in keeping the number of cases down.
Some Conservative Party members of Parliament are against extending the lockdown after Dec 2 or strengthening the three-tier alert system, reported the Telegraph. The newly formed Covid Recovery Group, or CRG, of Conservative MPs warned that any Tier 4 proposal, or strengthening of the tier system, was unlikely to win their support.
Leader of the CRG, former chief whip Mark Harper, said: "The PM has been very clear that the current lockdown will end on Dec 2. Any attempt by government to effectively continue the lockdown by another means will be very badly received by backbenchers."
The warning comes as Britain's public spending watchdog criticized the government for its failures of transparency when awarding private contracts worth around 18 billion pounds ($23.8 billion) for emergency supplies, such as personal protective equipment, during the crisis.
In a report released on Wednesday, the National Audit Office, or NAO, said companies recommended by MPs, members of the House of Lords, and ministers' offices were given priority for contracts and that there was inadequate explanation of key decisions, such as why particular suppliers were chosen.
It said more than 8,600 contracts related to the crisis had been awarded by July 31, and of these, deals worth 10.5 billion pounds were awarded directly without a competitive tender process.
NAO chief Gareth Davies said: "While we recognize that these were exceptional circumstances, it remains essential that decisions are properly documented and made transparent if government is to maintain public trust that taxpayers' money is being spent appropriately and fairly.
"The evidence set out in our report shows that these standards of transparency and documentation were not consistently met in the first phase of the pandemic."
The Financial Times noted that emergency rules allowed government departments to procure services and equipment quickly but raised concerns about potential bias and the quality of services delivered.
It said a number of contracts are being challenged in the English courts over the way they were awarded.
The government has acknowledged it had procured services with "extreme urgency" due to the crisis, according to BBC News.
Cabinet Office minister Julia Lopez said: "We have been dealing with an unprecedented global pandemic that has posed the biggest challenge to the UK in a generation. We have robust processes in place for spending public money to ensure we get critical equipment to where it needs to go as quickly as possible, whilst also ensuring value for money for the taxpayer."