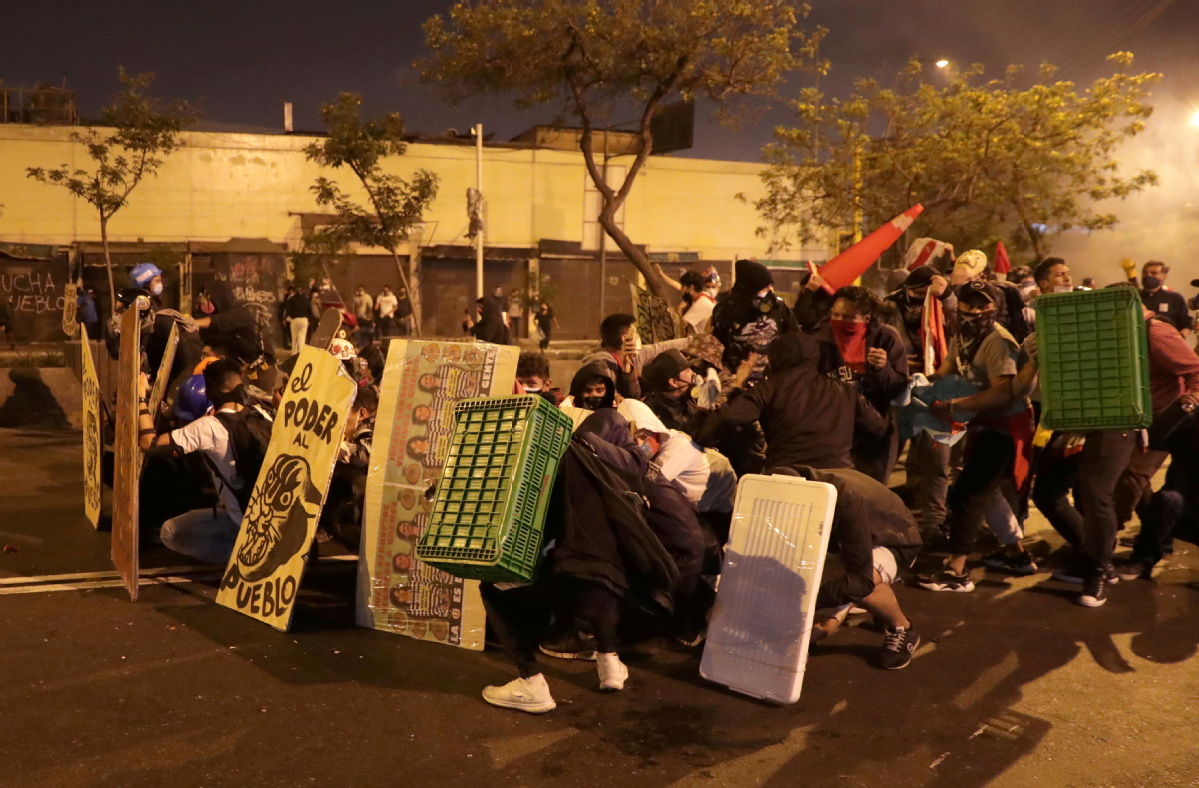 A stopgap administration in Peru before a general election in five months faces the daunting challenges of political instability and tackling COVID-19.
A week after Manuel Merino became the country's third president in as many years, protesters took to the streets.
"The challenge is not only for the cabinet or the Congress but for all Peruvians," Merino told Peru's official news agency Andina on Saturday.
Merino said his government is preparing a list of measures to reactivate the economy and build up social programs.
Merino, who was the president of Congress, has been a low-key politician, entrepreneur and cattle breeder.
The previous president, Martin Vizcarra, was ousted in an impeachment vote in Congress on Nov 9. The vote was 105 for removing him and 19 against, with four abstentions.
Congress declared Vizcarra morally incapable of continuing in office, a decision stemming from allegations over a six-year-old corruption scandal. Vizcarra had survived a motion of impeachment earlier this year.
Merino will have to lead the country until elections in spring, restore calm and help the country's economy recover from the impact of the pandemic.
Peru's central bank has forecast a fall in GDP of 12.5 percent this year, which would be the worst fall in GDP in 30 years. Unemployment rose to 8.8 percent in August.
Merino has assembled a team of seasoned politicians, mostly technocrats, to lead what many expect will be a peaceful transition of power.
"Things are going to begin to calm down as agreements are reached with certain sectors of the population," said Ramon Abasolo, a lawyer and political analyst in Lima, the capital.
Protests broke out on Thursday, and Merino, who earlier in the day had sworn in 18 people to his cabinet, called for calm.
"We respect those who have a dissenting opinion, but we call for calm and responsibility so that any political expression is given within the scope of tranquillity and nonviolence," Merino said in a speech.
Pandemic impact
Peru, with a population of 33 million, has been among the countries in the region worst-hit by COVID-19. By Sunday more than 934,800 people had contracted the virus, with more than 35,100 deaths, according to Johns Hopkins University.
Political instability is not new to Peru, and market analysts are closely watching how events unfold.
Scotiabank Economics said in a note that Vizcarra's removal "has resulted in protests against the new government and possible economic disruption".
"The new president … will need to work quickly to create a stable administration and calm current worries."
Oscar Rodriguez, a merchant and activist in Lima, said: "Unlike other countries, in Peru we have a model through which the Congress can impeach the president, (in the event of) moral incapacity."
But, "with a new government always comes times of hope", Rodriguez said. "For the moment, people want calmness and peace in order to solve problems."
The writer is a freelance journalist for China Daily.