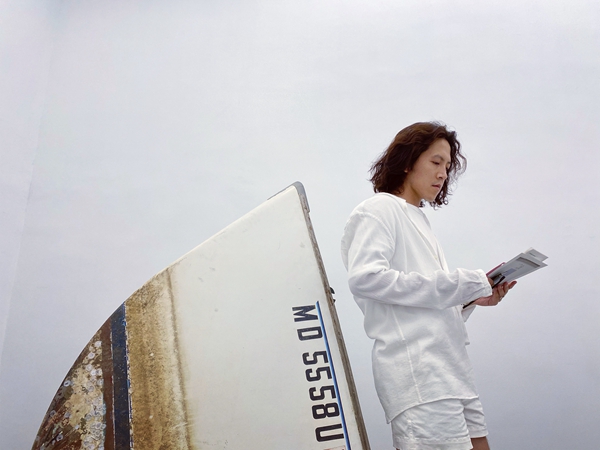 Designer gives artists opportunity to showcase their talent on his collection of clothes that cut a dash, Deng Zhangyu reports.
Fashion and art have teamed up in independent designer Meng Yueming's spring and summer collection 2021. The clothes, displayed in Beijing on Oct 28, during China Fashion Week, feature an oil painter's works. This is not the first collaboration of brush and cloth but the third time the 29-year-old has cooperated with artists of a different medium in the past year.
Meng's new collection transforms oil painter Shi Ruofan's reflection on transitory things and emotions in life into abstract patterns printed on clothes. Both the designer and the artist are inspired by the urgent need to cherish people in life, especially considering the times we live in.
He mixes patterns of lights, water waves and shadows on blue, white or black fabric to create a sense of "mystery and future".
Meng labels his own brand Ksiezyc, or KZ in short. "In fact, it only took me two weeks to finish all the designs of the latest collection," says the Beijing-based designer.
Contemporary art has been an endless source of inspiration for his designs.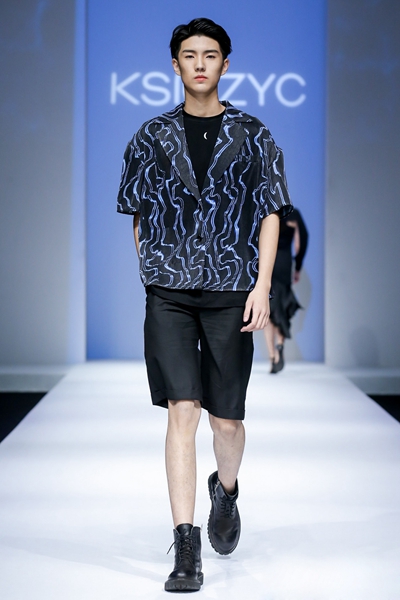 His New Identity Era series, released in August, was another such collaboration, this time with multimedia artist Bai Yiyi, whose works concentrate on the role of digital technology. Meng uses the artist's ideas on data, gene and duplication to create patterns of gene chains, bringing up the question of how we feel and see ourselves in the digital age.
To help raise public awareness of the fashion sector's pollution, such as dyes or excessive consumption, the designer made a series of printed patterns from photos of discarded clothes.
Fashion designer Liu Yihang says Meng gave the impression of an artist rather than a fashion designer when they met for the first time. "His clothes are a combination of fashion and art, just like himself," says Liu.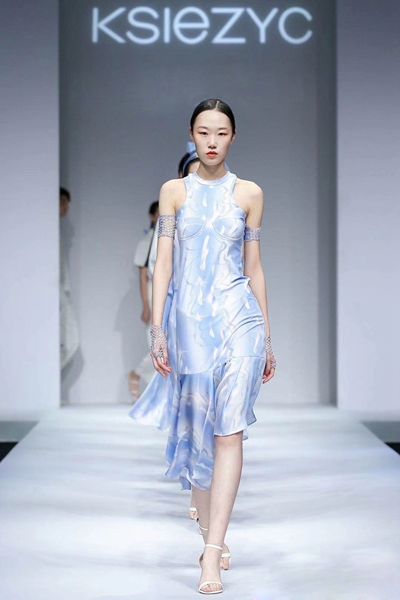 Meng founded KZ in 2018 when he was 27, a relatively young age to start a fashion brand. Ksiezyc is a Polish word, meaning moon. Meng chose the word to fit his concept of mystery and cool. As an independent designer, he has to deal with everything on his own, from design, production to brand promotion and sales.
"It's very hard. But it's worth it. I love what I'm doing now, even though it does not pay well," he says.
It's a good time for young designers like him in China, when there are enough individuals and projects to support them, according to Meng. And their target consumers-the younger generation, those born after the 1990s-are in pursuit of clothes to present their personalities. Meng's partner provides him a space to display his clothes in 798 Art Zone in Beijing, a cultural center that holds lots of art shows every day. He has also been invited by shopping malls to display his clothes.
"Young designers have access to many resources and help. Lots of good designers are emerging," he says, adding that many good designs he saw during the Shanghai Fashion Week 2020 in October have been created by young Chinese designers.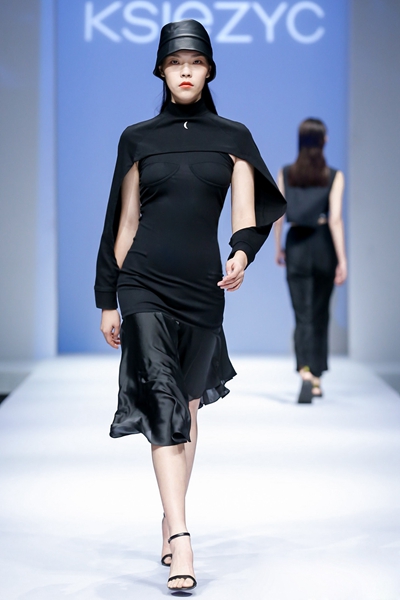 To be a fashion designer was Meng's dream when he was a middle school student at Xinzhou city, Shanxi province, when he discovered his first fashion magazine. His family has no links to the fashion industry. Both his parents are teachers of the natural sciences and they didn't agree with Meng's career path.
For his release of the latest collection, Meng invited his mother to see the show. On the day of release, he was working for 24 hours without any rest. His mother witnessed all his hard work but still cannot understand his passion for it. Meng takes it in his stride. "I made all the decisions by myself. I love it and enjoy being a fashion designer," he says.
For almost each collection, Meng collaborated with a young artist, which he says is a mutually beneficial solution. For the artists, their work is exposed to a wider audience, while Meng gets lots of cool ideas.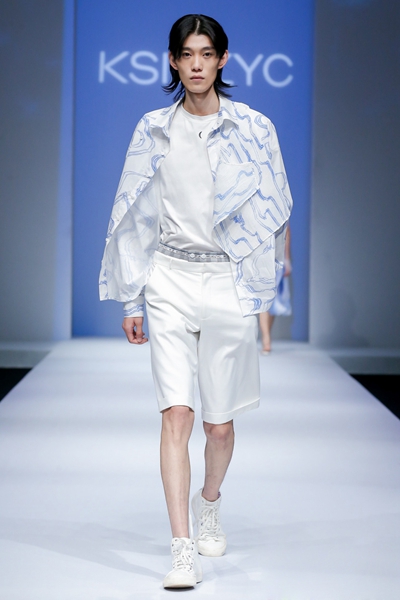 Shi Ruofan, the young oil painter who worked with Meng for his latest collection, says the cooperation was fresh, interesting and challenging. She's glad to see that her artistic reflection on transitory moments and feelings can be presented so well and in such a fashionable way.