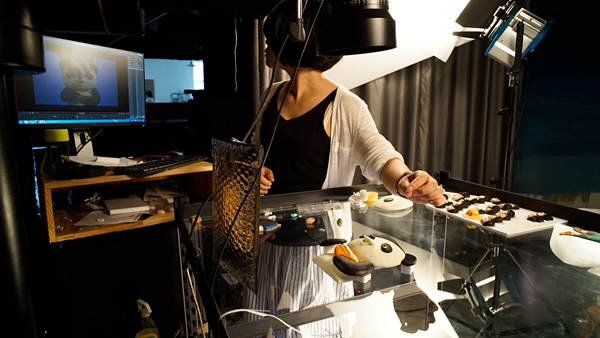 Stop-motion animation works provide a creative outlet for those who bring objects 'to life' on screen, Xing Wen reports.
Children and the young at heart often imagine their toys coming to life. At least, that's what animator Xu Ning believes. Part of it may be replicating the joy of childhood in later life. Part of it may also be maintaining a youthful outlook. But part of it is definitely redeeming a sense of creativity and wonder in adulthood.
As the son of a radio technician, Xu, 34, showed his manual dexterity from a very young age as he used screwdrivers, pincers, electric soldering irons and other tools to assemble or make mechanical toys and knead clay into the shape of animals.
He loved building toys out of metal, wood or other hardware, hoping that one day these "playmates "would come alive.
In 2006, Xu, a high school student, watched celebrated American filmmaker Tim Burton's stop-motion animated musical fantasy film, Corpse Bride. He was hooked. The old-school art of animating objects by moving them in small increments between individual photographic frames gave him a sense of creativity and allowed his toys to move.
"That's how it's going to work, to bring my toys to life," he realized and decided to further study the art form. The next year, he enrolled in the Animation School of Beijing Film Academy, where he had hands-on experience in puppet building for stop-motion animation. Later, in 2012, he applied for a master's program in the School of Cinematic Arts at the University of Southern California.
Three years later, after graduation, Xu was hired by Laika Entertainment, an animation studio in the United States with a reputation for making hit stop-motion feature films and, fittingly, the producer of Corpse Bride. He was soon recognized as the renowned studio's first Chinese animator and was involved in the production of Kubo and the Two Strings, Missing Link and other widely-known stop-motion feature films.
"Frankly, before I actually got to know about the medium, I kind of worried about my career prospects," says Xu. "However, after I had more insight into it, I saw its unique charms."
He says the real materials, people's hands-on involvement and the change of natural light and shade mean that stop-motion animation constantly requires an artistic touch-something that might explain why it is frequently showcased at art or film festivals.
Wang Xiyi, 30, also started his career in the stop-motion animation industry as he loves handcrafting.
The graduate from Jiangnan University is now working as the leader for the prop-making team at Steam-Arts, a stop-motion animation studio in Hangzhou, Zhejiang province.
"It gives us a great sense of achievement, setting up miniature scenes and making figurines with our hands," says Wang.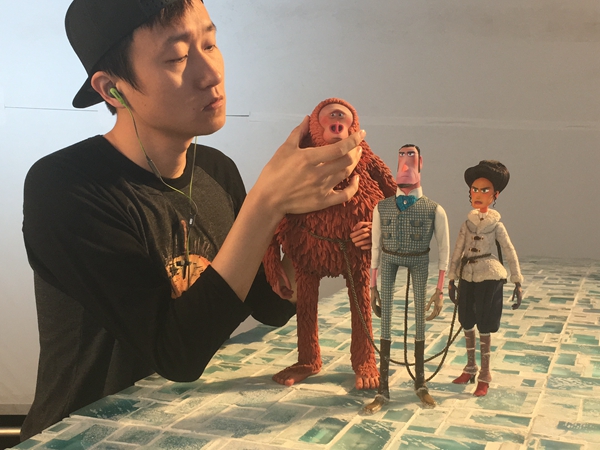 Contributors on board
Wang's team members, most of whom are in their 20s, are from varied educational backgrounds, such as environmental or industrial art and computer science, but they all share an identical passion for handcrafting. "It's a young team. We are all on a journey to explore unknown fields and improve ourselves," says Wang.
The domestic industry does have a lack of experienced and talented figures who can help young practitioners progress efficiently, according to Wang.
In this aspect, Xu believes he can lend a hand. He left the US animation studio in 2018 and came back to China, aiming to share his knowledge and experience.
Xu has opened his own channel on the video-sharing platform Bilibili, where he uses short videos to offer a behind-the-scenes look at stop-motion animation techniques and plans to release tutorials that he hopes will attract newcomers to the art.
"I want to cultivate more domestic stop-motion animators. I believe stop-motion will have a stronger presence," he says.
He is confident in the future development of Chinese stop-motion animation, as the country boasts such traditional art forms as shadow play and puppetry, similar to the animation form. Moreover, the Shanghai Animation Film Studio had produced The Magic Brush, Tale of the Effendi and many other classic, well-made animated works, using the cinematographic technique decades ago.
"Anyone who owns a phone or a digital camera can start working with the technique. You can have lots of fun here," says Xu. He adds that in China's fledgling stop-motion film industry, practitioners are willing to help one another to move forward and be seen by investors and a larger audience.
Liu Di, a stop-motion animation director, points out that, currently, the industrial chain that supports the craft is not mature enough.
He adds that few universities in China have set a major for the medium to cultivate more professional talent.
"However, once the animation type becomes widely received by the audience, all these problems will be readily solved," he says.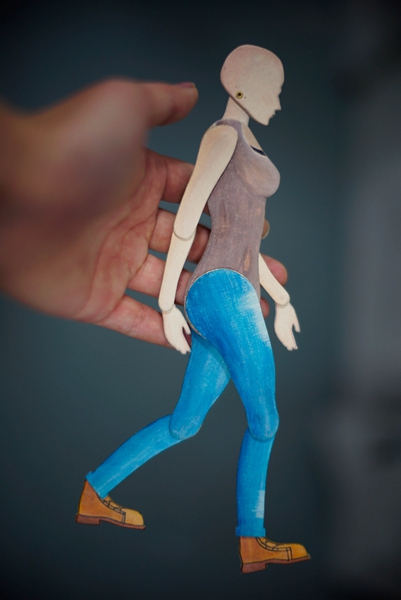 Industry on the rise
Cheng Weifang, who co-founded SteamArts in 2015 with her husband, mainly covers preliminary planning, market analysis and business development for the studio, which has 60 employees. She believes that to achieve a sustainable development of the industry, it requires a clear business plan.
For instance, before the studio decided to produce Mini Town, an animated series that tells the stories of bear families that live in a utopian town, Cheng and her colleagues had already thought about the prospects of derivative products.
"The target audience of the series are children aged from 2 to 6. In China, the cartoon market for that age group is far from saturated," she says.
What is actually being manipulated in the animated work are plush puppets, which makes it easier to manufacture such derivative products as plush dolls, Cheng says, adding that high-quality plush toys can help the studio capture a largely uncontested market space in China.
"We hope to expand its range of application-the animation could be used in commercial advertising, art exhibitions and other fields," she adds.
The studio has also collaborated with primary schools to encourage students to create stories using objects around them.
Guided by the animators, children can bring their favorite fruits or toys to school, then make up a story based on the objects and create short stop-motion videos. This kind of training not only improves their photography and storytelling skills, but also helps to fire their imagination, says Cheng.
To reach out to global viewers, Cheng also took their animation work to international audiences at the Busan International Film Festival in South Korea and the Annecy International Animation Film Festival in France.
"The content of child-targeted animation knows no boundaries. I hope our original work fits in with universal values and gains popularity among foreign kids," she says.
For that goal, the animators are on their way to upgrading photographic equipment, as well as improving puppet-building techniques, precision parts processing and 3D printing. They are also honing the ability to combine stop-motion with both 2D and 3D animation as well as live-action film.
The animators are trying to evolve one of the earliest forms of 20th century animation by implementing 21st century technology into its production process, according to Cheng.