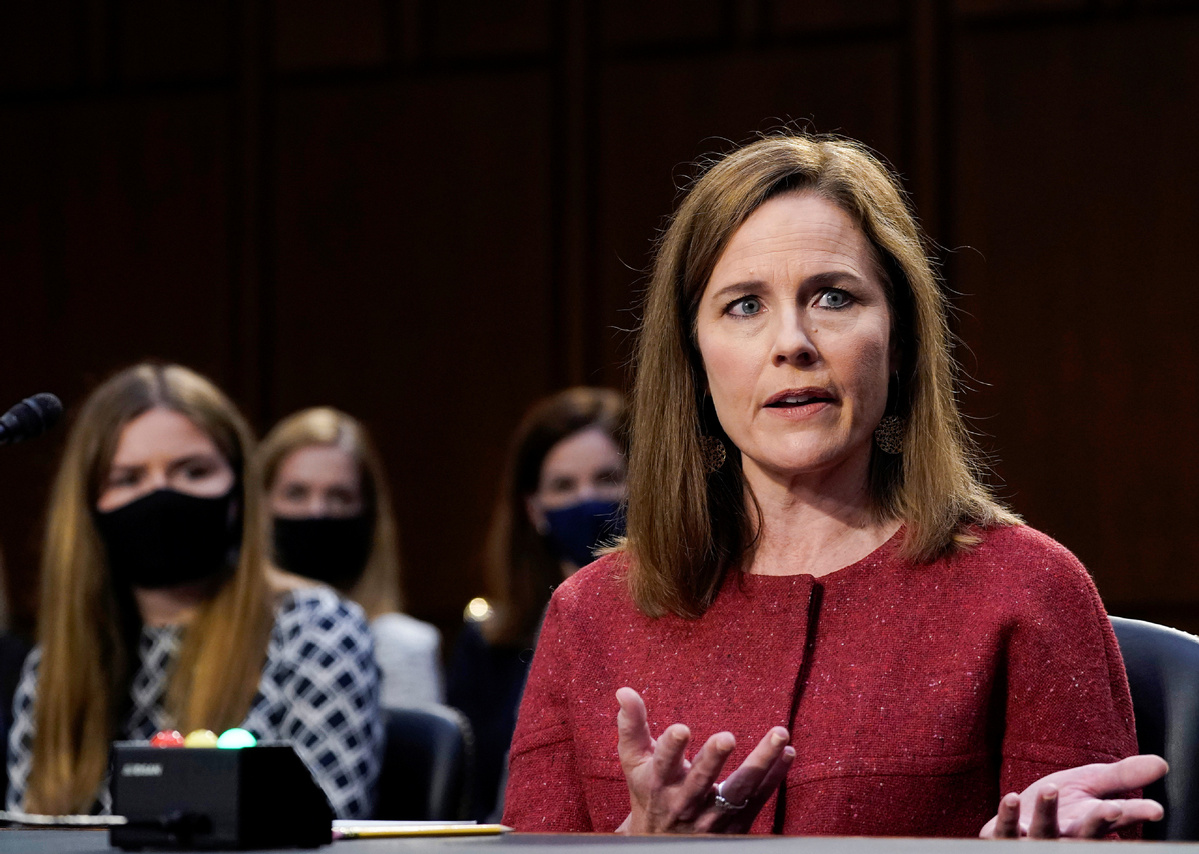 Obamacare was front and center as President Donald Trump's latest Supreme Court nominee, Amy Coney Barrett, came before the US Senate on the first day of fast-tracked confirmation hearings that began Monday.
Before the hearings, Senate Democrats had expressed strong opposition to Barrett's nomination based largely on her past positions on abortion rights and the 2010 Affordable Care Act (ACA), popularly known as Obamacare.
If confirmed by Election Day, as Trump intends, Barrett could be on the high court in time to participate in a Republican-led case seeking to overturn Obamacare that will be argued Nov 10, which is why the ACA was the focus of attention by Democrats during the Senate Judiciary Committee hearing.
A pivotal ACA provision that would be thrown out if the high court strikes the law down bars insurance companies from denying coverage to those with pre-existing medical conditions.
Repeated Republican efforts to repeal Obamacare in Congress over the past decade have fallen short, so Republicans have taken the effort to the courts.
During Monday's hearings, Democrats displayed posters of patients who could lose their medical coverage if Obamacare is invalidated, with senators recounting their own stories of healthcare challenges.
"One judge can decide if millions of Americans lose the right to keep their children on their insurance until they are 26 years old. One judge can decide that a senior's prescription drugs, which are already too high, could soar even higher," said Senator Amy Klobuchar, a Minnesota Democrat, who recounted how her husband and father contracted COVID-19.
Republican Senator Ted Cruz of Texas said the Democratic focus on healthcare and other policy issues showed they were not contesting Barrett's qualifications to serve as a justice.
Barrett, a conservative appellate court judge nominated by Trump to replace the late liberal Justice Ruth Bader Ginsburg, who died Sept 18, gave an opening statement that focused on judicial impartiality.
"I believe Americans of all backgrounds deserve an independent Supreme Court that interprets our Constitution and laws as they are written," Barrett said, reading from prepared remarks. She did not take any questions on Monday.
Barrett's confirmation would give the court a 6-3 conservative majority that could conceivably lead, liberals fear, to rulings rolling back abortion rights, expanding religious and gun rights and upholding voting restrictions, among other issues.
"I do believe this hearing is a clear attempt to jam through a Supreme Court nominee who will take away healthcare from millions of people during a deadly pandemic," said Democratic Senator Kamala Harris of California, speaking via a video link.
Harris, the running mate of Joe Biden, the Democratic presidential nominee, called the confirmation process "illegitimate" because it comes so close to Election Day. Voting is already underway in 40 states.
"A clear majority of Americans want whomever wins the election to fill this seat, and my Republican colleagues know that. Yet they are deliberately defying the will of the people in their attempt to roll back the rights and protections provided under the Affordable Care Act," Harris said.
Similarly, Democratic Senator Patrick Leahy of Vermont condemned the GOP's "mad rush" to fill the vacancy.
Republican Senator Lindsey Graham of South Carolina, who chairs the committee, opened the hearing by saying it would be "a long contentious week" but implored senators to make the proceedings respectful.
"This is probably not about persuading each other, unless something really dramatic happens. All Republicans will vote yes, and all Democrats will vote no," he said.
Barrett can expect extensive questioning from senators Tuesday and Wednesday. The four-day hearing is a key step before a full Senate vote by the end of October on her confirmation to a lifetime seat on the court.
While Democrats emphasized healthcare — and avoided any mention of abortion — Republicans emphasized past Democratic criticisms of Barrett, especially those referencing her Roman Catholic faith and the presumption that it would bias her against Roe v. Wade, the 1973 Supreme Court decision that established the constitutionality of a woman's right to an abortion.
Trump campaigned on a promise to appoint judges who would overturn Roe. His first two appointments to the high court — Neil Gorsuch and Brett Kavanaugh — were also conservative Catholics presumed to be in favor of reversing Roe.
Republicans hold a 53-47 Senate majority making Barrett's confirmation all but certain.
In order to prevent the spread of COVID-19, only a handful of journalists, guests and staff were allowed in the Senate hearing room, Hart 216, in addition to the committee members and Judge Barrett.
Reuters contributed to this story