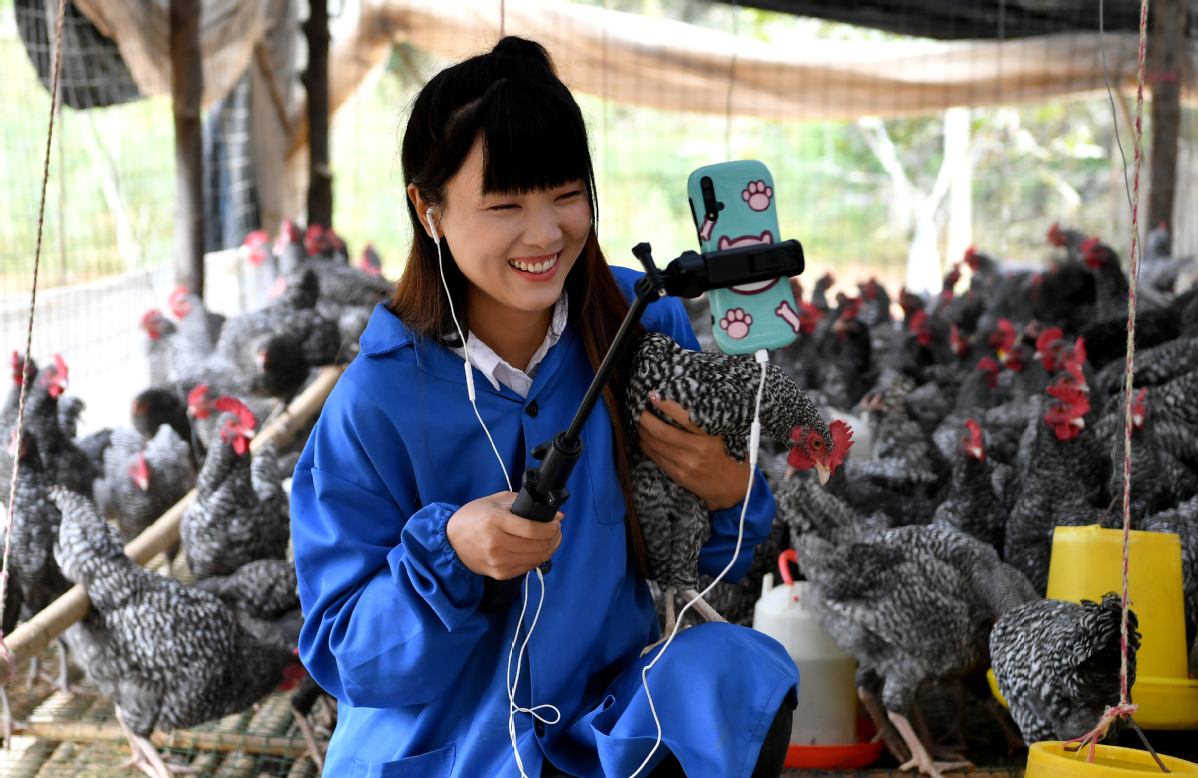 Farmers and scholars say the easy-access platforms offer ways to learn and share. Zhao Xinying reports.
Every morning, Liu Jinyin gets up with plans to record and share his life through short videos and livestreaming.
The 29-year-old farmer from Luzhou, Sichuan province, has almost 1 million followers on several short video platforms-Douyin, Kuaishou and Xigua, to name a few-that host his content.
Apart from some urban residents who are interested in the rural lifestyle depicted in his videos, most of his followers are rural people like him.
"Most people in the countryside know short video apps and spend a lot of time on them," said Liu, whose education ended when he finished primary school.
A report released by the China Internet Network Information Center in late April showed that through March, China had a total of 904 million internet users. Of them, 255 million, or 28 percent, were from rural areas.
As the number of short-video app users reached 773 million in the country as noted in the report, the number of short-video app users in China's rural areas reached an estimated 216 million.
Form of entertainment
Zhu Wei, deputy director of the Communication Law Research Center at China University of Political Science and Law, said short-video apps are well-received in the countryside because they offer content that is closely tied with rural life.
They also have very low thresholds for users, and people don't need much knowledge or educational backgrounds to use them.
Xia Jinxing, director of the School of Vocational Education Teachers at Chongqing Normal University, said China has a large rural population and the agricultural activities they engage in are seasonal.
"It means that people living in the rural areas have great amounts of free time and need a lot of entertainment," said Xia, who served as the deputy director of the School of Education at Hunan Agriculture University for a decade and kept an observation on the rural demographic.
"In recent years, the living standard for people in rural areas has improved greatly," he added. "That's thanks to the government's policy of lifting people out of poverty. More farmers have also had their own mobile phones, which has laid a foundation for the popularity of short video apps in the countryside."
Liu Yuanju, a researcher at the Shanghai Institute of Finance and Law, said while residents in urban areas have a wide range of amusement, including karaoke and movies, people living in rural areas of China have very limited access to entertainment.
"Against such a backdrop, short videos, which only require an inexpensive mobile phone and very simple operation, became a major form of recreation for them," he said.
Even compared to TV series or movies, which can also be watched on mobile phones, short videos have apparent advantages.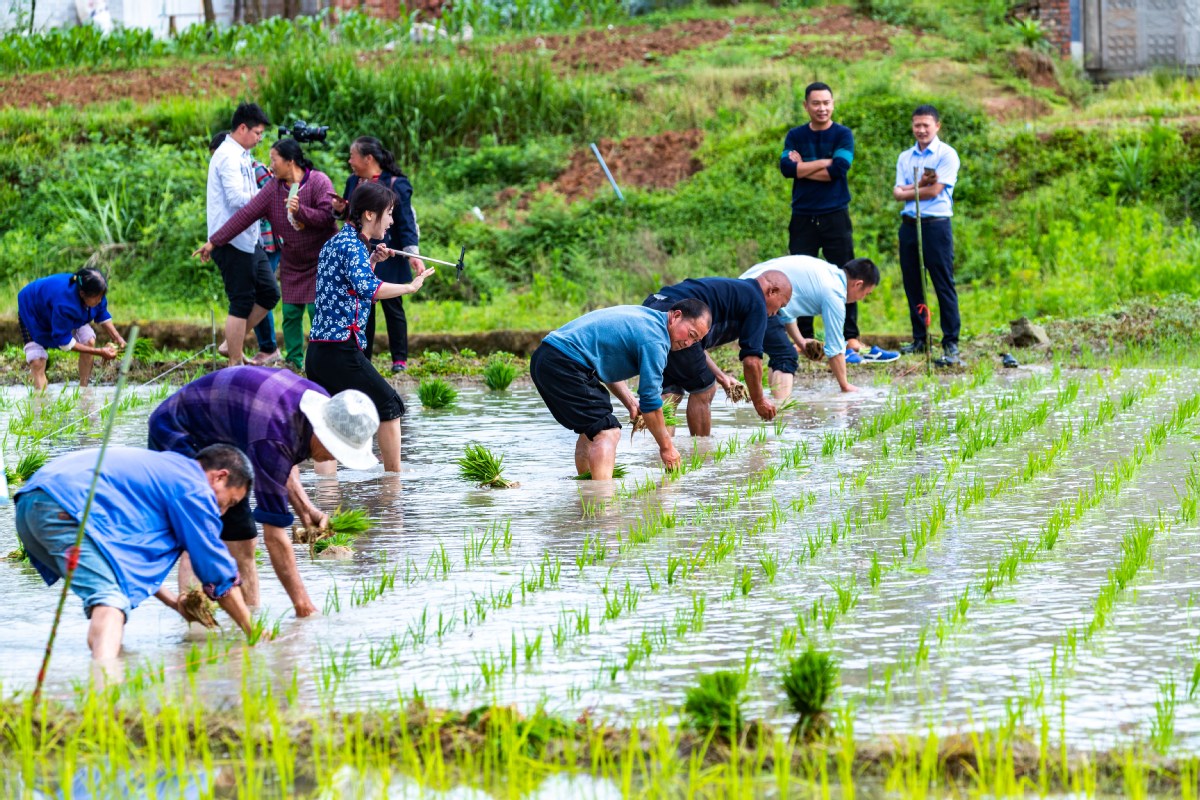 More profits
While many people in the countryside are enjoying the content produced by others on short-video apps, other people, like Liu Jinyin from Sichuan province, have begun generating their own contents and profiting off it.
Three years ago, Liu watched short videos during his spare time on the job as a construction worker and found the videos amusing. These seconds or minutes-long "short films" produced by ordinary people, fell into all types of categories-delicious food, beautiful scenery, jokes and daily life among others. They firmly seized his attention.
After watching thousands of videos and realizing making them was not difficult, he decided to make a few of his own.
What he had not expected was that catching fish, planting crops, feeding pigs and cooking, all the most ordinary things happened in his life, could attract so much attention.
Now the tips and rewards he receives from followers alone can amount to hundreds of thousands of yuan a year, much more than what he earned working at construction sites.
"My father can't believe that I can earn money at home by doing this," he said.
A better-known and more successful example is Li Ziqi, who started shooting short videos about Chinese food and her life with her grandmother in the countryside of Southwest China's Sichuan province in 2015.
After gaining tens of millions of followers on domestic short video platforms, her YouTube channel also reached 10 million followers in April.
Last year, sales of agricultural products and food in her store on Alibaba's Tmall, an online shopping platform in China, exceeded 70 million yuan ($10.36 million).
In August, she expanded her business by opening a factory producing luosifen, a type of Chinese rice noodle originating from South China's Guangxi Zhuang autonomous region, in the region's Liuzhou city.
According to data from iResearch consulting company, commercialization of the short video industry has matured after eight years of development, and overall income for the industry in China is expected to reach 211 billion yuan by the end of this year.
This trend has benefited more rural people, and not only influential video makers like Liu and Li. More ordinary farmers are also seeing encouraging results.
Wang Erlou plants apricots in Taipingbu village in Northwest China's Shaanxi province. He said his high-quality apricots had not sold well until he started using short video apps to promote them.
This year, he tried making short videos and doing livestreaming, in which his 80-year-old grandmother appeared to show internet users how the apricots looked and tasted.
The outcome exceeded his wildest expectations. His online shop earned 20,000 new followers, up from a two-digit number, within a few weeks. He sold 8,000 boxes of apricots worth 250,000 yuan in May and June, the harvest season of the year.
"The power of short videos really amazed me," Wang said.
Sources of knowledge
Apart from bringing fortune, short videos are also sources of knowledge to people living in rural areas, said Liu Yuanju, the researcher in Shanghai.
A report released last year by technology media website 36Kr showed that 65 percent of short-video app users said they wanted to "learn knowledge and techniques on the platforms". That answer was second only to "watching interesting and entertaining contents", which 80 percent of users selected.
According to Liu's observation, many farmers chose to watch short videos that shared tips on improving the performance of agricultural production, such as planting crops and raising livestock.
"Some farmers, especially those of older age, need such knowledge and information. But it might be difficult for them to learn it by reading books or attending lectures," he said. "Comparatively speaking, following the steps taught in short videos is a more relaxing and acceptable option."
In addition, short videos can broaden farmers' vision and reduce the rural residents' "information gap "by teaching them more about the outside world, Liu said.
"In the past, immigrant workers were usually unaware of urban life when they first arrived in the cities from their rural hometowns," he said. "Now, by watching some short videos, they can familiarize themselves with their future