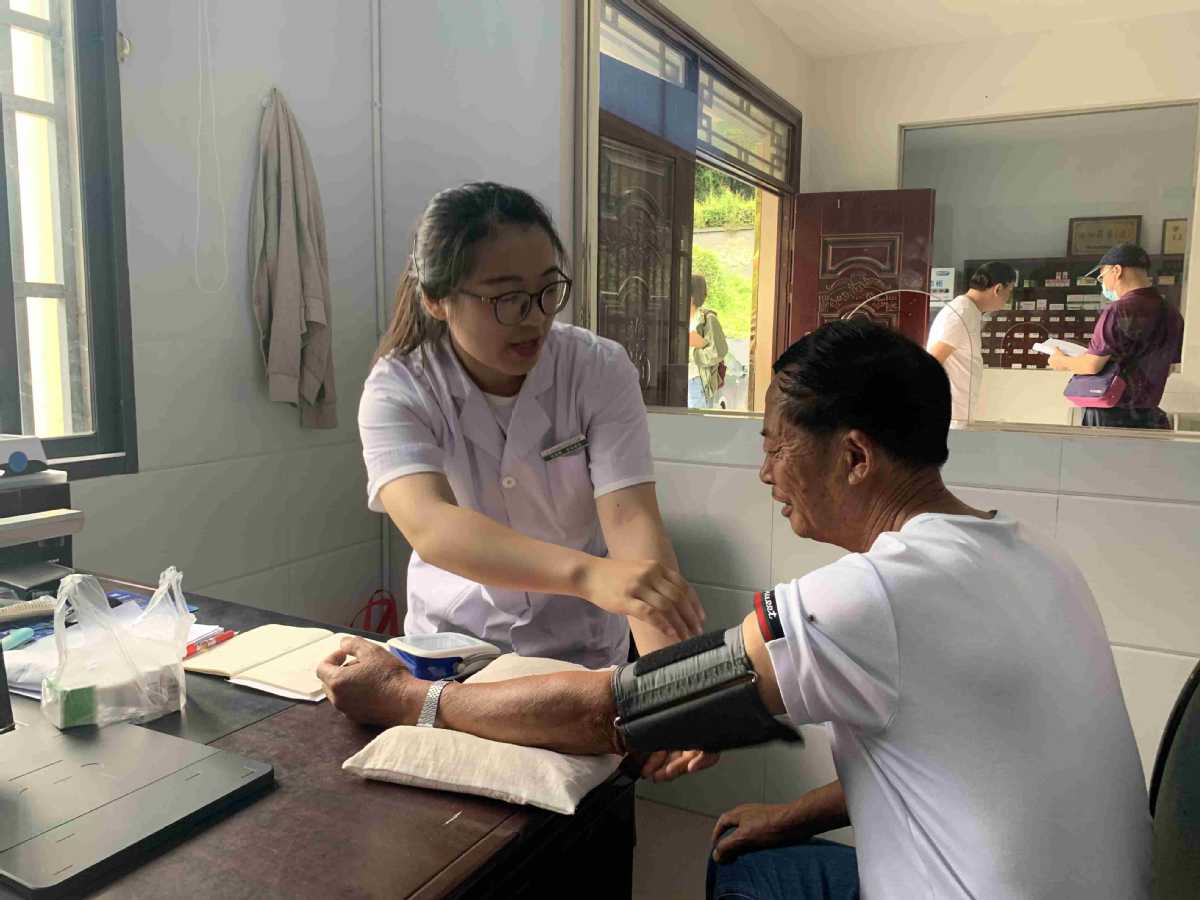 "You should take the pills as a routine, whether the blood pressure number is high or low. It means taking one pill in the morning and another at night every day," Yang Haiyan, a doctor in Bainianguan village, Yichang, Hubei province, told a patient with high blood pressure.
That's an everyday conversation between Yang and her patients. Most of her patients are old and have limited education, so she has to repeat detailed instructions to ensure they get the right message.
Being patient with patients was the first lesson the 23-year-old village doctor learned after completing medical school.
After graduating from Hubei Three Gorges Polytechnic, Yang began practicing medicine in Bainianguan in May last year.
The village is located on the border with Hunan province in the mountainous Wufeng Tujia ethnic autonomous county, which has 190,000 residents and an inconvenient transportation network.
In the past, there were as many as 59,070 people living in poverty in the county, with disease the cause of the impoverishment of about a third of them.
To provide better medical service to villagers, the Yichang government, in cooperation with Hubei Three Gorges Polytechnic, started a three-year college program in 2014 to train prospective village doctors. It set the goal to have at least one doctor in each village in the city and plans to train 1,400 graduates.
The program has already trained 779 students who have started practicing medicine in villages, while 361 are still studying.
Tuition is free and the program gives 15,000 yuan ($2,200) to each student during their three years of study as a living stipend to attract applicants.
Responsibility and joy
Yang is one of those recipients. She spent a fortune-about 5,000 yuan-to buy a motorcycle when she started her career in the village, and quickly became a skilled rider.
"Villagers live far away from each other. Some live on the ranch, and some at the foot of the mountain," she explained, adding that riding a motorcycle is a very convenient way to visit her patients.
She has visited all 1,662 villagers and has established health archives for each of them.
When she started her career, Yang, who had dreamed of becoming a doctor since childhood, envisioned receiving pages from her beeper constantly, running in hospital hallways and entering and exiting operating rooms-the way doctors are often portrayed on TV.
But in reality, her job is quite different from the one she imagined.
She was disappointed at first but has gradually come to enjoy her work helping villagers.
As a village doctor, her daily duties include making basic diagnoses, regularly visiting patients with chronic diseases and offering health education in the village.
Through in-depth communication with villagers, Yang is very familiar with their health status and has gained their trust.
"They recognize me, trust me, thank me and treat me very well," Yang said, adding that was the fulfillment she was looking for as a doctor.
Zeng Qingxiu, an 80-year-old villager with high blood pressure, is one of Yang's patients and lives on the ranch.
She used to walk about two hours from her home to the village's health center to get her medication every now and then.
The situation has changed since Yang's arrival. She rides her motorcycle to visit Zeng from time to time, testing her blood pressure and bringing her medication.
"Doctor Yang is highly skilled, patient and also very caring. She is a doctor with a warm heart and is very responsible," Zeng said.
Master with apprentice
Since Yang began working at the village's health center, she has been shadowing her medical master, 70-year-old village doctor Pei Guangxin.
Unlike Yang, Pei experienced more ups and downs while pursuing his career. He did not have the chance to receive professional medical training when he started his career about 50 years ago. Instead, he was a teacher at a local school.
Back then, sick people were miserable. Without medicine or doctors, patients with minor diseases tried to recover by themselves while those with serious symptoms waited to die, Pei recalled.
Having witnessed the plight of villagers when they got sick, he decided to take a three-month training course to become a barefoot doctor in 1969. The training was part of a nationwide campaign to train rural healthcare providers with basic medical and paramedical skills.
Practicing while learning, Pei took advantage of all opportunities to improve his medical skills, from participating in short-term training courses to seeking guidance from nearby doctors with good reputations.
He found that he was quite gifted and gradually gained a good reputation among the villagers.
In the 1980s, many village doctors quit because the meager pay was not enough to make a living or support a family. For a long time, Pei was the only doctor for five villages.
"It was a hard time then," he recalled. "There were no weekends, no holidays. Whenever patients needed me, I had to come. Disease never waits."
Pei had a few apprentices, but most of them left-some for financial reasons, and others because they could not stand the lonely lives they led in the village. Some joined big hospitals in the county while others changed their profession.
As he grew older, he was quite worried about having no successor.
Then Yang arrived.
Pei spoke highly of Yang, saying she was a "responsible and diligent pupil". He also recognized her professional knowledge.
"She received professional Western medical training, and I am good at traditional Chinese medicine," he explained. "The combination allows us to provide better healthcare services to villagers."
Yang respects Pei, calling him "master". Pei is experienced in making proper diagnoses and has a profound knowledge of TCM. He also knows the patients well.
Shadowing Pei, Yang learned how to talk to villagers without using professional language and just focusing on simple facts.
Zhang Yang, a fresh graduate from the village doctor program, said he sees Yang as a role model and envies her success.
Zhang, 23, joined the health center in the neighboring village of Baiyanping, his hometown, in the summer.
He said he has faced some questions from villagers because of his young age and relative inexperience. They see him as a boy in the neighborhood instead of a doctor they can trust.
"I will earn their trust. Time will tell," he said.
Zhang is sorting out the villagers' health archives and plans to visit their homes. He said it feels different from being at school.
"Real patients are very different from textbooks," he said.
Yang and Zhang are two of just a few young people working in the villages deep in the mountains. Many young villagers choose to relocate to cities as migrant workers.
Neither Yang nor Zhang have significant others. Asked whether they worry about finding a mate because their choices are limited in the village, both said they are focusing on their jobs now.
Yang's days are quite full. Besides her daily work, she is studying for her physician's certificate.
Meanwhile, Zhang has 2,600 villagers to visit and is busy earning their trust.
Though busy, both said they are happy with their lives now.
Zhou Lihua contributed to this story.