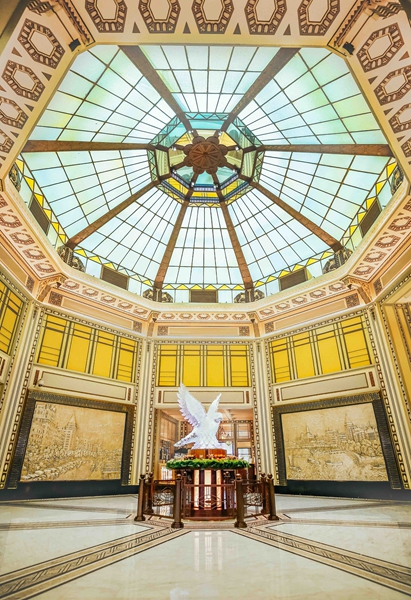 Shanghai's DNA is inextricably entwined with Nanjing Road and the Peace Hotel, Yuan Shenggao reports.
With the transformation of Nanjing Road to a full pedestrian walkway, the iconic Fairmont Peace Hotel, a cherished landmark for almost a century with its green copper triangular roof, is ready to welcome more guests to experience the glamor and history of Shanghai.
Earlier this month, the world-famous Nanjing Road officially opened its eastern section transforming the last 500 meter stretch purely for pedestrians to stroll and enjoy this stunning thoroughfare.
At this end of Nanjing Road and a stone's throw from the Bund, sits Fairmont Peace Hotel-Shanghai's legendary hotel, a global icon that combines historical grandeur with modern amenities. It is expected to draw even more attention and patronage from the seemingly endless hordes of visitors and tourists.
"We are truly blessed with this amazing location, right on the Bund and on Nanjing Road" said George Wee, general manager of Fairmont Peace Hotel and Area General Manager of Accor China. "Since 1929,Fairmont Peace Hotel boasts a history that overshadows any other in Asia and a slice through time witnessing the growth of Shanghai to the great city that it is today."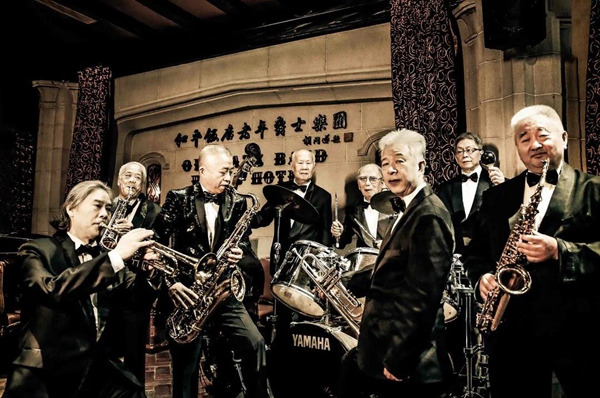 "People say you haven't been to Shanghai until you've been to the Bund. Then they say you haven't been to Shanghai or the Bund until you have been to the Peace Hotel. Then they say you haven't been to Shanghai or the Bund or the Peace Hotel until you have been to see the Old Jazz Band at the Peace Hotel.
"They are indeed a Shanghai institution-these six veteran Shanghai native musicians with an average age of 82 years, recognized in the Guinness Book of Records as the oldest band still playing, have drawn an audience of locals, international travelers, celebrities and heads of states-a unique experience that takes you back to the authentic ambiance of the 1920s and 1930s of old Shanghai," Wee said.
This Nanjing Road pedestrian project is visionary and has surely propelled Shanghai into one of the exciting cities of the modern world, allowing visitors to enjoy the magnificent walkway in complete safety, not having to worry about traffic, according to the hotel.
"The openness of the space and its connection with the Bund has injected even more energy, vitality and buzz," Wee said. "Indeed, I see this new pedestrian walkway of Nanjing Road as being even more spectacular than New York's Fifth Avenue and Times Square combined."
Being the pride of Shanghai and China, this art deco grande dame started as Cathay Hotel in 1929 and was built by its original founder Sir Victor Sassoon. It was renamed Peace Hotel in 1956.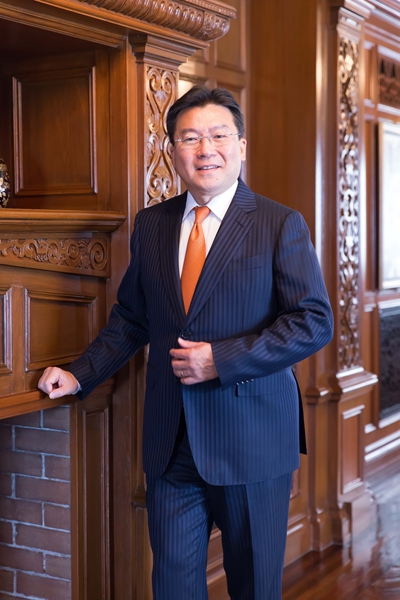 The hotel was the playground of the rich and famous in the 1930s and 1940s and every part of this glamorous era is beautifully recounted on the most popular hotel tour conducted daily by the Peace museum curators, an unique way to appreciate and indulge in the unique and rich history of what makes this hotel and the city so special.
The current owner Jin Jiang International, contracted Fairmont for the challenging task of restoring this "one of a kind" icon-a restoration that took three years, striking a balance between timelessness and modernity when it reopened in 2020.
The opening of this new pedestrian walkway on this most famous address is symbolic of a new beginning when a city and its people come together as one to combat the novel coronavirus.
As businesses rebound so strongly with the support of purely domestic Chinese guests, the Fairmont Peace on the new Nanjing Road on the Bund is testament to Shanghai leading the way forward during the post-pandemic era.
"It's so humbling to see the support from Chinese guests in this unprecedented time. It just compels us to work harder to do more to make every experience at Peace more special, safe and comfortable,"Wee said."This is the core of our service culture-a service that anticipates your every need and an emotional connection that comes from the heart."