Shiatzy Chen's work has always been distinguished by its luxury craftsmanship and individualistic spirit since the brand first launched in 1978. Women who wear the Taiwan label's wares espouse elegance and finesse, yet are rebellious and sexy in their femininity. They're highly cultured while being simultaneously cool. They meld classical and modern into a sassy neo-Chinese chic.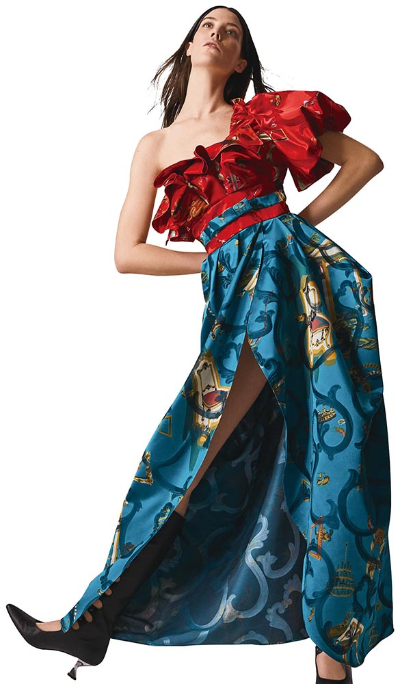 Theater provided the starting point for design director Wang Chen Tsai-Hsia's glamorous, costume-esque, curvy and playful collection that embodies the brand's East-meets-West flair. The upper body speaks a variety of languages, with the regal baroque style coinciding with the cloud collar and elaborate headdress common to Beijing opera.
Colorways of blacks, fiery reds and snow whites also add villainous and femme fatale tendencies to this season's look. Metallic fabrics are used to create a variety of shades often seen in theater. The finishing touches of gaudy turquoise and multi-colored jacquard totems point to the cheerfulness of a stage play. Jacquard printing on yarn is attempted for the first time, maintaining the brand's tradition of embracing and experimenting with different textiles. The contrasts in texture, weight and lustre demonstrate both the tender and firm qualities of a Shiatzy Chen woman.
She's sexy, too. There's the obscuring multilayered lotus leaf organza crop top paired with red leather shorts; the short jacket with extensive pleasts on the shoulder paired with an asymmetrical flared woolen skirt and net yarn; the snugly wrapping short jacket to go with clean-cut woolen cigarette trousers; and the sheer blouse coupled with a one-side-pleated velvet skirt. Be it the interesting contour of a wide-top-slim-bottom or a slenderly straight contour, the waistline is always accentuated with a belt.
There are also some trophy shoes. Sumptuous domineering lace-up knee-high boots and ankle boots come in leather, satin and velvet, in a sort of elegant-heeled mule-meets-boot. There are lantern sleeves to heighten the volume, drama and theatrical tension and balloon trousers on one look redolent of late Japanese designer Kansai Yamamoto's looks for David Bowie's Ziggy Stardust tour in 1972/73.
But since this is Shiatzy Chen, what starts out and stays dramatic, also choreographs to the rhythm of an English sonnet. These are literary lines, too – and with them, another poetic chapter of in the narrative of fashion is written.