Hyper Slash is more than just a decibel raiser as the brash group attracts a legion of die-hard fans.
Its eye-catching cosplay costumes and the wild gesturing of the female vocalist gave the trio a distinct energetic style that was both raucous and endearing, in itself an unusual feat to pull off.
When Hyper Slash appeared in The Big Band reality show this summer, the three-member Guangzhou-based ensemble rose to stardom as the most visually recognizable group of the 32 indie Chinese rock bands. The show was produced by online streaming platform iQiyi.
Hyper Slash impressed both the audiences and other competitors with the band's use of cosplay. The band members have even developed their own hand gestures for introducing themselves.
However, the band refuses to be defined by its look or onstage theatrics. Its music is equally, distinctly undefinable, combining elements of up-tempo electronic dance music-such as electro, techno and synthpop-with the thumping, distorted guitar and vocal stylings of hardcore heavy metal.
The vocal onslaught, which is equal parts screeching and growling, is delivered by the only female member of the band, who goes by the stage name Soon.
The members declined to give their real names since they wish to be labeled like characters in Japanese animations, comic books and games.
The band's debut performance in the show featured its original composition, Monopoly, which, sung in both Mandarin and English, is named after the classic board game.
As the guitarist, nicknamed Folder, says, they felt like characters in the game. "There are lots of peaks and pitfalls. As players, we throw the dice and wait to be surprised," he says.
Guo Long, another performer on the show defined them as "young, energetic and creative".
"We came to the reality show, hoping to meet new Chinese bands and Hyper Slash is definitely a surprise. We also learned a lot from them," says Guo, who plays the accordion in Wild Children, an established Chinese folk music band that has been performing for 25 years.
To many music fans, Hyper Slash was a dark horse. Shi Fuyuan, a 20-year-old music lover from Beijing, says after watching their performance on the show: "I didn't know them before, but they are so different and their music made me excited. I am looking forward to watching their live shows afterward."
Folder, Soon, and bassist Kool, all from Guangzhou, Guangdong province, make up the band, which was founded in 2016. All in their early 20s, they graduated from Guangdong University of Technology and were members of a student club called "the musicians' association" at the university.
The show has been the band's lucky star-before its performance on the show, the group only had about 3,000 followers on microblogging platform Sina Weibo. But since the show, that number has grown to nearly 24,000.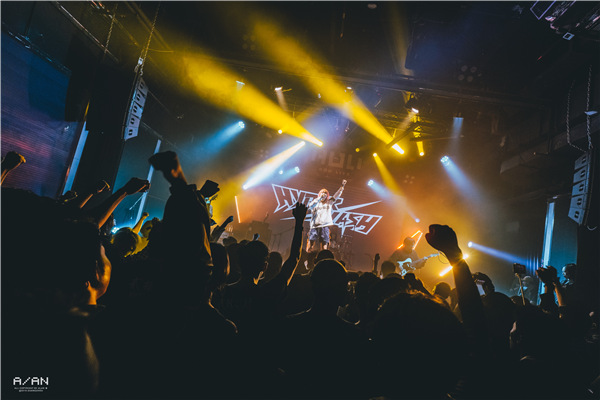 With their fame and popularity on the rise, the trio has also received invitations to perform at outdoor music festivals. These included the My Wave Music Festival, which will be held on Sept 12 and 13 in Harbin, Northeast China's Heilongjiang province, and the Rye Music Festival, to be held on Sept 19 and 20 in Zibo, East China's Shandong province.
Tickets to their Sept 21 indoor live show in Nanjing, East China's Jiangsu province, where they will perform with other bands, such as White Paper, another "dark horse "from the show, sold out quickly, and the organizer has released more tickets to meet demand.
"We didn't expect much when we decided to join the show, as we were pretty unknown. Initially we saw the show as just a stage upon which to introduce ourselves as a band," says Soon.
Each of the band members had full-time jobs: Soon and Folder worked as visual designers and Kool worked in marketing. Now, bolstered by their success on the show, they have all quit their day jobs.
Clearly huge fans of animation, particularly Japanese anime, one of their favorite TV shows is Gurren Lagann. The protagonist is a lonely orphan living in an underground village. His determination to succeed earns him the respect of both his friends and enemies.
"We all agree with the messages delivered through the animation. Like many young Chinese rock bands, we had no money, no formal musical training and no corporate support back then. When we decided to be a band, we wanted to be tough and determined to overcome the difficulties we were going to face," says Folder.
The band's first original song, The Girl Falls in Love With a Game, was written by Folder and inspired by Soon, who was obsessed with a video game at the time.
In March 2017, after releasing their debut album, All-Out Attack, Hyper Slash started to give live shows at venues in Guangzhou and gradually built up a modest fan base.
"Every time, before we started to perform, we told the audience 'to fight with us until the end', which has become a slogan now. It soon ignited the passion and brought power to the shows," says Soon.
The band made their Beijing live debut in early January during an audition for The Big Band. Their performance was noticed by veteran Chinese singer, Lao Lang (real name Wang Yang), who watched Hyper Slash's live show. He took pictures for the band and posted them on several social media platforms, offering the young band greater exposure to a wider audience. The veteran singer, popular with his folk ballads, rose to fame in the early 1990s.
Lao Lang is also the manager of Maitian Music, the label the band is signed to, under the Chinese music company, Taihe Rye Music.
"His music style is very different from us, but he gave us lots of advice and support," says Soon when asked about Lao Lang.
"Now what we want to do is to write more songs and perform in front of the fans," she adds.