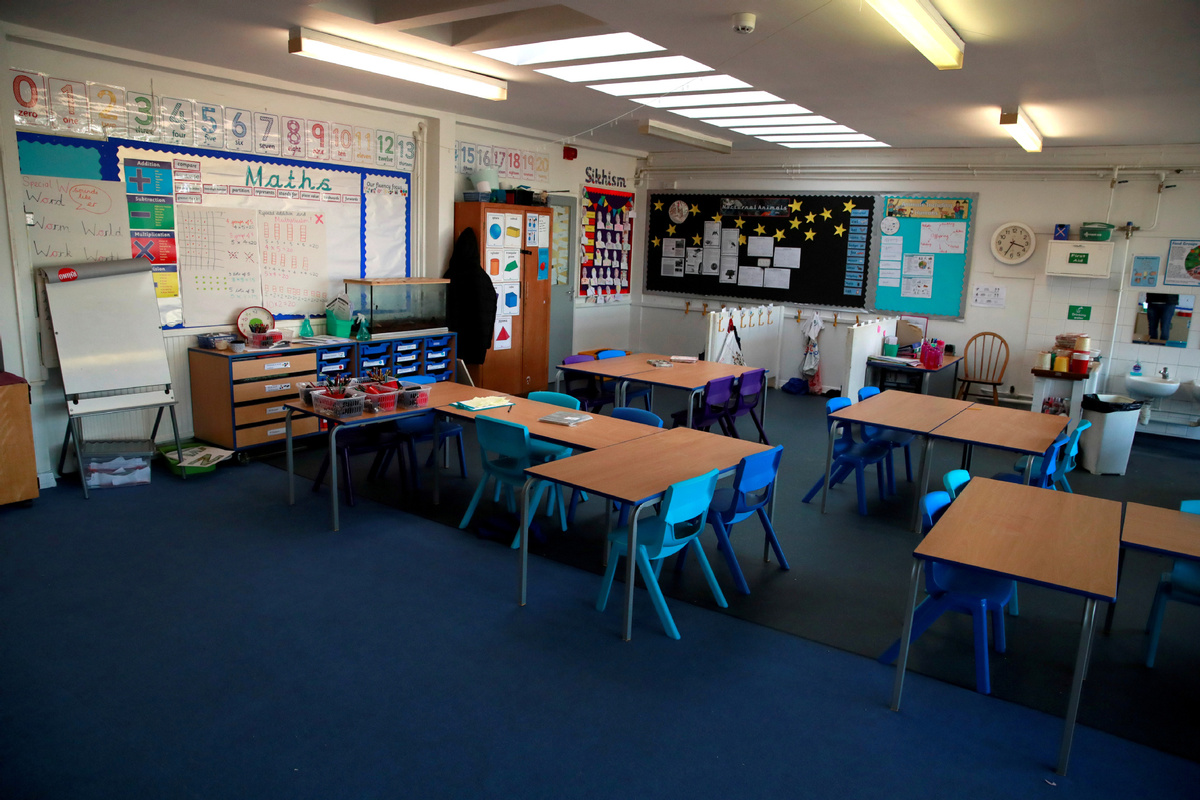 Prime minister assures Britons return to classroom will not risk infections
Britain's prime minister has strongly urged parents to send their children back to school when classes resume after an almost half-year hiatus caused by the novel coronavirus pandemic.
Boris Johnson said a return to class will pose no real health risk, while a lack of schooling would threaten an entire generation.
The United Kingdom's four chief medical officers, who represent England, Northern Ireland, Scotland, and Wales, shared a similar message in a joint statement.
Schools in Scotland have been open for some time, while those in Northern Ireland resumed on Monday, and lessons in England and Wales will start again in early September.
Johnson said: "I have previously spoken about the moral duty to reopen schools to all pupils safely. We have always been guided by our scientific and medical experts, and we now know far more about coronavirus than we did earlier this year."
He insisted "the risk of contracting COVID-19 in school is very small and it is far more damaging for a child's development and their health and wellbeing to be away from school any longer".
He spoke after teaching unions raised concerns that schools could become a breeding ground for the virus.
And his assurances were backed up by a Public Health England study that shows only 70 children and 128 staff were infected with novel coronavirus from among the more than 1 million children who attended partially reopened schools during June. The results showed they were more likely to have caught the virus at home, according to Jenny Harries, England's deputy chief medical officer.
She said on the BBC's Breakfast program that the study should "reassure" parents and teachers.
Education Secretary Gavin Williamson wrote in the Sunday Times education is "more important than ever".
While concern about the safety of schools has been a hot topic recently, so too has the risk posed by illegal house parties, something that has prompted the government to give police forces the power to fine organizers up to 10,000 pounds ($13,000) starting on Friday.
The BBC quoted Home Secretary Priti Patel as saying: "These gatherings are dangerous and those who organize them show a blatant disregard for the safety of others."
They have proliferated as a result of nightclubs and music festivals remaining outlawed as part of the UK's lockdown, something that has made such venues among the hardest hit by the pandemic.
Travel operators also continue to suffer, with the Guardian newspaper reporting the Association of British Travel Agents, which is known as Abta, is bracing for many more job losses in addition to the 39,000 the industry has already endured.
Abta, which says 18 percent of UK jobs have already been lost, is calling on the government to extend its furlough program, which ensures workers who cannot safely do their jobs get 80 percent of their salaries, up to a maximum of 2,500 pounds a month.
The program has supported around 9 million workers but is due to end in October.
Abta said more than 90,000 jobs in the travel sector have been impacted, and 78 percent of businesses anticipate job cuts.
It also wants more testing at airports and tax cuts for the industry.
Mark Tanzer, Abta's chief executive, told the Guardian: "Sadly, businesses continue to be adversely affected and jobs are being lost at an alarming rate."
And the paper added that job losses, which have been especially heavy in the retail and manufacturing sectors, threaten to widen England's north-south divide because they have been heavier in the North.
Analysis undertaken by the Labour Party, the UK's main opposition, found that between 10 and 13 percent of the workforce in much of the North is employed in retail and manufacturing jobs, compared to 2.2 percent in London.
The party also called on the government to extend the furlough program.
With life unlikely to return to normal until a vaccine is widely available, the Reuters news agency reported that most Britons are willing to wait for their jabs until after health workers in other countries get theirs, if that would help end the pandemic sooner.
The finding was among the results of a survey conducted by polling company Savanta ComRes on behalf of the anti-poverty organization The ONE Campaign.
Romilly Greenhill, The ONE Campaign's UK director, told Reuters: "British people clearly understand this global pandemic demands a global response. It simply won't work for each country to go its own way."
Elsewhere in Europe, Russia reported 4,744 new novel coronavirus cases on Monday and France reported almost 4,900 new cases, its highest figure since May. Italy said its daily infections had doubled in the past five days, with more than 1,200 recorded on Sunday.
And the UK registered 1,041 new cases, making Sunday the fourth consecutive day with daily infections above 1,000.