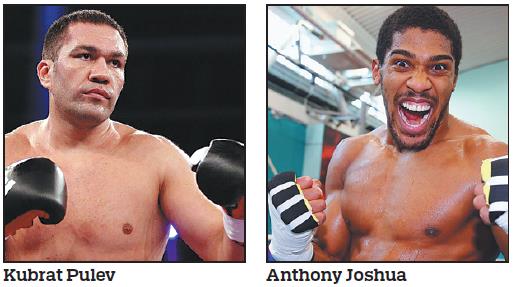 Unified world heavyweight champion Anthony Joshua of Britain will make a mandatory defense of his titles against two-time European champ Kubrat Pulev of Bulgaria in early December-a date calculated to give the bout the best chance at a live audience.
The fight was originally scheduled for June 20 at Tottenham Hotspur Stadium in London, but was canceled because of the coronavirus pandemic.
Promoter Eddie Hearn told ESPN this week that a venue has yet to be finalized, but Joshua (23-1, 21 KOs) is willing to "go almost anywhere" to defend his WBA, WBO and IBF titles.
"We know AJ's going to fight only once this year, so we want to give ourselves the best opportunity to bring in a crowd, and that obviously means the later the better," Hearn said.
"But it's still not a gimme at all. There's still a very strong chance that AJ will have to fight behind closed doors."
Joshua's last outing was a unanimous decision over Andy Ruiz in their title rematch in Saudi Arabia last December. Ruiz won their first fight by seventh-round KO six months earlier.
"Bearing in mind that AJ's only going to fight once this calendar year, I just feel we might as well give ourselves every chance to have a crowd … and that will be the first weekend of December," said Hearn, who also noted that London's O2 Arena is the preferred venue if regulations afford the opportunity.
"The O2 Arena regulations comply with the British government, so at the moment they're closed," Hearn said. "They would need to open up. We'd need to get an understanding from the government of what is allowed in arenas. Are you going to open at 50 percent capacity? Are you going to open up 100 percent? There's a lot of work that has to go into that with the government and the O2."
There also are plans in the works for the 30-year-old Joshua to face fellow Brit and WBC champion Tyson Fury, but Pulev (28-1, 14 KOs), the IBF's mandatory challenger, is up first.
"AJ must box this year, and obviously it's up to me to find a solution and a crowd," Hearn said. "But he also knows he must fight because it will be a year in December since the Ruiz fight. He's still improving, he's still learning, and he's not prepared to just sit out."
At 6-foot-4 (1.95 meters) and 250 pounds (113 kilograms), the 39-year-old Pulev, a lieutenant in the Bulgarian armed forces, is two inches shorter than Joshua, who tipped the scales at 240 pounds for his last fight. The only blemish on Pulev's record is a KO loss to then-unified world champion Wladimir Klitschko in November 2014.
In his most recent outing, Pulev scored a lopsided decision over Hughie Fury, cousin of the WBC champ, in their title elimination bout in Sofia last October. That victory paved the way for a showdown with Joshua.
Meanwhile, interim WBC heavyweight champ Dillian Whyte (27-1,18 KOs) is risking his mandatory challenger status against Russia's Alexander Povetkin (35-2-1, 24 KOs) on Aug 22 in Brentwood, near London.
If he loses, Whyte will forfeit his opportunity to face the winner of the rubber match between Tyson Fury and Deontay Wilder, which is tentatively scheduled for October.
"There's been a lot of stuff going on; I've been waiting 1,000 days to fight for the title, which is a bit crazy," Whyte told Yahoo! Sports.
"Fury decided to fight Wilder as a voluntary, but there was a rematch clause and they had a draw. Then he beat Wilder, and now they're fighting a third time, and I become the 'interim' champ. It just messes things up. They (WBC) have an obligation to keep me happy."
As for what it will take to beat Povetkin, Whyte said he's taking a lesson from history.
"For me, the big thing is to take him seriously and realize he's a serious threat. I can't underestimate him, because nowadays heavyweights are going to their mid-40s," he said.
"Remember, George Foreman was more dominant in his late age than he was in his earlier age. Povetkin is an old-school Russian tough guy, and he'll be looking to slug it out, not box.
"Technically, he's sound, and he's still very strong and very patient. These are things that he's been doing consistently for the last 10 years. He hasn't been showing signs that he's slowing down or has lost his speed.