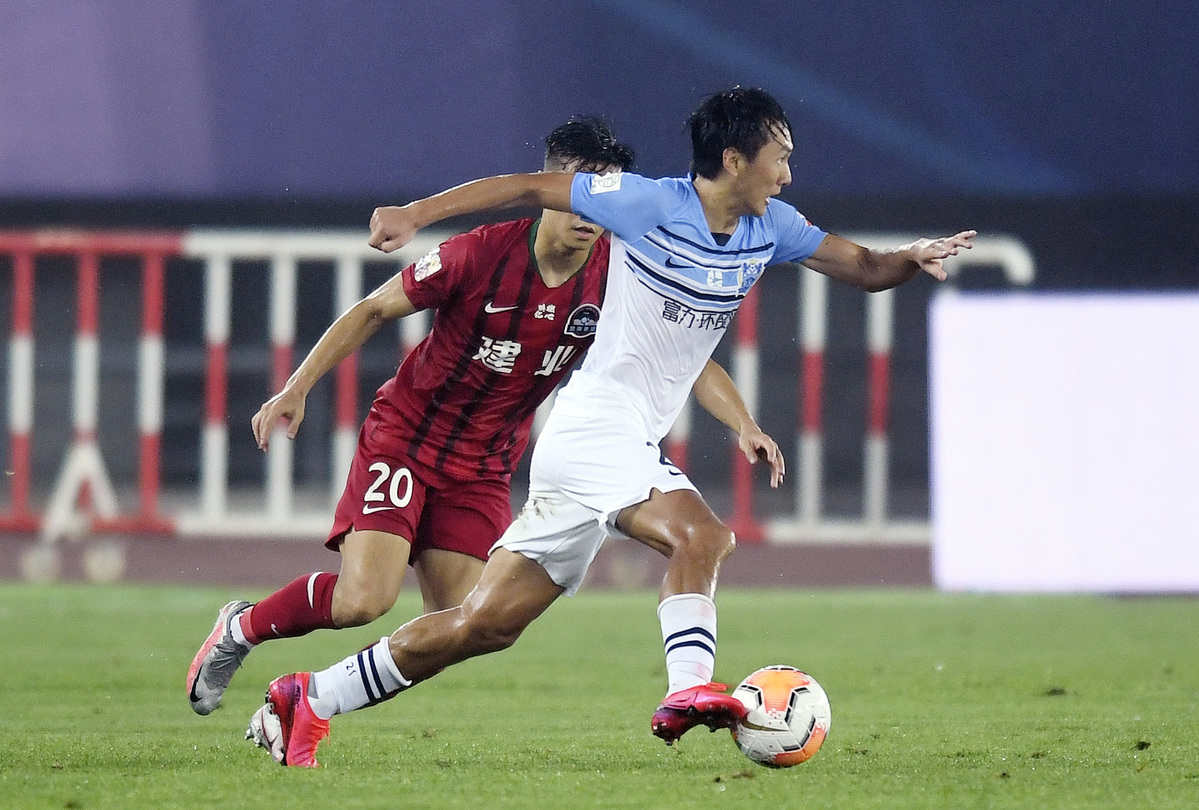 Giovanni van Bronckhorst's appointment as Guangzhou R&F head coach in January was one of the biggest stories of the Chinese Super League offseason-arguably eclipsing any player signings.
However, with just one point from his opening three games, the former Barcelona and Netherlands great has so far failed to live up to expectations.
Following respective 3-0 and 5-0 defeats to Shenzhen and Guangzhou Evergrande, R&F finally got off the mark on Wednesday thanks to a 1-1 draw with Henan Jianye in Dalian-which along with Suzhou is hosting the league's delayed behind-closed-doors start.
"We didn't play very well. We didn't have the ball circulations we want for our players," said van Bronckhorst in Wednesday's post-match news conference.
"The first half wasn't in the way we planned. We dominated more in the second half and created more chances."
Like so many times in the past, Eran Zahavi was R&F's savior, with the Israeli's milestone 59th-minute strike averting a third consecutive defeat for Van Bronckhorst's men, who will now hope the hard-earned point can prove to be a turning point.
"It feels good to score my first goal of the season, it's my 100th goal for the club," said Zahavi, who was the league's top scorer last season with a tally of 29.
"It's a big achievement for me and for my club. I want to thank my friends who helped me achieve this. Now we need to look forward to gaining more points and wins, which is the most important thing."
Van Bronckhorst admitted Zahavi is indispensable for R&F.
"Eran's goal is a great achievement," said the Dutch coach. "He showed his importance to the club. Not many players can score 100 goals in four years. I'm very happy for his personal achievement."
R&F's rocky start has inevitably led fans to question if van Bronckhorst is the right fit for R&F.
However, he has called for patience with his "developing" squad, and reckons his team's fortunes could change dramatically if it could simply be more clinical in front of goal.
"We've played a couple of times against Shenzhen and Evergrande in preseason, so I knew exactly that they are two strong opponents," said van Bronckhorst.
"I think Evergrande is the best team in China at the moment. They are the champions. And Shenzhen, they have invested a lot of money to get new players in, some very experienced players. I knew the first two games would be tough.
"We created many chances and the only thing we need to do is to convert the chances into goals. It will make it much easier for us to win games. In terms of defense, we need to be smarter."
The quality of R&F's opponents is certainly a valid reason not to rush to judgment over Van Bronckhorst's reign. The Dutchman could even feel a little aggrieved to have been drawn in the tougher of the two groups for the revamped season's tournament-style format.
Eight-time defending champion Evergrande, coached by Fabio Cannavaro, boasts some of the league's most high-profile foreign stars, including former Barcelona midfielder Paulinho, not to mention a number of core Team China players, including naturalized star Ai Kesen (aka Elkeson).
Shenzhen, meanwhile, is making the most of its fortuitous promotion. After being plucked from the second tier as a replacement for the disbanded Tianjin Tianhai this season, the southern club is starting to reap the rewards of its recent sizable investment-including the appointment last July of Italy and AC Milan great Roberto Donadoni as head coach.
R&F, on the other hand, has been severely depleted.
Serbian defender Dusko Tosic and Israeli midfielder Dia Saba only arrived on Wednesday in Dalian, while former Tottenham Hotspur and Belgium midfielder Mousa Dembele continues to struggle with injuries.
Those absences have forced van Bronckhorst to trust in youth. All things considered, he reckons the youngsters have coped reasonably well.
"The cooperation is good. I've spent a long time with the team because the league started late. We worked hard and we are developing as a team," van Bronckhorst said.
"The team is quite new together. Some new players just came back from loan spells and some young players are getting in. It was not an ideal preseason, but we can get better as a team.
"So in that way I hope there can be better results, but we are still a team in development. I don't think we should change our expectations.
"We knew it was gonna be difficult, and we are in a very tough group where every team is strong. We need to work hard to win and get three points. Don't allow the gap to become too big.
"We need to worry that we didn't create enough chances. In the first game we had some chances to get the first goal. But the opponents are far more accurate than we are. I'm happy with the chances we created, but we need to improve."
R&F faces another stern test of its credentials on Sunday against Jiangsu Suning, which sits second in Group A. Having got to know his players very well over the extended offseason-when he often joined them in practice drills-van Bronckhorst has backed them to weather the storm.
"I love football. At the moment, I'm still physically able to join in training with the players. I enjoy being among them," said the 45-year-old.
"I think pressure for players is always good. You need pressure to help you perform well. If you feel pressure, you will give everything you have to win the game."