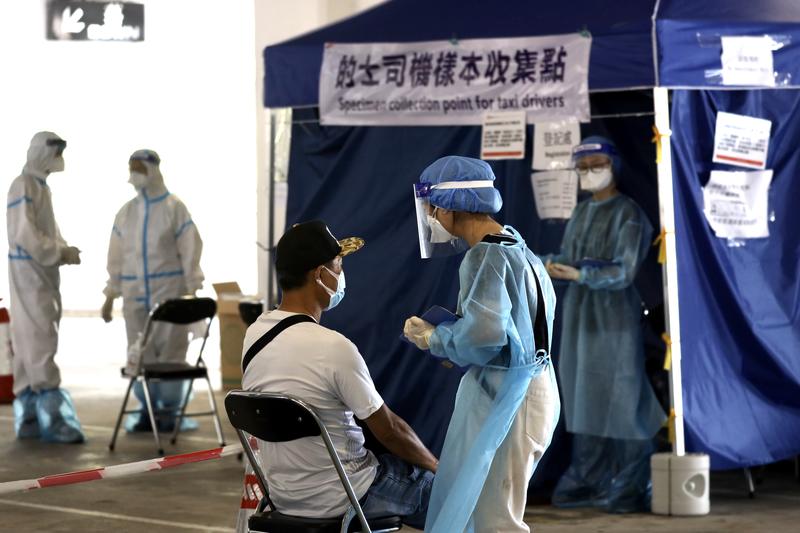 A seven-member medical team from the Chinese mainland will arrive in Hong Kong on Sunday to help the city carry out coronavirus testing amid its worst coronavirus outbreak, the National Health Commission said Saturday.
The team is part of 60 medical technicians chosen from 20 public hospitals in Guangdong province to be sent to the special administrative region.
The team, along with other medical assistance, was arranged by the central government at a request by the HKSAR government for help.
Leading the team is a highly-experienced member with the health commission of Guangdong province who also seconded to help in Wuhan when the epidemic started. The health commission said in a statement that the team would boost medical resources available to Hong Kong during the fight against COVID-19.
Experts from Hubei province had supported the design, construction and management of the city's first mobile-cabin hospital at the AsiaWorld Expo. The newly-converted hospital began operation on Saturday as a triage center to separate patents pending on their medical needs. It is expected to take 20-30 patients on the first weekend.
Apart from helping to convert the AsiaWorld Expo into a mobile-cabin hospital, the central government will also assist Hong Kong to build a new makeshift hospital, Chief Executive Carrie Lam Cheng Yuet-ngor said on a radio program Saturday morning.
Lam said the government aimed to conduct mass virus testing in the future but will conduct an evaluation before such a plan begins. The government currently provides free virus testing services for four high-risk sections.
Hong Kong reported 125 new coronavirus cases on Saturday, marking the 11th straight day of more than 100 daily cases. Four more patients died on Saturday, bringing the overall death toll in the SAR to 31.