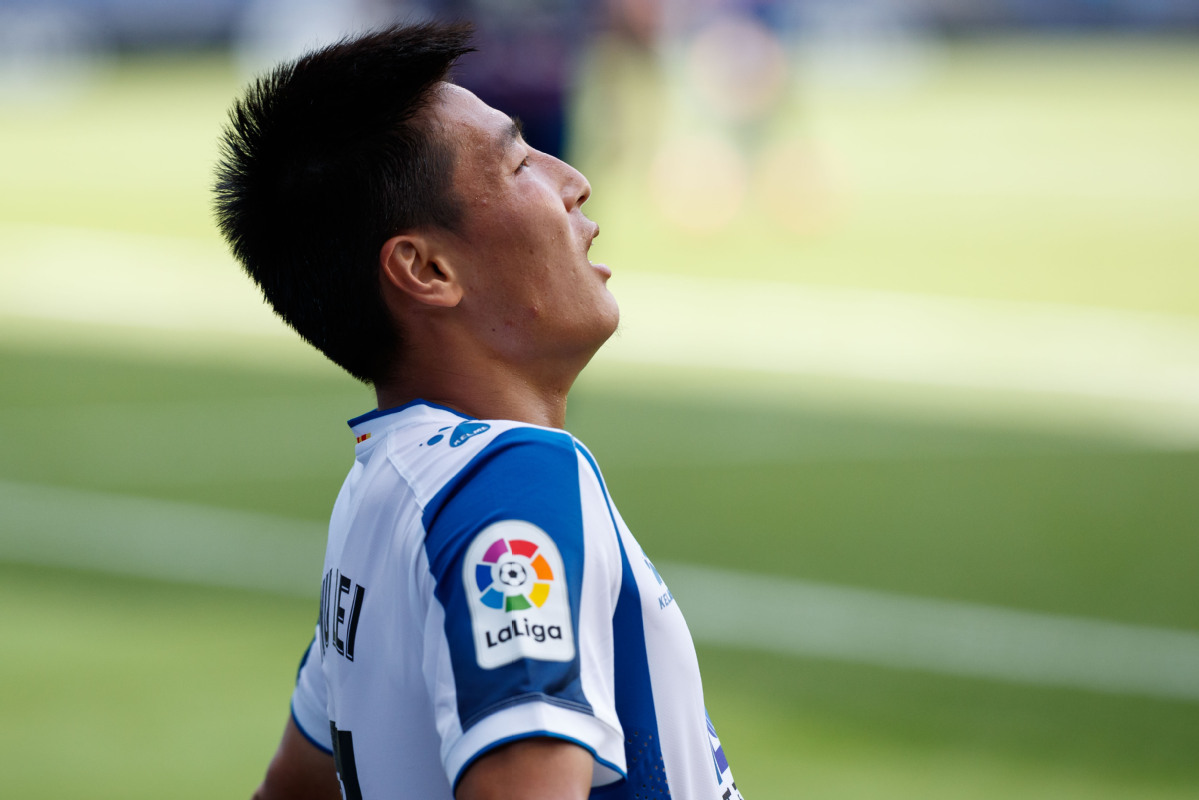 Chinese ace facing uncertain future after Espanyol's La Liga relegation
Back in January, Wu Lei was basking in the glory of one of his finest hours after becoming the first Chinese player to score against the mighty Barcelona.
Just over six months later against the same opposition, the Espanyol forward was experiencing very different emotions as he came to terms with one of the biggest disappointments of his impressive career.
On Wednesday, a 55th-minute strike from Luis Suarez earned Barca a 1-0 win to condemn Espanyol to relegation for the first time in 27 years. To compound a miserable night for Wu, he had to watch his team's demise from the bench for most of the game, and was only introduced to the action in the 86th minute.
Espanyol's demotion to the second tier came as no surprise after the Chinese-owned club managed just one win in eight games since La Liga's restart in June. Even before the COVID-19 pandemic interrupted the action, Espanyol had looked doomed, having been mired in the drop zone for much of the campaign and starting the resumption bottom of the standings.
Now, with three rounds to play in La Liga, it's time for Wu to consider his future at Espanyol.
Despite his side's struggles, Wu has impressed enough during his time in Spain to attract interest from English Premier League high-fliers Wolverhampton Wanderers, while the 28-year-old has reportedly been offered to another EPL club, Watford, in recent weeks.
"Wu Lei is very mature physically, mentally and tactically as a player, and he has proved his worth during his time with Espanyol. Some of his best performances were against big clubs like Barcelona and Real Madrid," former Team China and Manchester United player Dong Fangzhuo told media after Espanyol's relegation on Wednesday.
"What he needs now is proper support from midfield, which is what he doesn't get now at Espanyol," added Dong, who reckons the style of play in England could suit Wu.
"In the Premier League, everything is fast. They move the ball directly from the defenders to the forwards, or via quick reactions from a midfielder to the attack line," said Dong. "Wu has great speed. Even if he is not particularly strong physically, his speed can be his strong suit in the Premier League.
"No matter if he goes to the Premier League or not, I think leaving Espanyol will benefit Wu. The biggest problem for him now is whether he can seize the opportunity. If Wu is confident enough, he can grab these chances. Confidence is what Espanyol cannot offer him now. A great club can make great players."
In the wake of Espanyol's loss on Wednesday, several Chinese social media platforms conducted polls asking fans whether Wu should play in Spain's second division next term.
Thirty-three percent of fans in a zhibo8.cc poll voted for Wu to go to the Premier League, but 34 percent want him to stay with Espanyol. Only 12 percent think Wu, who helped Shanghai SIPG win the 2018 Chinese Super League title, should return home.
Since moving to Espanyol, Wu has been the only Chinese international plying his trade in a major European league, making the prospect of him stepping down to Spain's second tier more difficult for Chinese fans to accept.
However, there should be no shame in acknowledging that even the second division in Spain is more challenging then the domestic league for Wu.
A season attempting to gain promotion back to the top flight could still be a valuable experience for the forward, whose performances have disproved the theory that he was merely a marketing pawn in La Liga, as some skeptics had suggested when he left SIPG for Spain in January 2019.
Now, Wu appears undecided on what his next move will be.
"Speaking of the relegation, most people mainly care if I will stay. For me, I think more about the atmosphere of a team. As long as the atmosphere is right, all difficulties are just temporary," Wu wrote on his personal blog this week, before Wednesday's defeat.
Compared to his stunning rookie year in La Liga when he helped Espanyol qualify for the Europa League, 2020 has not been so kind to Wu. Aside from his team's woes on the pitch, Wu and his wife tested positive for COVID-19 in March.
He recovered from the virus to net in a 2-0 victory over Alaves as La Liga returned last month. However, Wu's efforts to avert Espanyol's slide ultimately proved in vain. He also revealed in his personal blog that his wife and children have now returned to China.
Reflecting on a tough season, Wu wrote: "The result is more than disappointing. This truly is a season of failure. I wouldn't have been able to imagine such a result a year before.
"I thought of many difficulties before I started my career in a foreign league. I thought about having little chance of playing, of always being on the substitutes' bench or being unable to earn the coach's trust. But I never thought of relegation. So life is unpredictable.
"That game we lost to Leganes (1-0 on July 5) was typical of our performances this season-the opponent wasn't dominating but we kept making mistakes. The whole season is made of countless big and small mistakes. It's like countless stones and rocks that crushed our hearts."