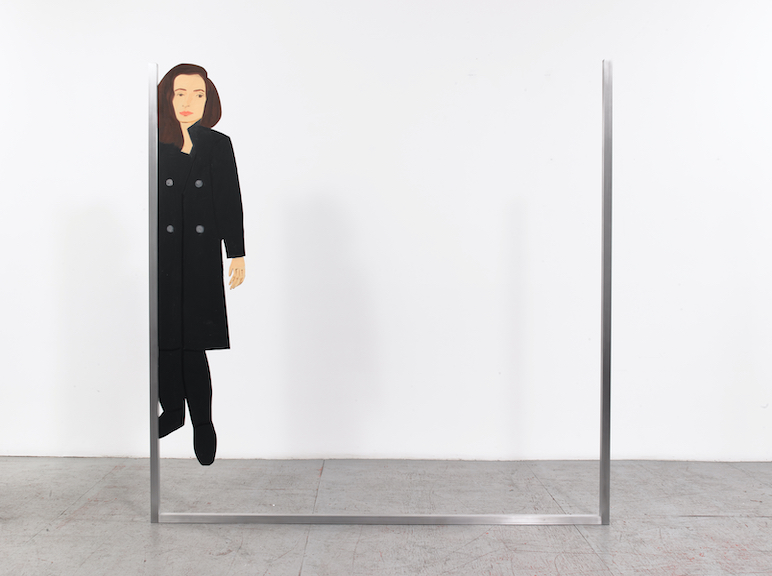 Fosun Foundation is holding the first museum-scale exhibition of American artist Alex Katz in China.
Featuring more than 30 paintings, sculptures and cut-out installations by the 93-year-old artist, the exhibition is the first art show Fosun Foundation is hosting since closing because of the COVID-19 outbreak.
Jiang Kongkong, a spokesperson with Fosun Foundation, says the exhibition was initially scheduled to open at Fosun Foundation in March but was postponed because of the pandemic.
"We are grateful that in this moment in time, which will certainly go down in the history books, we are still able to make Alex Katz's first major museum show in China a reality," Wang Jinyuan, chairwoman of Fosun Foundation Shanghai, said at the opening. "Katz's exhibition is soothing. This is the unique healing power of art."
Katz, who was unable to attend the exhibition, conveyed his message for the Chinese audience in a video recording.
"I think my work will resonate here because of the simplistic subject matter and the artificial refinement of the technique," he says.
"The technique is related to Chinese calligraphy, and it is all done at once. We don't make a fuss with anything. That's like Chinese calligraphy. So, I would see the work being easily understood in China."
One of the most influential US artists of the 20th century, Katz is known around the world for his unique portraits and landscapes.
He was born in Brooklyn, New York, in 1927, and began his artistic pursuits in the 1950s, when he borrowed stylistic elements from pop art, abstract expressionism and color field painting to create his signature minimalist aesthetic.
Katz's famous portraits such as Tracy 2001, Trio 2009 and Beach Scene 2013-all of which are on show at the exhibition-have a flat rendering depleted of volume or formal details and lighting, opening up new possibilities for painting in an era dominated by abstract expressionism. He portrayed the human form with simple and clean lines, flattening both the figure and the background. These portraits are often exceptionally large in size and heavily influenced by the cinema, television, fashion and billboards that arose in the 1960s.
In the 1960s, Katz combined different aspects of the idea of "life-size" and created a series of cut-out installations, which are two-dimensional images like in his paintings. But instead of placing them in frames, he had the human profiles and figures cut out and made into metallic sculptures.
Katz singled out his cut-out sculpture installations to the Chinese audience, believing they are the most unusual aspect of his work.
"I got involved with the idea of 'life-size'... which is determined not by measurements but by perception. A person 400 yards away is two inches tall ... Hollywood close-up is like reality: 20-foot head and you think it is life-size," he says in the video clip, which is projected in the exhibition hall.
If you go
10 am-6 pm, Tuesday-Sunday, closed on Mondays, except for national holidays, through Aug 9. 600 Zhongshan No 2 road, Huangpu district, Shanghai. 021-6305-5119.