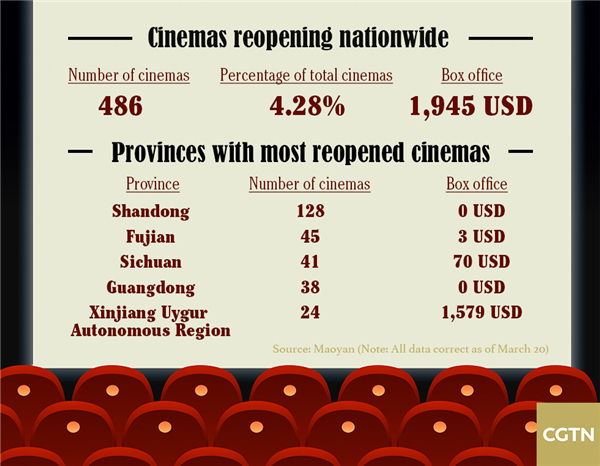 A total of 486 cinemas returned to business on Friday after being closed for about two months to contain the spread of the coronavirus. However, the overall box office on that day was just $1,945, according to China's largest ticket website Maoyan.com.
The data also show ticket incomes in Northwest China's Xinjiang Uygur autonomous region accounted for over 80 percent of the total amount. The autonomous region reopened its first cinema on Monday, which was also the first in the Chinese mainland as a whole.
On the first day of returning to business, cinemas in Xinjiang also saw zero revenues but the situation is apparently improving. "We had 10 movie sessions from 12 to 7 pm on Monday, but we haven't seen any people coming," an employee from a cinema in Xinjiang was quoted as saying by the "First Director," an influential We Media on film reviews in China.
China has made a great sacrifice containing the novel coronavirus, and those efforts are paying off as less and less confirmed cases have been reported inside the country. However, it will take a long time before people go back to cinemas without fear or hesitation, as a survey made by the digital magazine "Sir Film" shows - although discounts are offered to audiences and disinfection measures have been strengthened.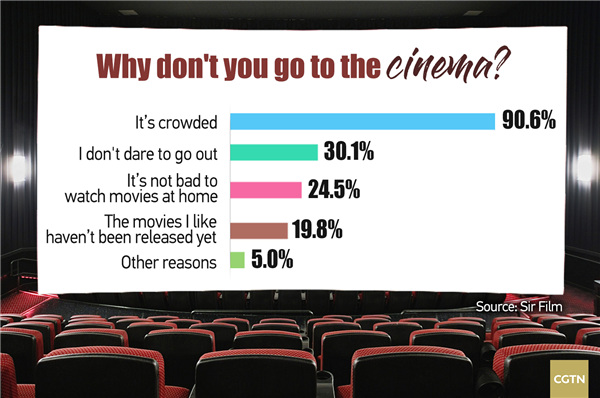 Thousands of movie fans in 70 cities across the country participated in the survey, which shows that most of them have no plans to go to the cinema at the moment. The survey listed several reasons behind their reluctance and the interviewees could choose more than one option.
So far, the cinemas haven't released any new films but replayed different old films including previous blockbusters "My People, My Country" and "Sheep Without A Shepherd".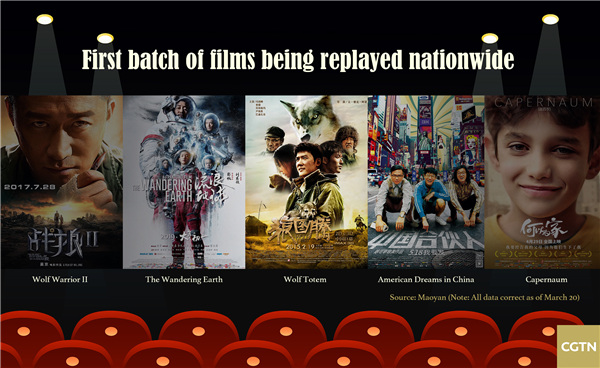 To help cinemas do further business, China Film Group Corporation recently announced the first batch of films being replayed in cinemas across the country. It said that after negotiation with the production teams behind the movies, all the five films will be shown to the audiences for free or for a very low price.
"Cinemas face very big challenges in terms of returning to normal business and making profits. It'll take a long time but we have to take the first step with confidence," a cinema employee based in Sichuan said.