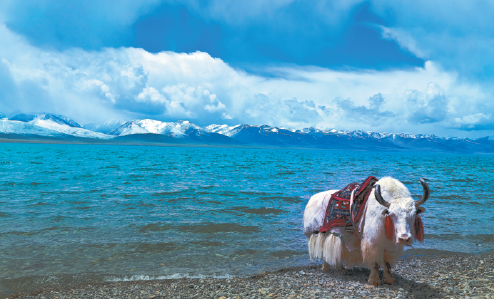 Many travelers deem Lhasa to be only a summer resort, but the local government has rolled out a series of favorable tourism policies to publicize its unique winter charms.
Many scenic spots in the capital of the Tibet autonomous region offer free or discounted tickets during the winter period, including the Potala Palace and Norbulingka Summer Palace.
Costs for all "star-rated" international and boutique hotels in Tibet, along with various flights to the region, will fall by at least half compared to those during peak tourism seasons.
Businesses organizing group tours to Tibet via chartered flights and special tourism trains will be rewarded with monetary incentives.
The policies will be in effect until March 15, according to Tibet's tourism development department.
This is the third year since Lhasa kicked off its winter-tourism policy.
The region received 2.46 million domestic and overseas tourists from Nov 1, 2018, to March 15, 2019, an increase of 84.2 percent year-on-year.
Income from tourism reached nearly 2.62 billion yuan ($370 million), up 41 percent year-on-year, during the period, according to the department.
Lhasa enjoys sunny days and starry nights in winter, when snowcapped mountains and more than 130 bird species can be observed. Several major folk festivals and Buddhist celebrations also take place during the colder months, adding spice to travelers' experience.
The local government has launched a "tourism loop" that covers folk traditions, customs and natural landscapes to enable travelers to experience all that Lhasa has to offer.
China Daily takes a look at the highlights.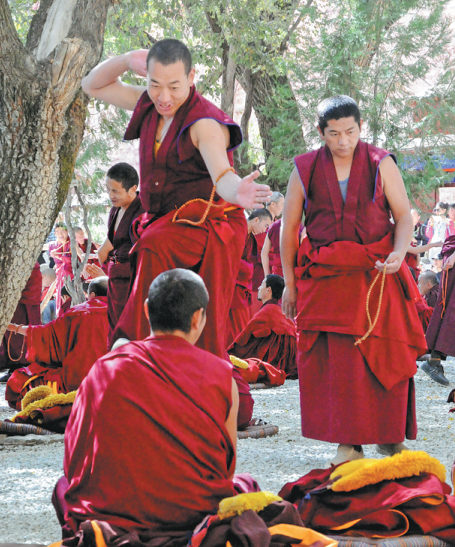 Shongba Lhachu Temple-Nyethang Giant Buddha-Drolma Lhakhang Temple-Dakdong village
Visitors can spend the first morning visiting three historical sites near Lhasa's downtown.
Many locals walk around the holy fountain at the Shongba Lhachu Temple in Doilungdechen district. They use the holy water at a park outside the temple to wash their heads and faces to rid themselves of disease and wash away their sins.
About 12 kilometers away in Chushul county sits the Nyethang Giant Buddha, which was carved into the mountainside by Atisa, an 11th-century Indian Buddhist.
From there, visitors can explore the Drolma Lhakhang Temple, which is about 10 minutes' drive away and was built to commemorate Atisa. The delicate wooden engravings are breathtaking.
Dakdong village is a half-hour drive from downtown Lhasa. It has become a popular hot spring resort. Travelers can enjoy dozens of pools of various shapes and sizes, as well as leisure activities, such as mahjong.
Shukseb Temple-Junba village-Nyemo county-Thonmi Sambhota's former residence
Shukseb Temple is about 27 km from Dakdong village and is the biggest nunnery in Lhasa. It sits 4,400 meters above sea level and offers close contact with Tibetan eared pheasants, which live mainly in the forests, bushes and tundra on the mountain.
Visitors can see cattlehide boats at Junba village. A boat usually needs four to five whole yak skins and 15 days to finish. The older the skin, the better. Cattlehide boats have been used by local fishing villages since ancient times and can carry loads up to 1,500 kilograms.
Travelers can then appreciate the charm of distinctive Tibetan paper, incense and carvings at Nyemo county, a 40-minute drive away. Thonmi Sambhota's former residence in the county's Thonba township gives visitors a taste of the life led by the creator of the Tibetan script, as well as access to murals that date back more than 1,300 years. The black-and-gold murals on the right wall of the entrance are particularly rare.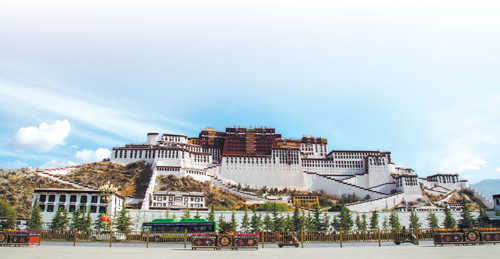 Jomo Gangkar-Yangbajan
Lhasa's second-highest snowcapped peak, Jomo Gangkar, is visible from the Jomo Gangri scenic spot, 60 km from Nyemo county. The peak is more than 7,000 meters above sea level, and only a dozen meters lower than the city's highest mountain, Nyenchen Tanglha. An hour further on awaits the rich hot springs in Yangbajan county town, which are famous for their abundant geothermic heat. The place is best seen in the morning when palls of mist rise from the lake. Various springs offer views of the Nyenchen Tanglha Mountain, and all of them are believed to have medicinal benefits.
Ngare Wetland
The vast Ngare Wetland is around 80 km away from Yangbajan. It turns green every year in late April. Black-necked cranes make it their home and hatch their babies there.
Namtso Lake
Namtso Lake is one of the region's three biggest sacred lakes. It's 60 km from the county town, and most travelers in the region visit.
Many prefer to observe the lake during summer, where yak rides along the shores are popular.
As the region seeks to promote winter tourism by offering various discounts, visitors during the colder months will enjoy a frozen winter wonderland.
Lhundrub Radreng Forest Park
The Radreng Forest Park is in the northern part of Lhundrub county, and about 100 km from Damshung county town.
With an elevation of 4,200 meters, the park is famous for ancient juniper bushes. It is listed a cultural-relics preservation area by the regional government.
The most charming part of the site is the Redreng Monastery. Originally built in 1057 and hidden among the junipers, the monastery was founded by Dromtonba, the main Tibetan disciple and lineage holder of Atisha. It's now a monastery of Tibetan Buddhism's Geluk School.
Lhundrub Black-necked Crane Reserve
The distance between the Lhundrub Redreng Forest Park and the Lhundrub Black-necked Crane Reserve is about 130 km. The reserve is one of the region's best locations for observing migratory birds.
The best sites are located in the county's Changkar and Khatse townships.
With an elevation of 3,800 meters, the area is the center of the region's protection zone for black-necked cranes, an endangered species that is legally protected.