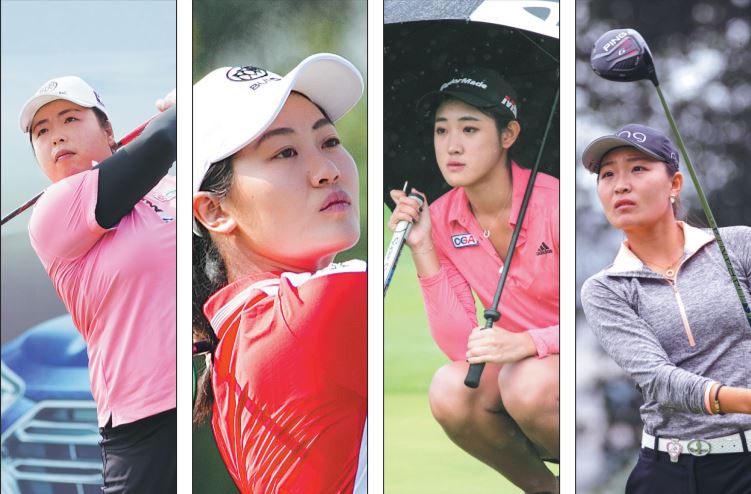 Established stars and young guns raring to do battle at Women's Open
Feng Shanshan will lead home hopes at the $290,000 Macalline Women's China Open, which tees off on Thursday at Orient Xiamen Golf & Country Club in Fujian province.
The former world No 1 feels a close connection to the tournament, having made a name for herself at the 2006 edition as a precocious 17-year-old amateur, when she stunned the field to tie for 11th.
"Years ago, the Women's China Open was once the highest-level event that I had ever played in. The platform allowed me to play with domestic and international professional players. It was a great chance for me as a teenager to learn from the best," said Feng, who now has 10 LPGA titles, including one major, to her name.
"I'd come back every year to play and support this tournament if I could. In the past, that hasn't been possible due to my tight schedule, but this year I finally got the chance to return and compete."
Feng, the 2016 Olympic bronze medalist, looks to be enjoying her golf again after claiming her first LPGA Tour victory in nearly two years at July's Thornberry Creek Classic in Oneida, Wisconsin.
Feng admitted that triumph was a much-needed morale booster.
"Last season my ranking went from No 1 to like, I don't know, 30s maybe. Then I just couldn't stop it from going down," said the 30-year-old world No 22.
"I was missing the cuts at the majors, and of course that's going to hurt rankings. But what I was always thinking was I just need to get my ball striking back, because my putting wasn't that bad. My ball striking was just a little bit lost, a little off."
Chinese Olympian Lin Xiyu, who competed at the 2016 Rio Games, will again be hoping to scale the heights on the Oriental Xiamen leaderboard after her third-place finish at last year's tournament on the same course, while CLPGA order of merit leader Zhang Weiwei will bid to add to her impressive list of five victories this season.
And just as a teenage Feng did, plenty of young guns are hoping to upstage the established stars this weekend. One of those is 20-year-old Sui Xiang.
"I feel so lucky to have competed in the Women's China Open at such a young age and I feel lucky to have been able to stick with golf till now," said Sui, who played in the 2014 tournament when she was just 15.
"Every time that I compete I can pinpoint my weaknesses and things that I need to improve upon. I hope that I can develop quicker and win the first championship of my career as soon as possible.
"I didn't understand too much back then when I wasn't as mature. I was so nervous playing with the professionals, but I feel privileged to have had that experience."
One player disappointed not to be on the fairways in Xiamen this week is China's No 2, Liu Yu.
She too has fond memories of the tournament and feels she owes it a debt of gratitude.
"The Women's China Open has always been an important tournament in my professional career and I was so honored to participate in such a high-level event when I was 14 years old," said world No 35 Liu, who along with Feng is only one of two Chinese female golfers ranked in the top 50.
"In 2009, I qualified for the tournament at the first attempt. Although I ultimately finished down the field, the experience of playing in the tournament has always been a great memory for me."
Also absent due to a tight schedule, is rising star Shi Yuting, who amazingly made her China Open debut as an 11-year-old in 2011.
Shi's connection with the Orient Xiamen club goes a lot deeper than merely her past results and performances on the course.
"The experience of competing at the Women's China Open widened my horizon and helped me gain a new and a more comprehensive understanding of golf," said Shi.
"I've competed at the tournament on eight occasions - each year at the same golf club, so I'm familiar with the environment and the people who work there.
"It feels like every time I return there I'm meeting with family. It's so warm!"