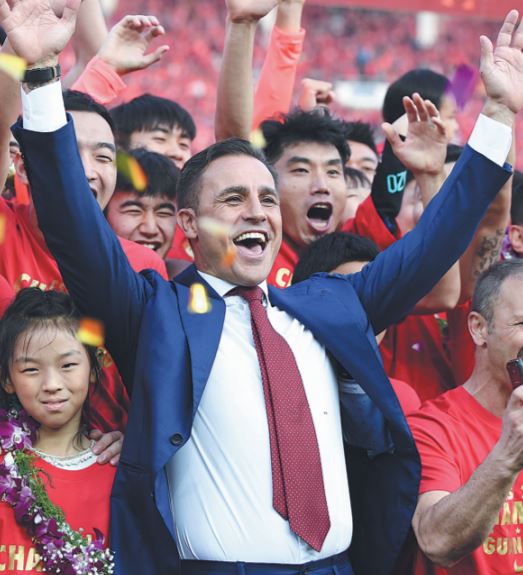 After a dramatic season packed with plenty of plot twists, Fabio Cannavaro made sure to script a happy ending on Sunday.
The Italian won the first major honor of his managerial career by leading Guangzhou Evergrande to a record-extending eighth Chinese Super League title, killing off second-place Beijing Guo'an's slim hopes by two points.
A 3-0 victory at home to Shanghai Shenhua got the party started inside a jubilant Tianhe Stadium - scenes which would have been hard to imagine in October when Cannavaro was temporarily relieved of his coaching duties to attend "a corporate culture class" amid an alarming slump in Evergrande's form.
Now, Cannavaro's job is looking a lot more secure, with the 2006 World Cup winner even entertaining the idea of seeing out the remaining three years on his Guangzhou contract.
"Why not? I have a contract till 2022. There are three more seasons to go," Cannavaro was quoted by Tencent Sports.
"I hope others can say, 'Cannavaro is trying hard to improve himself.' This team will always be with me. This year we used four different tactical systems, to handle all sorts of emergencies and we played at a very high intensity.
"In China, I won the second-tier title with Tianjin. In my second year, I steered the team to a place in the AFC Champions League. Now I've won the CSL title with Guangzhou. Basically, I've always been happy. I will stay with Evergrande for three more seasons."
The former Juventus and Real Madrid defender, however, can't have been so pleased when an Evergrande mini-slump almost cost him his job.
Confusion abounded in late October when, after a 2-2 draw with Henan Jianye, club bosses ordered Cannavaro to "attend a study class on Evergrande's corporate culture", with captain Zheng Zhi appointed interim head coach.
Cannavaro was then restored to the job after a period of "deep reflection and profound self-examination", according to an Evergrande statement.
"It sounds a little bit drastic, but in Chinese companies this is a usual management method for high-ranking positions," said Cannavaro. "I talked with the boss and the problems were solved. The players were good, and they had no excuse. They were also not affected by my hiatus and became even more determined. We won the last three games of the season."
Evergrande has dominated Chinese soccer over the last decade, winning eight CSL titles since 2011.
This year's victory, however, is the first major trophy of Cannavaro's coaching career, with his compatriot and former Team China and Evergrande coach Marcello Lippi among the first to congratulate the 46-year-old.
"Although Fabio faced difficulties at the end of the CSL season, I'm still happy for him," said Lippi, according to Tencent Sports. "He brought his value to his team. Praise him!"
Aside from wresting the title back from Shanghai SIPG, one of Cannavaro's biggest tasks this season was to build a younger team as Evergrande looks to lay strong foundations for a more sustainable future.
"Our priority is to help nurture more young Chinese players," said Cannavaro. "When you face difficult situations, you will be questioned. So, for us, the goal is to win whatever we could win.
"You even can't imagine these situations. We have many young players and we also have a veteran (Zheng Zhi) who's nearly 40 years old. At one stage, we had nine players sidelined with injuries, and we can only have two foreign players on the pitch at the same time. But my boys and I made it here. We called it a 'Youth Storm' and we finished the impossible."
Among all Evergrande's young stars, Wei Shihao, who scored the first goal on Sunday, is perhaps the most promising.
"This is my first championship title since joining Evergrande and the first league title of my life, so I'm very happy," said the 24-yearold.
Earlier in his career, Wei had garnered reputation for recklessness and being something of a hot head on the pitch. However, the youngster has matured under Cannavaro's guidance and now looks to have a very bright future ahead of him.
"I really want to thank my head coach," said Wei, who finished the season as the CSL's top domestic scorer with 11 goals.
"He led our young players to achieve what he wanted. I missed some matches this year, so I believe I can play better next season. All my teammates helped me to score."
Wei later wrote on social media: "This was truly a hard year. I was questioned and faced all the pressure. I made it through. Thanks everyone."
Evergrande stalwart Zheng hinted this could be his last season in Guangzhou's red, saying:
"Winning all these titles with a team like Evergrande is a big source of pride for me," said the 39-year-old. "We experienced a lot this year and we have many young players this season. We still need to cooperate better and everyone has to remain united.
"My professional career is nearing its end, so I enjoy the process of each season. It's an honor to help the team win all these trophies."