In unusual but true stories this week, we have a Cambridgeshire farmer winning a competition with a wheat art sculpture; Wasteland Weekend 2019 in California; a Distinguished Gentleman's Ride to raise funds; and a giant dragon approaching Calais, France.
All the odd and interesting anecdotes from around the world are here in our review.
Cambridgeshire farmer wins competition with wheat art sculpture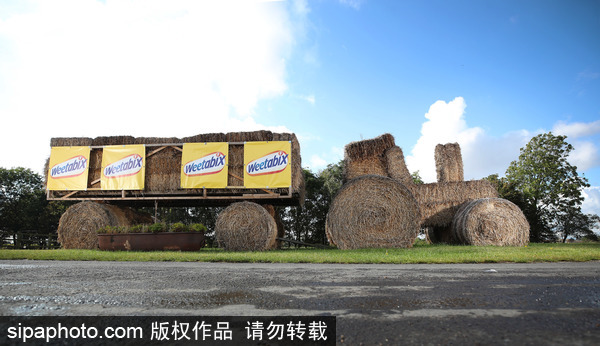 Farmers across the UK put forward their finest straw sculptures for the 2019 Wheat Art competition, and it was a classic agricultural design that won the hearts of the judges.
A Cambridgeshire farmer's 62-bale creation was victorious at this year's Wheat Art contest. An impressive 62-bale tractor and trailer took the top spot, winning Cambridgeshire farmer Michael Sly a £1,000 ($1,282) charity donation.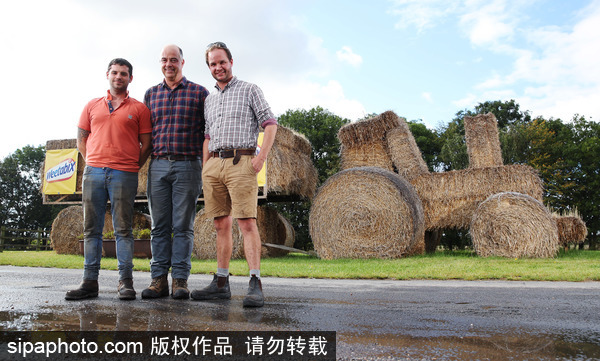 Michael's 10-foot straw spectacle fought off tough competition, with runners up including a tower of multi-colored farm animals and a straw sausage dog.
The competition was launched by Weetabix to celebrate the 10th harvest under the company's wheat protocol, which promotes sustainable farming and sees the company source its wheat from farms located within a 50-mile radius of its mills in Burton Latimer, Northamptonshire.
Wasteland Weekend 2019 in California
Wasteland Weekend is an annual festival in California City, California. The event is listed as a full immersion event, with all participants required to adhere to the set theme. First held in 2010, it has since been held annually in September.
The festival includes post-apocalyptic themed costumes, campsites and vehicles, live bands and DJs, fire, burlesque and other performers, and Jugger matches (The post-apocalyptic bloodsport of the future).
In 2019, the 10th-anniversary edition of Wasteland Weekend was held between Sept 25 and Sept 29. The festival includes themed costumes, live bands and DJs, fireperformers, post-apocalyptic campsites and vehicles.
The theme of Wasteland Weekend draws heavily from apocalyptic and post-apocalyptic fiction, especially the Mad Max franchise, and requires all attendees to wear appropriately themed clothing.
Distinguished Gentleman's Ride to raise funds
The Distinguished Gentleman's Ride unites classic and vintage-style motorcycle riders from all over the world in Nijmegen, the Netherlands, on Sept 29. The 248 motorcyclists in this year's rider gathered at the city center and raised $32,014.
The Distinguished Gentleman's Ride focuses on men who have been dealt a tough hand in life. In particular, they raise funds for cutting-edge research into prostate cancer, mental health and suicide prevention programs, as part of their mission to support men's health globally. These funds are invested by the Movember Foundation, which is the world's largest men's health organization.
The Distinguished Gentleman's Ride was founded in Sydney by Mark Hawwa. It was inspired by a photo of Don Draper from the TV show, Mad Men, astride a classic bike and wearing his finest suit. Mark decided a themed ride would be a great way of connecting niche motorcycle enthusiasts and communities while raising funds to support the men in people's lives.
Giant dragon approaches Calais, France
The Dragon of Calais (Cheval Dragon Long Ma) arrived at the beach in Calais, France on last Friday for an initial three-day performance. Actors from the French street-theater company La Machine escorted a 10-meter-tall dragon marionette in a performance across the city of Calais.
"Le Dragon de Calais", a massive fire-breathing dragon built of steel and carved wood, starred in the tale of a fantasy creature that emerges from the sea and encounters the people of Calais.
After the performances, the dragon will remain in the city, becoming a new tourist attraction.