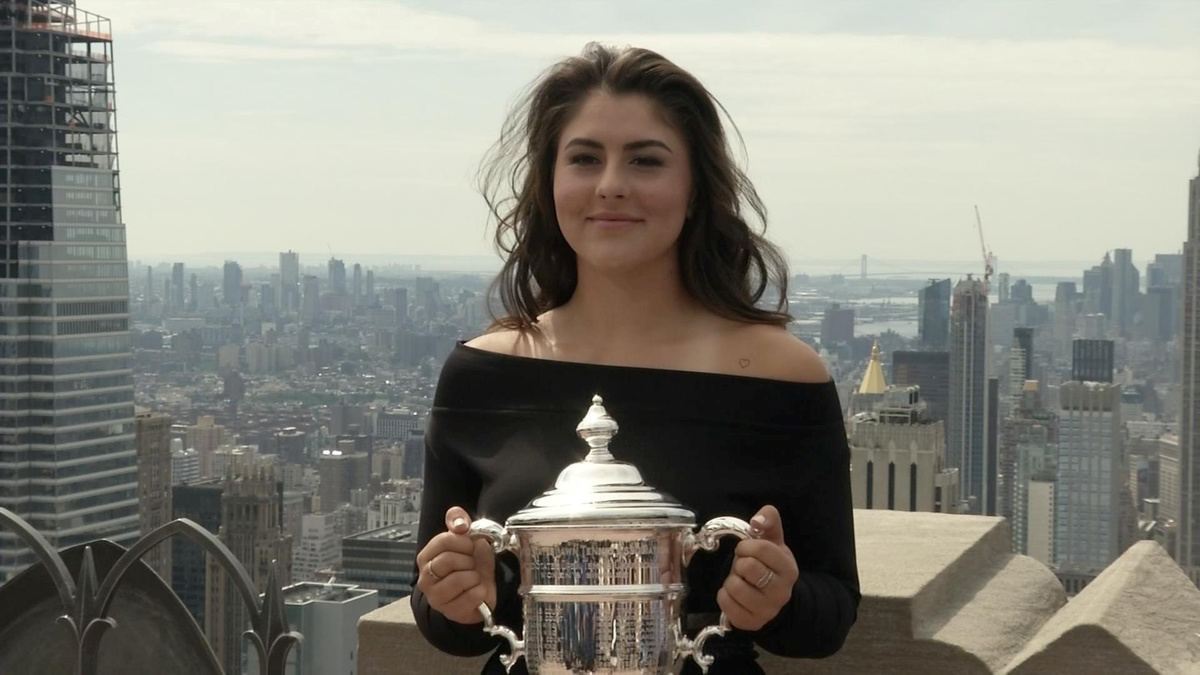 NEW YORK - Canadian teenager Bianca Andreescu, who dominated legendary Serena Williams in the US Open final last Saturday to win her first Grand Slam title, says she's not done yet.
Since claiming the title in her US Open main-draw debut, Andreescu has had a photo shoot with the trophy atop Rockefeller Center and appeared on several US television shows to discuss her historic win.
"I never thought it would be this hectic, but I'm not complaining," Andreescu, 19, said on Good Morning America.
"This is truly an amazing accomplishment, but I could definitely get used to this feeling. I'm not done yet."
Andreescu produced a bold and brilliant performance to secure a 6-3, 7-5 win to deny former world No 1 Williams a record-tying 24th Grand Slam title.
With the win, Andreescu has jumped to a career-high fifth in the world rankings a year after sitting outside the top 200.
She also extended a 13-match unbeaten run, during which she won the Canadian Open.
The first Canadian - male or female - to win a Grand Slam title, Andreescu will now have to get used to her celebrity status as she is headline news back home.
"It hasn't really sunk in," she said on Live With Kelly& Ryan. "I didn't really have the time to see what's happening in my life right now. It's been a crazy year for me, and being able to hold this trophy is pretty awesome."
Andreescu, who also appeared on Today, The View and The Tonight Show with Jimmy Fallon to discuss her victory, said she has spent plenty of time reflecting on her journey to the US Open crown.
"I started playing tennis at the age of seven, and ever since then I've been dreaming of this moment," she told Good Morning America.
"I don't think I was ever as composed as I am now, or even a year ago. I would get really down on myself and have very negative thoughts going through my mind. I would smash rackets. I'd just yell at myself during matches.
"But I found that wasn't working to my advantage at all, so I started...seeking some advice from other people.
"Ever since then, I've been trying to have a very positive outlook on everything. I think that's really been helping me, even in tough situations."
Barty back on top
Meanwhile, Australia's Ashleigh Barty has reclaimed the No 1 spot in the WTA rankings less than a month after losing it while Andreescu has moved up to a career-high No 5.
French Open champion Barty exited the US Open in the last 16 but regained the No 1 spot after last year's champion Naomi Osaka of Japan was also knocked out at the same stage.
Osaka, who beat Williams in last year's final, slipped to fourth in the rankings with Karolina Pliskova of the Czech Republic and Ukraine's Elina Svitolina leapfrogging her to move up to second and third respectively.
Wimbledon champion Simona Halep fell two places to sixth while Williams slipped one spot to ninth despite her run to the final.
In the ATP rankings, there was no change in the top three with Novak Djokovic leading men's champion Rafa Nadal, who won his 19th Grand Slam on Sunday, and Roger Federer. This year's New York runner-up Daniil Medvedev moved up to a career-high fourth.
Medvedev, a 6-foot-6 Russian, has had a stellar record since a third-round exit at Wimbledon, reaching the finals of his past four tournaments and winning the Cincinnati Masters last month.
Reuters