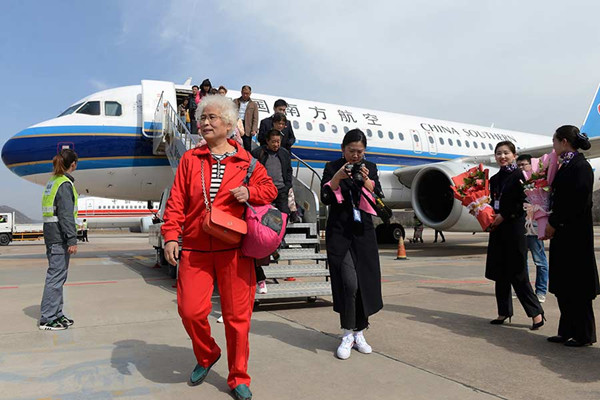 With the approaching of the peak air transport season in summer, and the grounding of troubled B737 MAX aircraft, demand has exceeded supply in the domestic aviation market, which will lift flight ticket prices and boost the sales of carriers and their stock performance, industry analysts said.
New York investment bank Goldman Sachs shifted its overall view of China's aviation sector to positive, as it expects the valuations of the sector will be supported by growing demand.
Goldman Sachs upgraded shares of State-owned carriers Air China and China Eastern Airlines from "neutral" to "buy" on Thursday, for shares listed in the Shanghai A-share board and in Hong Kong, according to its report.
The firm forecasts that the annual demand growth rate of China's aviation sector will accelerate to 12 percent or more. So far this year, the growth rate has been 10 percent, it said.
Air China shares edged up 0.33 percent in Thursday trading to close at 9.1 yuan ($1.32). China Eastern shares rose 0.5 percent in trading to close at 6.04 yuan. In the same note, Goldman Sachs raised its target price of Air China stocks to 12.4 yuan, and raised its target price of China Eastern stocks to 8.3 yuan.
"The aviation sector in China is expected to have a good performance this year, fueled by the ongoing consumption upgrade trend in the country, despite the fact that the growth rate will slow down a bit, and the cost of air fuel may edge up in the second half of year," said Zou Jianjun, a professor at the Civil Aviation Management Institute of China.
"With the grounding of 96 B737 MAX planes in China, the model's largest market, air transport supply is inadequate to meet demand during the peak summer season, which will benefit the profitability of carriers, and those airlines with clear strategies and sound networks will perform better," he said.
In the first half of this year, airport stocks overall have surged by 60.5 percent year-on-year, and airline stocks have climbed by 20.8 percent year-on-year.
Since early July, airlines have increased their capacity by more than 10 percent year-on-year, and passenger flows have jumped rapidly, with a large number of people taking their summer vacations, according to a report from China Merchants Securities Co Ltd.
"Particularly, the demand of travel to South Korea and Japan has been robust, and the positive sales of flight tickets will stay until early August. Given that it is hard to predict when B737 MAX aircraft will resume their flights, the overall supply and demand pattern of the sector has been improved with benign competition," said Su Baoliang, a researcher at Merchants Securities.