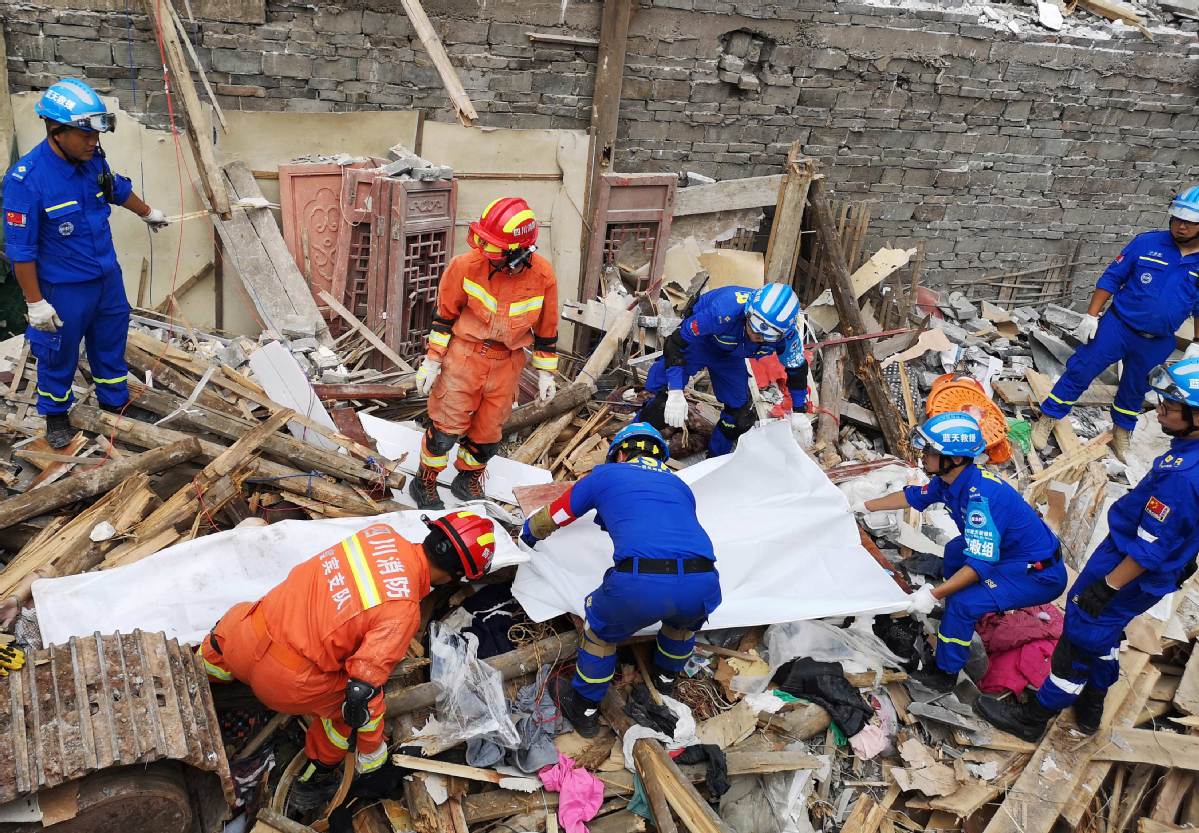 Civilian groups play key role during emergencies
After a deadly earthquake struck Sichuan province last month, an emergency response system was quickly activated and work teams were sent to provide guidance in rescue and disaster relief as well as conduct safety inspections.
The Ministry of Emergency Management acted promptly after the magnitude 6 quake hit Changning county, Yibin, on the night of June 17, killing 13 people and leaving 220 injured.
Along with more than 500 firefighters sent by the government, hundreds of volunteers from civilian rescue teams joined the race against time to find survivors.
Blue Sky Rescue, a nongovernmental humanitarian organization founded in Beijing in 2007, responded to the alert immediately and set up its own coordination center.
Zhang Yong, captain and head of BSR, said experts from the center used an assessment process to gather data and deliver a general report on the quake within half an hour, including the possible damage and losses.
At the same time, a local "information detection" team left for the disaster area to gain firsthand knowledge of the situation, Zhang said.
The team arrived at the quake epicenter in Changning county to check conditions and gain a rough idea of casualties and property damage.
"We then relayed the information back to government departments as well as our own coordination center for further analysis and decisions," Zhang said. "If the situation were worse than we first thought, the advance team could also turn into a separate rescue squad to provide emergency assistance."
Sometimes, the detection team may be the only source of information, especially when roads to a disaster area are blocked and communication signals are interrupted.
After assessing the situation following last month's quake, BSR sent in teams that arrived on the scene within two to three hours. There was no urgent need for additional volunteers.
Zhang said that after the devastating magnitude 8 earthquake in Wenchuan, Sichuan province in 2008, which killed nearly 70,000 people, the quality of housing construction in the province was strengthened and the emergency response mechanism further developed.
At the time, the nation's volunteer rescue force began to grow rapidly, and according to the Ministry of Civil Affairs, there are now more than 1,200 civilian rescue teams in China.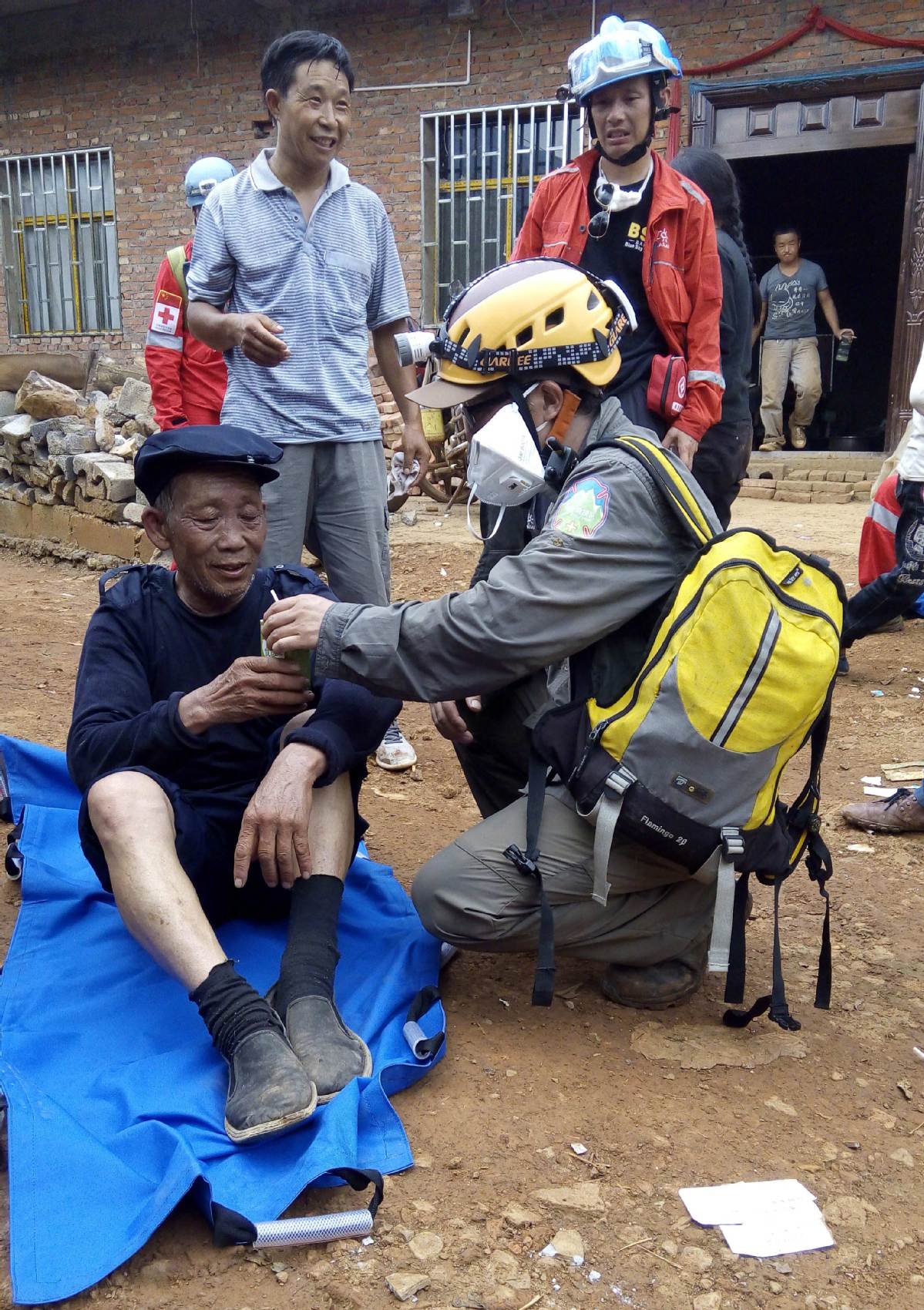 BSR has more than 50,000 registered volunteers and 600 authorized teams in most provinces and regions. It is also China's first registered nonprofit volunteer rescue group.
Under a model titled "brand authorization management", the headquarters in Beijing includes a qualified regional team as part of the BSR system. The team is authorized to use a code name to carry out rescue missions.
The regional team is run and operated independently for most of the time, but must follow unified standards and adhere to BSR's philosophy of providing free humanitarian relief operations to the public.
Typically, a local rescue team needs at least one year of preparation and assessment before it can become a "brand authorized team".
At the very beginning, BSR was just a small, loose-knit group, with several outdoor enthusiasts.
"We started with outdoor sports rescue because we loved hiking or climbing, and we had some rescue skills," Zhang said. "But we were quite disorganized and not that professional at the time."
With demand increasing, Zhang and his teammates launched and established Blue Sky Rescue. It has since become well-known.
The Lvye Charity Mountain Rescue Organization, one of the first civil organizations in China to carry out outdoor public rescue activities, was founded in 2003 by a group of outdoor sports lovers with an enthusiasm for public welfare.
Peng Chunhong, who is known as Du Chong ("Poisonous insect") in the outdoor community, said an incident inspired him and his friends to set up an organization that could conduct systematic and organized rescue operations.
Thirteen people lost their way while hiking on suburban Beijing's Yunmeng Mountain in 2003. The news spread within the outdoor sports community, and dozens of well-intentioned people rushed to the area, which to some extent was a waste of time, manpower and material resources, Peng said.
After years of development, Lvye has grown from a group of just 12 volunteers to more than 800 registered members with different skills, such as medical treatment, radio communication and rope techniques.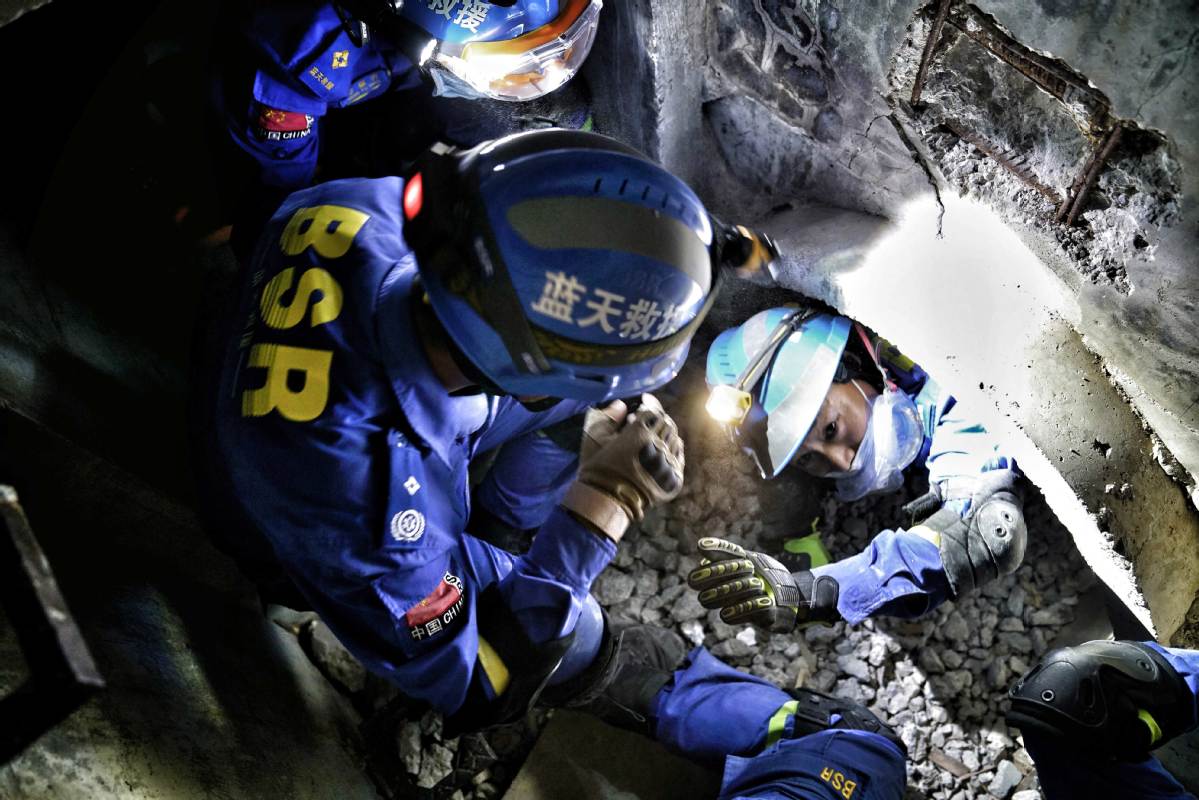 Professional training
"Outdoor sports enthusiasts generally know certain rescue skills, but most of the time these are self-taught and not standardized. Therefore, we also cooperate with some professional organizations to provide training courses for our team members," Peng said.
"For example, we have worked with the fire department in Beijing's Daxing district and teachers from the China University of Geosciences to acquire some field exploration knowledge. We also invite experts from certain industries to give lectures."
Zhang said BSR has a rigorous training system, and entry-level volunteers must take a 32-hour course and learn at least three basic skills: first aid, radio communications and rope techniques.
"Becoming a full-time volunteer who can go out on rescue operations requires a minimum 200 hours' service time and dozens of certifications, while being a key member requires 800 hours. And if you have more than 24 skill certifications, you can become a rescue expert," he said.
The certifications include water rescue, field search and rescue, use of equipment, and satellite map reading.
Meanwhile, BSR has been working with the China National Training Base for Urban Search and Rescue in suburban Beijing since 2009, and more than 1,000 members have benefited from the professional training.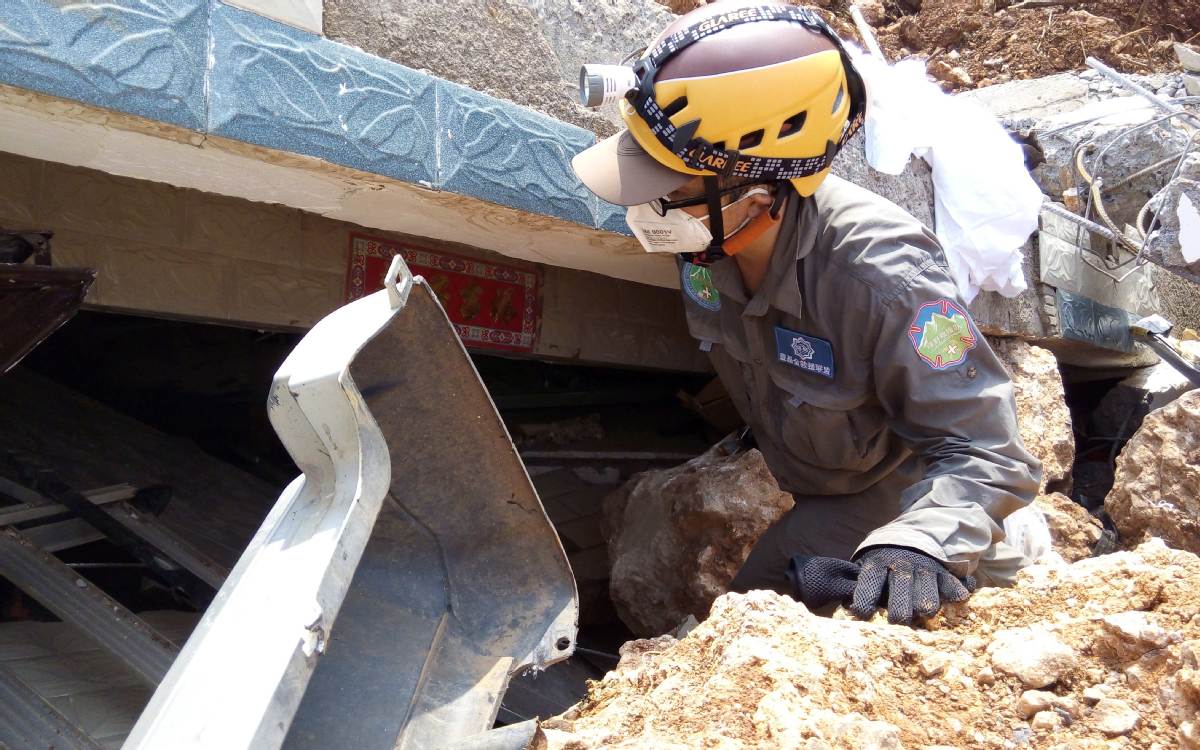 Bitter and sweet
"All our operations are voluntary without pay, and the members sometimes need to find the money for transportation or accommodations. They also have to pay for their own equipment," Zhang said.
It is quite common for a member to spend thousands of yuan for a single rescue, he added. "If it's an overseas operation, the cost may reach tens of thousands of yuan."
China does not have a special budget for civilian rescue teams, and expenses incurred during such work are not reimbursed. Most organizations have to do fundraising or find sponsors themselves.
"Our funding mainly comes from social donations. Team members will sometimes donate if they cannot reach a rescue site," Zhang said.
Wang Ke, founder of the nongovernmental rescue organization the Peaceland Foundation, said his team also turns to online donations.
"For a certain rescue operation, we will apply for a targeted donation on online fundraising platforms such as Shuidichou and Tencent Foundation," he said. "The donations we receive will only be used for a particular operation."
The Peaceland Foundation has received a total of 2 million yuan ($291,000) in donations for the rescue operation in Changning and for local residents.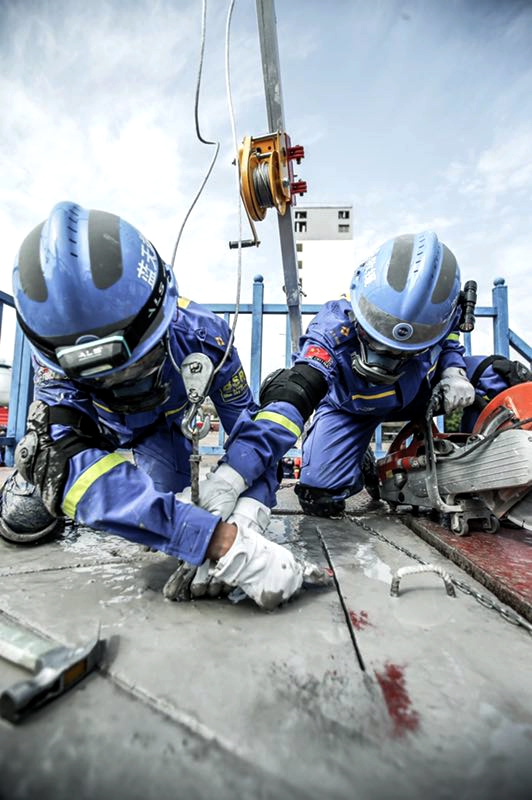 Some local governments, such as Beijing and Shenzhen, Guangdong province, have realized the importance of these civilian groups, and have included the teams in their local emergency rescue systems. They provide financial support for the purchase of expensive equipment, or air tickets.
Insurance is another challenge for the civilian groups. Most commercial insurance companies cannot provide services for the volunteers, as rescue work involves "proactively taking risks that exceed insurance coverage", according to Zhang and Peng.
They said they hoped that in the near future insurance companies could introduce products designed for them and that the government could also lend a hand.
The volunteers also have to face complaints and fears voiced by their families and friends.
"Our key members always give up time with their families and save their annual leave for when their services are required for dangerous rescue operations," Peng said.
But the recognition and respect they receive after every rescue operation makes them feel the work is well worthwhile.
In 2014, a magnitude 6.5 earthquake hit Ludian county, Yunnan province. After Peng and his teammates completed their rescue work and returned to Kunming, the provincial capital, their driver, who helped them to get to the scene, took them home for a hot meal.
"It was already midnight when we got back. His whole family had prepared a sumptuous dinner and waited for us that night," Peng said. "They said they wanted to thank us for helping them. We never expected that."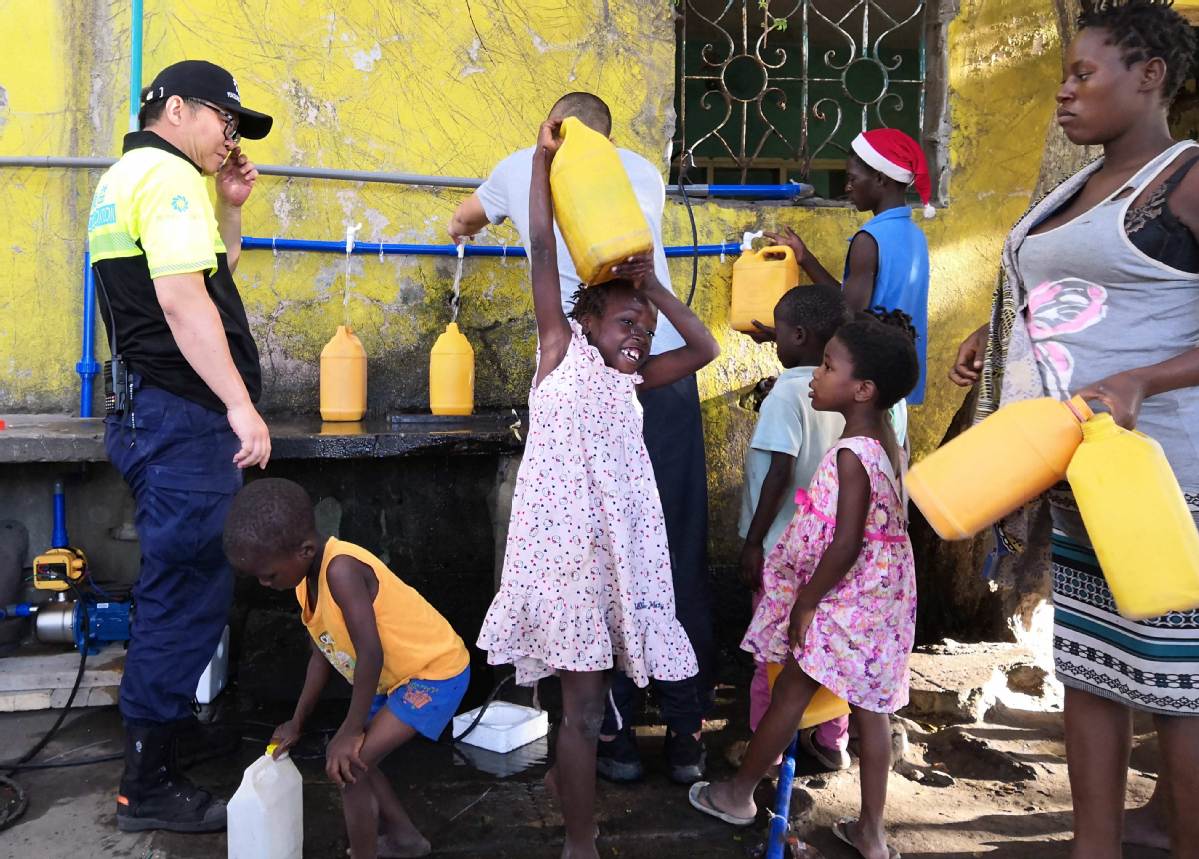 Overseas operations
On June 23 last year, 12 Thai boys and their soccer coach were reported missing. They were later found trapped in a flooded cave in Chiang Rai in the north of Thailand.
On hearing the news, Wang, from the Peaceland Foundation, contacted the Chinese embassy in Bangkok and said his team was willing to send civilian rescuers to help the boys.
With approval and support from the embassy and help from the local overseas Chinese community, seven rescuers arrived in Thailand and worked with others from around the world.
The Peaceland Foundation was officially registered last year, but its members have been taking part in overseas operations since November 2012, when a magnitude 7 earthquake hit Mandalay in Myanmar.
In March, after Cyclone Idai hit Africa, several volunteers went to Mozambique, taking with them 1 metric ton of supplies for disaster relief, sand elimination and water purification.
BSR has also conducted dozens of overseas rescues. For example, it sent more than 80 volunteers after an earthquake struck Nepal in 2015 and to Laos after a dam broke last year.
It has also set up teams in Malaysia, Nepal, Myanmar, Laos, Thailand and Sri Lanka.
After an earthquake hit Indonesia last year, a medical team of about 15 from BSR's Malaysian branch arrived in the disaster area and treated hundreds of people.
Zhang, the BSR captain, said: "We just want to help when we see someone is suffering, no matter if it is at home or abroad. Besides, we can learn a lot from rescue teams from other countries."
BSR is applying to join the International Search and Rescue Advisory Group, a global network of disaster-prone and disaster-responding countries and organizations dedicated to urban search and rescue and operational field coordination under the umbrella of the United Nations.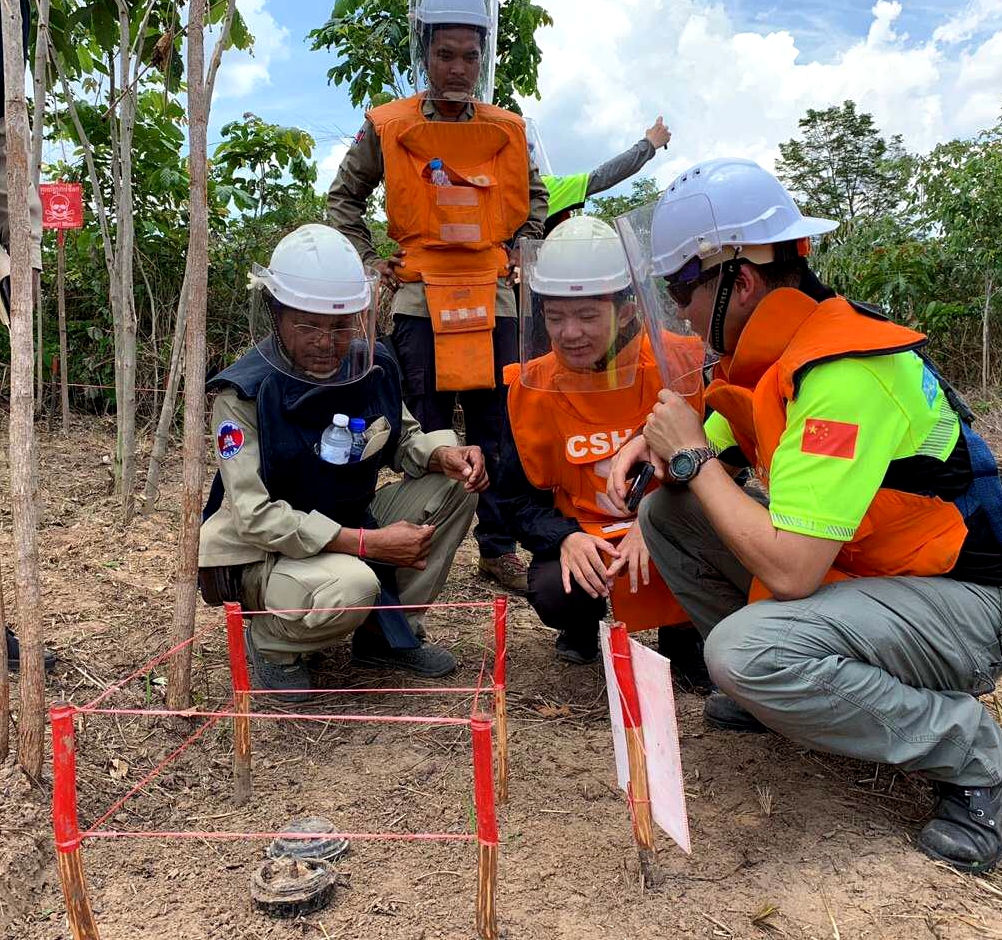 "Foreign civil rescue teams have been operating for nearly 100 years, and those from China only appeared in recent years. Therefore, when a disaster-hit country applies for international rescue assistance, teams from developed countries such as the United States and Japan will be considered first," Zhang said.
"Becoming a member of INSARAG will not only enhance our visibility, but will also be recognition of our ability."
As for the future, Wang said that on one hand the Peaceland Foundation aims to promote the development and regulation of the rescue industry.
"We plan to hold industry meetings and training programs to attract civilian rescue teams from home and abroad to communicate and learn from each other," Wang said. "At the same time, we hope to train a large number of talented people who can carry out international rescue work."
On the other hand, the foundation wants to be an international nongovernmental organization that focuses more on humanitarian assistance.
"We are doing anti-poaching work in Africa. We are clearing mines and building chicken farms in Cambodia. We have a program to help improve the employment prospects of female Syrian refugees in Lebanon. And now we are also contacting Sri Lanka to discuss the issue of marine protection," he said.
When they started operations overseas, Wang said local people were always wondering why Chinese were helping. "But then they all asked why we came so late," he added.
"We take part in these operations because we really care about these issues and believe they are our responsibility."