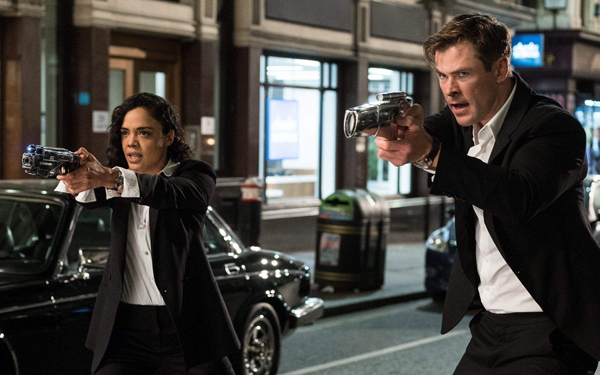 Twenty-two years after the first Men in Black film came out, the fourth movie in the series was released to impatient fans in the United States and China on Friday.
Based on the Marvel-owned Malibu comic book series by Lowell Cunningham, Men in Black: International follows the paths of the two special agents as they battle vicious aliens and track down a mole inside their organization.
The film is directed by F. Gary Gray, and features a diverse cast, including Australian actor Chris Hemsworth, American actress Tessa Thompson, Swedish actress Rebecca Ferguson, Pakistani-American actor Kumail Nanjiani and Irish actor Liam Neeson.
The original Men in Black movie starring Will Smith and Tommy Lee Jones created a sensation on its release in 1997, earning $580 million at the box office. Over the next 15 years, the series of three movies banked $1.45 billion.
Gray started his career in 1992 and has worked on many hit movies, including the action flicks The Italian Job and The Fate of the Furious 8, and the thriller The Negotiator. But this is the first time he has produced a science-fiction film.
"The chance came along, and I thought that it was my time to jump into the sci-fi genre and combine that with fun and action," Gray told China Daily during an interview in Beijing on June 8.
Filming took place in New York, Morocco, Paris, Italy and London from July to October last year.
"It's always fun to see different cultures and learn about them, and shoot beautiful places that are rich with history," says Gray.
"It feels like we went on vacation together," Thompson adds, smiling.
Gray also says he was lucky that Hemsworth joined the cast in the lead role, describing him as the "very first choice" and ideal for the role.
Thompson, on the other hand, had not done any sci-fi work before, but had a lot of drama experience. Gray says he had a sneaking suspicion Thompson's level of depth and range of talent would help her handle a role like this. His suspicion paid off when she opened the first page of the play and wowed everyone with her powerful delivery.
Speaking from past experience, Gray says it's usually more difficult to work with an ensemble cast, where it's hard for actors from different roles to form a chemistry. Yet, he was happily surprised by how well the actors bonded, especially Thompson and Hemsworth, who had worked together previously in The Avengers and Thor series.
The Men in Black series always features surprising high-tech weapons, and this outing will not disappoint, hints Gray, mentioning a classic Jaguar that doubles up as a moving arsenal.
Many scenes in the new movie pay homage to the earlier films and feature the memory-erasing "neuralizer" and the triple-barreled plasma gun. There are moments where Gray taps into the popularity of Avengers: Endgame and drops in references aimed at Marvel fans. The biggest surprise for Chinese audiences will be the guest appearance of Crazy Alien star Huang Bo as a human neighbor of the aliens.
Gray also disclosed his secret of making satisfying comedies.
"I'm not so rigid about what's in the script. We always like to create an environment where the actors are free to improvise, and some of the most spontaneous fun moments often come from this. We're all artists and filmmaking is a collaborative process," he says.
Talking about the premise of the film, Gray says he believes in alternative realities.
"People continue to discover new planets and galaxies. I think it would be a little shortsighted of us to believe that we're the only living beings in the entire universe," Gray says.
"Aliens inhabit the world we don't see, so the interaction with them through our creativity has to be interesting-that's what makes sci-fi films so popular."
Meeting with mixed reviews in China, media industry tracker Xiniu Entertainment says the film "puts a smile on the faces of old fans with familiar elements while entertaining new audiences with fun details".